These Spectacular Visuals of SpaceX Falcon 9 Rocket Launch Will Leave You Mesmerised
Is it an alien? Is it a comet?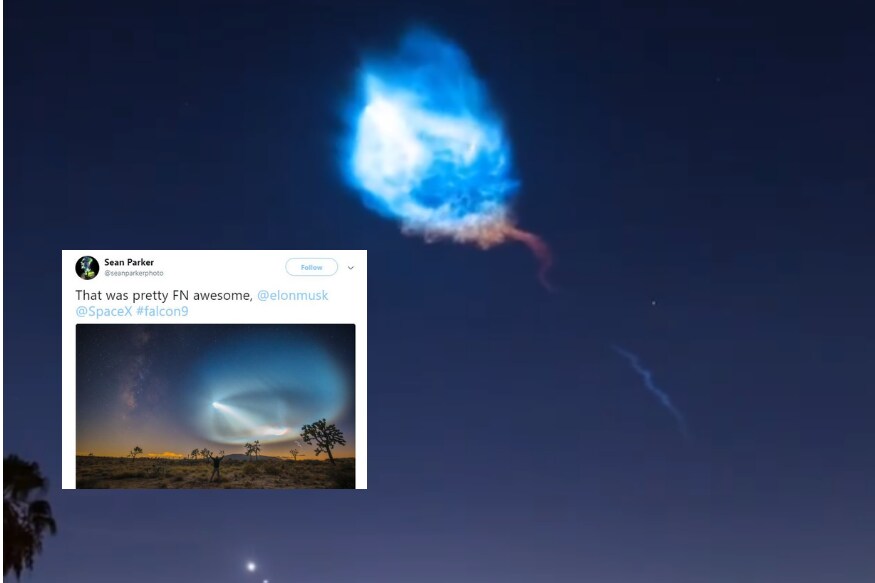 Image credits: Emeric Timelapse / Facebook
SpaceX on Sunday night successfully launched a commercial satellite for Argentina.
The rocket was launched from Vandenberg Air Force Base, about 130 miles northwest of Los Angeles. As the rocket soared, the engine burns left a trail of glowing colours, illuminating the skies in its path.
Depending on the viewers' vantage point, the light resembled a comet or had some clouds around it. One commenter compared the glow to the Aurora Borealis while others wondered if they had spotted a UFO.
Naturally, the social media was lit up with mesmerising photos.
THAT WAS AMAZING! The @SpaceX launch from Vandenberg was incredible! I took one long photo, 9 minutes long, the stage 2 cloud was spiraling out of control, what a show! #Falcon9 #SpaceX #SAOCOM1A #SAOCOM #launchday pic.twitter.com/qxBGAtqPku

— Joaquin Baldwin (@joabaldwin) October 8, 2018
Ummm this @SpaceX display in the sky above Santa Monica right now is totally crazy and beautiful pic.twitter.com/rDgeuItBpe

— Sam Tsui (@SamuelTsui) October 8, 2018
That was pretty FN awesome, @elonmusk @SpaceX #falcon9 pic.twitter.com/UN1xeQv3UE

— Sean Parker (@seanparkerphoto) October 8, 2018
Four more pics from the @SpaceX launch. Surreal doesn't begin to describe it. A bloody meteor exploded into a cyan and magenta nebula, which stared at us with hypnotic, spiral eyes, before vanishing into a comet. #Falcon9 #SpaceX #SAOCOM1A @elonmusk #SAOCOM #launchday pic.twitter.com/6pT92iBtUK

— Joaquin Baldwin (@joabaldwin) October 8, 2018
#SpaceX's #Falcon9 rocket launches #SAOCOM1A from Vandenberg Air Force Base this evening. Seen is the rocket's second stage heading toward orbit. Occurring shortly after sunset, portions of the rocket's flight were beautifully illuminated by the already-set sun. pic.twitter.com/RAyKsE6z0b

— John Kraus (@johnkrausphotos) October 8, 2018
Okay Twitter, what the heck is this #UFO #brightlight #plume -a-licious thing in we just saw in the sky above #Reno —- it radiated beams of light! ✨ pic.twitter.com/hvB4tavMCd

— Jill Bergantz Carley (@jbergantzcarley) October 8, 2018
And if you thought you had seen everything, an Instagram user and photographer Emeric blessed us with this beautiful time-lapse video.
In case you're wondering what caused the Twilight phenomenon, the beautiful light show occurred due to smoke, unburned fuel, and condensation of the rocket that took place in the high altitude sunlight after the sunset.
The primary purpose of the mission by SpaceX, a company of Tesla CEO Elon Musk, was to place the SAOCOM 1A satellite into orbit. It also wanted to expand its recovery of first stages to its launch site at Vandenberg Air Force Base, about 130 miles northwest of Los Angeles.
Get the best of News18 delivered to your inbox - subscribe to News18 Daybreak. Follow News18.com on Twitter, Instagram, Facebook, Telegram, TikTok and on YouTube, and stay in the know with what's happening in the world around you – in real time.
Read full article