'They Are Human Too': Twitter Defends UP Cops Facing Inquiry for Viral Dance Video
Who knew a dance could land your job in trouble?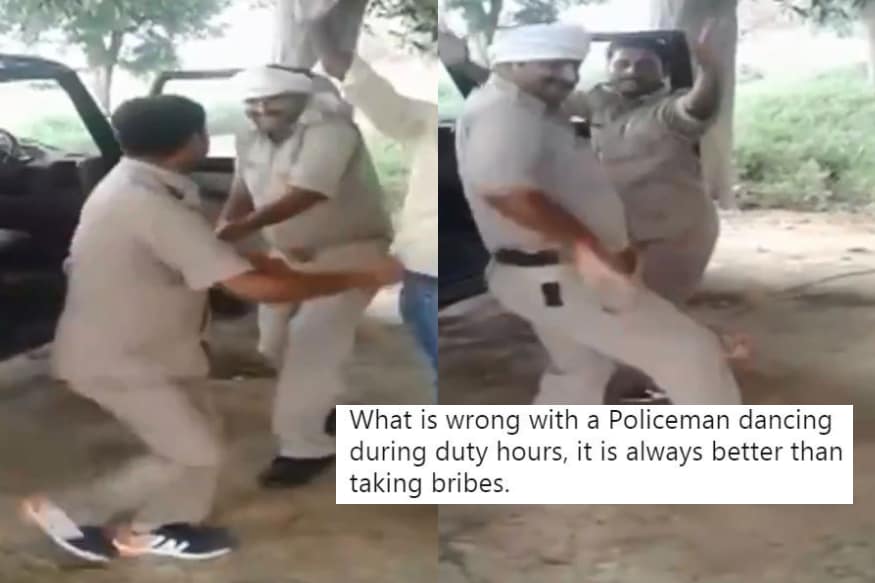 (Image: Twitter/@ANINewsUP)
It's condoned, encouraged even, to take a breather from work and relax. Let's admit it, work life can be strenuous on a person and everyone needs a break. However, is it okay to let a moment of mental repose become a reason for you to lose your job?
Recently, a video of policemen dancing to a Bhojpuri song in Uttar Pradesh's Auraiya district went viral on social media. The policemen were seen dancing next to a 'UP 100' vehicle. The official name of the Uttar Pradesh Police Emergency Management System, 'UP 100' was launched by former UP chief minister Akhilesh Yadav in November 2016, primarily to ensure immediate response in road accidents.
Dancing policemen are not unheard of. Take, for example, the dancing traffic cop in Odisha who recently went viral. However, this particular video has proven slightly more troublesome for the dancing UP cops with an inquiry being ordered into the incident.
But the story does not end here.The internet is questioning the inquiry and asking why on Earth can't policemen dance and enjoy some moments of merrymaking?
क्यों क्या बुराई है ? क्या पुलिस वालों के पास दिल नहीं होता ? उनकी भी अपनी एक दुनियाँ है..

आप लोगों के इतने नुस्तचिनी से ही आजकल पुलिस के जवान मानसिक तनाव के शिकार हो रहे हैं !

— Tej Bahadur Yadav (@yadava55) September 18, 2018
What is wrong with a Policeman dancing during duty hours, it is always better than taking bribes. — Md Tahir (@md_tahir_) September 18, 2018
@JustEmkay inquiry being conducted on dance of a cop....

There maybe several cases worth giving attention, being ignored....

Bt thi inquiry is important

— Mayank Rathi (@Its_Me_Mayank) September 18, 2018
I seen workplace dance trends in some IT industry...so nothing wrong in this clip.if it helps cop to get distressed then I would say it should be mandatory for cops to dance 5 minutes daily. They have lots of pressure and their job is very difficult. Commenting here is very easy. — Naresh (@starnaresh2k) September 18, 2018
सर, ये तो कोई भी क्राइम नही हुआ पॉलिसी वालो का, 24-24 घंटे मुजरिमो के पीछे दौड़ने वाले रक्षक यदि थोड़ा सा इंज्वॉय कर लिए तो कौन सा गुनाह कर दिए ⁉

किसी के साथ कोई छेड़छाड़ तो नही किये, किसी को परेसान तो नही किये !!

— जेपी पाठक (@JpPathak20) September 18, 2018
What if the video have been of some european white cops , it gonna get so much of love — अनMOL (@official1anmol) September 18, 2018
I don't find anything wrongs here.

— दिल से RSS (@sahiba2424) September 18, 2018
What's wrong in dancing ? Duty of a policeman is full of stress, a bit of dance step is not a crime.. https://t.co/X7wSTS5Msy — THE UGLY TRUTH (@pradeepsingh83) September 19, 2018
डांस करना गुनाह है क्या? क्या अपराधियों के साथ डांस कर लिया जो गुनाह हो गया? संगीत तो ताजगी देता है। फिर जांच किस बात की भई। क्या पुलिस वाले हंस बोल भी नही सकते?

— Sisaeed (@royalsafari2) September 18, 2018
What is wrong in that. They can enjoy their duties. Of course if they ignore something in view of dancing then it's different matter..Lets treat them as policemen's as our brothers and citizens also. — Follow IDEAS not People!!! (@VarunAndHUM) September 19, 2018
Why the issue, people do some relaxation while in office n duty. If they are drunk then it is wrong, just dancing is no crime.

— Gunjan Srivastava (@gunjanbelldcat) September 19, 2018
It's is wastage of time and resources, the superiors should focus on law & order in the state than such gimmicks of inquiry. — Yeda Majnu (@YedaMajnu) September 18, 2018
@dgpup @myogiadityanath They are never off duty .. it means they can't even enjoy for few moment , whats wrong in this, they are also humans.

— Kunwar Pratap Singh (@Kunwar_Pratap23) September 19, 2018
Get the best of News18 delivered to your inbox - subscribe to News18 Daybreak. Follow News18.com on Twitter, Instagram, Facebook, TikTok and on YouTube, and stay in the know with what's happening in the world around you – in real time.
Subscribe to Moneycontrol Pro and gain access to curated markets data, trading recommendations, equity analysis, investment ideas, insights from market gurus and much more. Get Moneycontrol PRO for 1 year at price of 3 months. Use code FREEDOM.
Read full article