'They're Going Home': Twitter Trolls English Fans After Croatia Beats England in World Cup Semis
It did not come home, after all.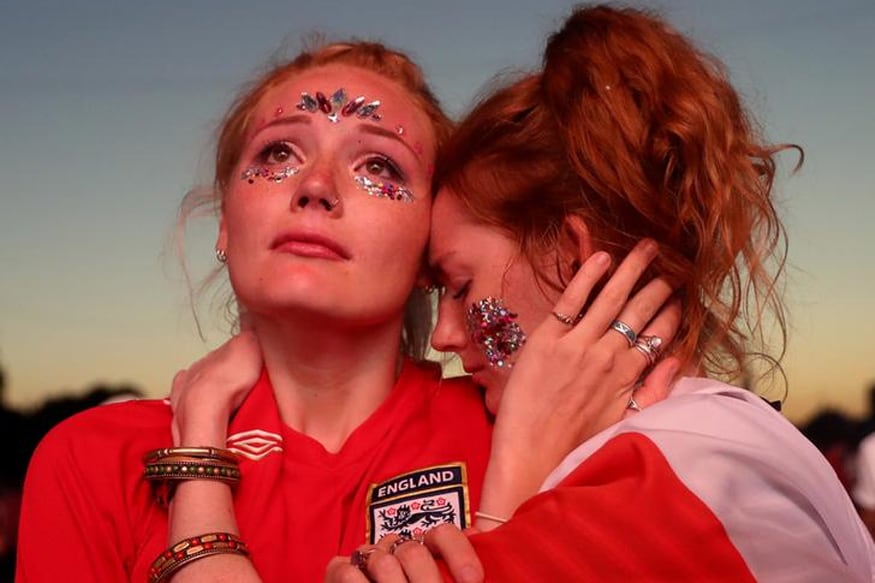 England soccer fans react after England lost the semifinal match between Croatia and England at the 2018 soccer World Cup. (Image: Reuters)
In a royal upset, England was knocked out of the FIFA World Cup 2018 leaving a devastated sea of fans.  The 'Three Lions' were beaten 2-1 by Croatia and many took to social media to air their disappointment.
The game started with much hope after Kieran Tripper put England 1-0 up against Croatia in the World Cup semi-final on Wednesday.
Barely five minutes into the game, Luka Modric brought down Dele Alli right on the edge of the penalty area, giving England the early lead. It seemed like it was meant to be. Just like the psychic pig had prophesied.
But as it turned out, the Three Lions struggled to dominate for much of the game, with Croatia dominating ball possession. They scored within an hour, and went on to net the impressive winning second goal in extra time.
And just like that for the English, it did not come home, after all.
However, unable to contain itself under the famously stiff British upper lip this time, the English disappointment spilled through on the internet. Within hours of the result, social media was awash with the misery and grief of fans who took to words and memes (mostly memes) to express their feelings.
Here is a small compilation of some of the best ones on Twitter in an effort to lighten the heavy heart of the distraught England fan.
England. pic.twitter.com/6AQ1W4Icue

— . (@easantejr) July 11, 2018
WARNING PRAYER OVERLOAD IN ANGLICAN SECTOR #ENGCRO

— God (@TheTweetOfGod) July 11, 2018
I'm watching the football #ENGCRO pic.twitter.com/Xx0vy7Eie0

— Justin Myers (@theguyliner) July 11, 2018
😹😹 #ENGCRO #WorldCup #ENG pic.twitter.com/n2rq9vUL9q

— Pakchikpak Raja Babu (@HaramiParindey) July 11, 2018
Your team is coming home. xD#CROENG #CRO #worldcup pic.twitter.com/bTAkEVZqd0

— Akram 🇮🇳 (@akramismm) July 11, 2018
"I haven't felt that good since Ivan Perišić scored against England in 2018" pic.twitter.com/u3TaNMSdkx

— Oldfirmfacts (@Oldfirmfacts1) July 11, 2018
But though the game was lost, the pride was not. 
England fans right now. 👏👏 pic.twitter.com/jjtmMz0maF

— Gary Lineker (@GaryLineker) July 11, 2018
Queues are forming across the nation as @GarethSouthgate offers free hugs to all after #ENG #WorldCup exit as only #GarethSouthgateWould #ENGCRO pic.twitter.com/VgO6OXaglf

— Evie the Cat (@HMCabinetCat) July 11, 2018
Just look @GarethSouthgate : hugging and kissing every one of his players and staff; individually congratulating all of his opponents (whilst aceing a waistcoat). What a man. What an example of C21st masculinity. #WorldCup #EngCro

— Beverley Turner (@beverleyturner) July 11, 2018
Read full article