Thief Writes an Apology Email After Feeling Guilty For Stealing a Student's Laptop
Thief with a heart.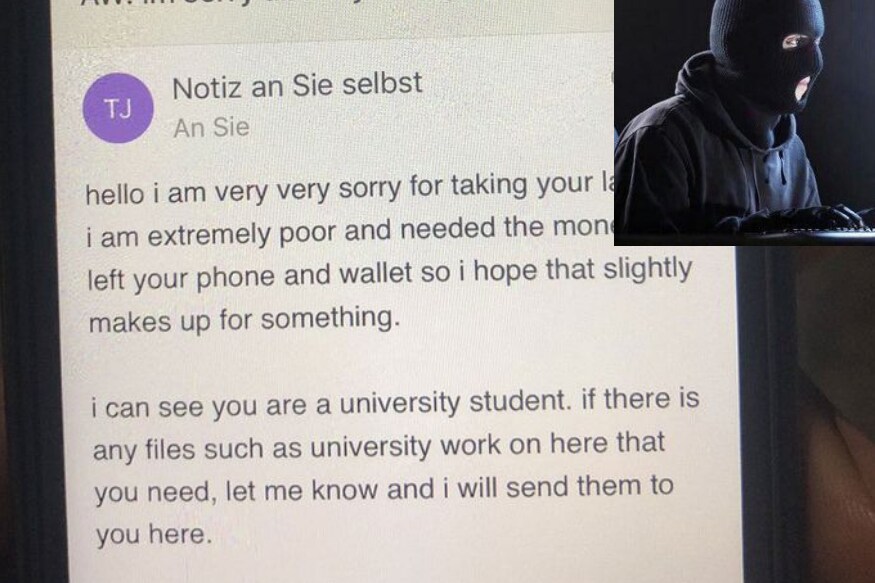 Image credits: @StevieBlessed / Twitter
Doesn't it suck to have your personal belongings stolen? Worse, when you're a student and broke and living off your family's money.
Fully understanding this, a thief, carrying great remorse, is trying to mend things after stealing a laptop from a university student.
Steve Valentine, a Birmingham resident, recently took to Twitter to reveal how his flatmate received an email from the apparent thief who had stolen the laptop that contained his university course work.
Aplogosing for the theft, the unnamed thief confesses that poverty forced him to steal the student's laptop in an email. "im sorry about your laptop," reads the subject line.
The thief 'makes up' for stealing the laptop by sparing his phone and wallet.
"hello i am very very sorry for taking your laptop. i am extremely poor and needed the money. i left your phone and wallet so i hope that slightly makes up for something.[sic]"
Realising that the laptop belonged to a university student, the considerate thief also makes a tempting offer to the student.
"i can see you are a university student. if there is any files such as university work on here that you need, let me know and i will send them to you here.[sic]"
Posted on Wednesday, Steve's tweet has broken the Internet with nearly 60K retweets on Twitter.
So my flat mates laptop got stolen today, please pree what the thief sent him 😂😂😂😂 pic.twitter.com/pDhhpmncPz

— Stevie Valentine (@StevieBlessed) November 28, 2018
Upon reading the email, Twitterati had a lot to say. "wow, this is the nicest theif I've ever seen," wrote one user.
If he's really sorry he'll write the next essay.

— Theo (@Heli0s) November 28, 2018
Find him and make him face the quince quinces

— tyler (@Tyler_Elvin) November 28, 2018
And they say there's no honor amongst thieves smh

— Preston (@Press107Preston) November 28, 2018
This must be the spirit of the thief that followed Jesus into paradise...lol

— Sunesis (@mrsunesis) November 28, 2018
A sympathetic criminal. We stan.

— isa (@moisturizeds) November 28, 2018
"If there are any files such as university work, that you need let me know". MANNNNNN pic.twitter.com/Jud0Mb4UfO

— sulia moses (@suliarmoses) November 28, 2018
Just buy the laptop back from him. He needs the money 😂😂

— ChistaBlue (@chista92) November 28, 2018
He deserves the charger pic.twitter.com/Lab5L8Me0L

— Olufemi Oyekanmi (@_jimmydneutron) November 28, 2018
The thief sending the documents back pic.twitter.com/1qjzFJRMSZ

— Lemphorwana la Bojalwa (@Roooosta) November 28, 2018
😂😂 at least he's willing to send his uni work for him

— YT: ObaaHemaaa (@Obaa_Hemaaa) November 28, 2018
Negotiate with him, he's really In need not saying stealing is appropriate but you can offer him a deal to return for a cash or something circumstances get us to do ish we not proud of. 😞

— Ich heiße Kojo (@_abSarpong) November 28, 2018
He should have signed the letter: Yours thiefly,................

— Oghenemere Edwin Orugbo (@inferno_nija) November 28, 2018
Many were unappreciative of thief's 'kind' gesture.
Wow. I get it. And the email seems sweet. But damn you stole from a student. Students are broke too. And now they need to figure out a laptop. Or how to get their work done.

— Derick Vason Swinson (@SwinsonVason) November 28, 2018
Back in August, Carlotta Flores, owner of El Charro restaurant in Tucson, Arizona, received a letter in her mail and found $1,000 cash and a handwritten apology letter from an unnamed woman who wrote that she had worked for Flores as a waitress back in the 1990s and had stolen a few hundred dollars from her restaurant.
"One of the waiters I worked with had encouraged me to 'forget' to ring in a few drinks a shift and pocket the cash. And for some stupid reason, I did it." wrote the woman who only identified herself as "a thankful former employee. "I grew up in the church, I knew better. I hadn't stolen a dime before then, nor have I since," read the letter.
"It's been 20 years, but I still carry great remorse. I am very sorry that I stole from you. Please accept my apology + this money as a repayment + 20 years of interest. May God forever bless you and your family."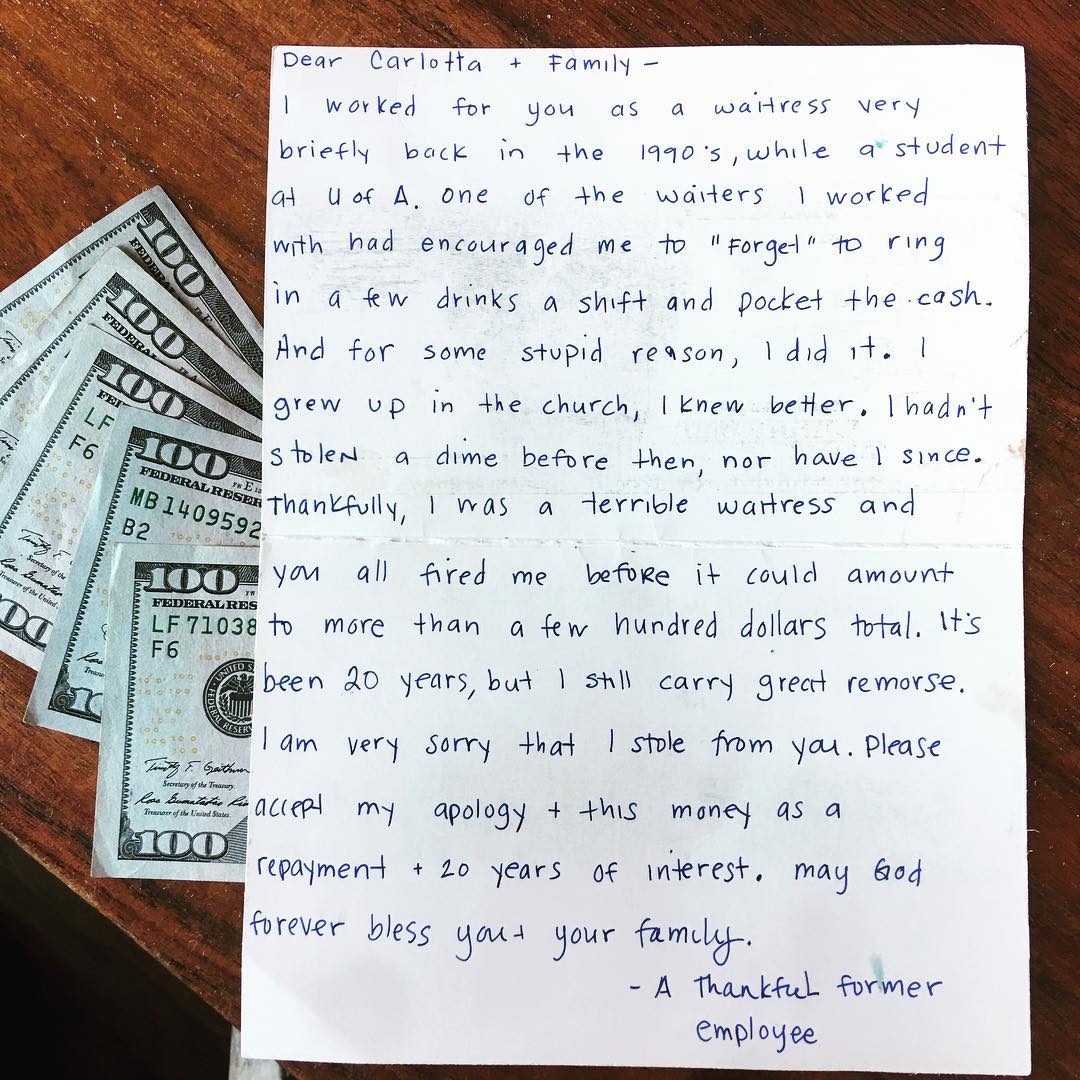 Read full article
Countdown To
Elections Results
To Assembly Elections 2018 Results