A six-year-old girl from Mamallapuram, Tamil Nadu, Kamali Moorthy is ruling skateboarding legend Tony Hawk's Facebook and Instagram page.
Hawk, who shared an image of Kamali standing bare feet on a skate board, captioned it as his 'latest favorite skate shot'. The picture which was shared by Hawk on June 25 has over 65 thousand likes and 6,428 shares on Facebook and over 63 thousand likes on Instagram has gone viral.  
The girl who is known to have amazing skills at skateboarding, got an opportunity to take a lesson or two from skateboarder Jamie Thomas himself. It was Aine Edwards, a Chennai-based consultant who introduced Kamali to the American professional skateboarder and skateboard industry entrepreneur Thomas, when the latter was in India.
And the viral image was clicked when the legend was in the Mahabs.
Here's what we asked Edwards about Kamali and her love for skateboarding and surfing at this young age:
How did you meet Kamali?
I met Kamali through her Uncle Santhosh Moorthy, who is a surfer and surfboard shaper from the fisherman community in Mamallapuram. Since I love surfing and the sea, I spend most weekends here at the beach and got to know the local community. I've known Kamali since she was three years old, she is now six. We always hang out at the beach right next to her house and I've been taking her into the water playing in the waves since I've met her.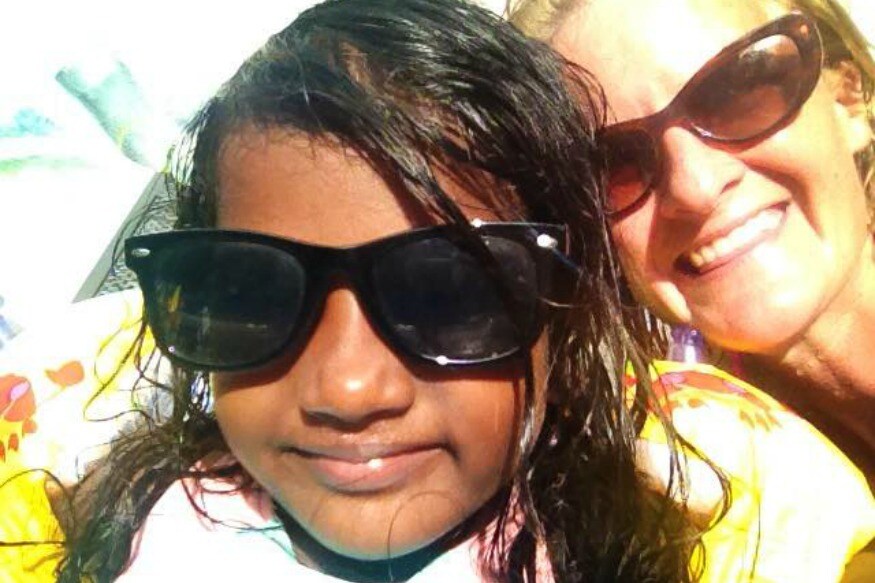 (Photo : Kamlai with Aine Edwards/
Facebook
)
Tell us about Kamali. How did she take to surfing, skateboarding?
Kamali was introduced to the sport through her uncle Santhosh who started surfing a few years ago. She started surfing first about two years ago on a body board. It's been such fun to watch her have fun and progress with surfing. She loves it, singing in the water, chatting to everyone and joining in the surf vibe, being the youngest and only female from the village in the water.
How did you think of introducing Kamali to Jamie Thomas?
The Friday before Jamie arrived in Mamallapuram, I popped by and saw Kamali skateboarding. Both her mother and uncle were impressed how much she had improved herself over the school holidays. So when I heard Jamie Thomas who is a 'legend' in the skate world, was in Mahabs, I knew they had to meet. It was a case of serendipity and very organic, no crowds, no fuss, she is only six and has no idea about famous people or legends etc.
How was the meeting?
It was like a dream that happened so naturally, I feel Jamie was as happy as Kamali that they met. He was like the ultimate guru and any skateboarding student would dream of a lesson from. He taught her so skillfully some new skills in the couple of hours they spent together. It was amazing to watch, life changing in relation to her confidence and skill level.
Where does she usually practice?
There is a small park built across from her house done by a collective called Holystoked crew, who build skate parks all over India. This one was built last year supported by Temple Surfboards and Mumu Surfschool for the Mahabs Surf Classic.
Is she presently training under anyone?
Her uncle is teaching her how to surf and skateboard, that she is learning from the other kids. And when some experienced skateboarders like Poornabodh or Kevin from HolyStoked drop by Mahabs, they give her tips.
What's next for her?
Hopefully she will keep grounded, build on the skills she already has and just get better and better and who knows where that will take her in life. Thanks must be given to her family for allowing her the freedom to explore both the sports which are on her doorstep. Hopefully Jamie Thomas will come back to India again and spend more time with the skaters in India.
It's amazing to watch the girl skateboard. She is certainly gifted with enormous talent and skills and is putting them to right use.
Watch Kamali take lessons from the legend skateboader Jamie Thomas