This Artist Snuck Into a Banksy Exhibit and Put Up His Own Painting
Someone pulls a 'pranksy' at a Banksy exhibit.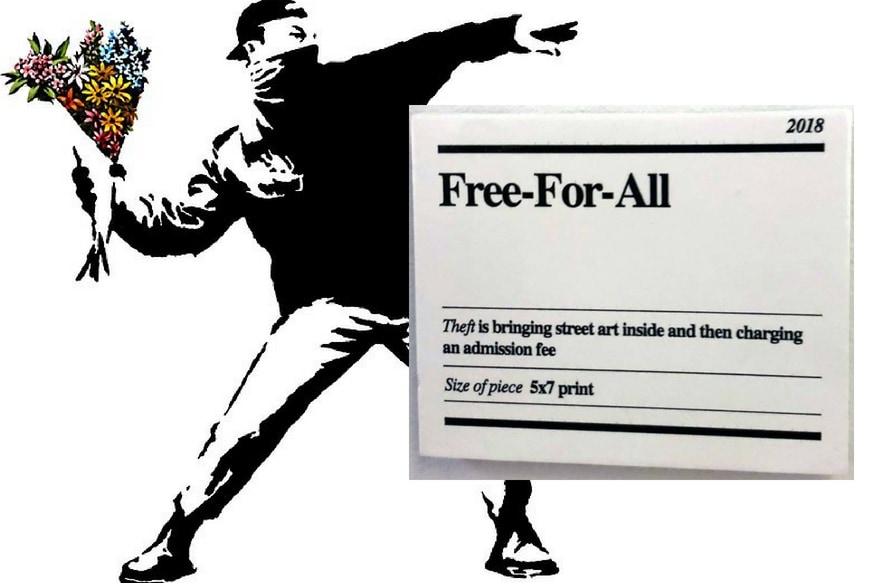 Someone pulls a 'pranksy' at a Banksy exhibit.
Anyone who has heard of Banksy will know that his art is primarily graffiti, street graffiti in most cases.
His artwork isn't usually displayed in exhibits, primarily because they are painted on the surface of walls or self-supported props, both of which are pretty difficult to remove.
However, recently an exhibition featuring Banksy's artwork in Toronto was opened, which has been speculated and debated about - both on whether his ex-manager had the authorization to start the exhibit, and whether it should be ticketed.
Banksy's identify remained unknown, and even though Banksy has had a number of exhibitions - none of this street art is ever put up for sale, even though art auctioneers often try to sell these pieces and leave the removal of the piece up to the buyer. But pieces are hard to remove and is cause for the question - shouldn't street art be left in the streets?
An artist, Tharanga Ramanayake, recently snuck into this exhibit in Toronto and put up his own art, titled "Free-For-All."
The piece is supposed to question the point of bringing in street art and then ticket that exhibition.
Ramanayake in a Twitter post reveals how, Banksy too had once snuck into an art exhibit and put up his art in 2003, and that was what Ramanayke was also trying to achieve.



Bansky once went to a museum and put up his work on the wall, so I put up my own stuff on the walls of the #banksy exhibit. #gurrillaart #art #streetart #graffiti #illustration pic.twitter.com/ABXoEseyCh


— THARANGA RAMANAYAKE (@THARANGA_R) July 4, 2018
The actual piece he put up was a picture of a six copies of of Banksy's 2007 print 'Trolly Hunters' — a copy of which was famously stolen ahead of the show's opening.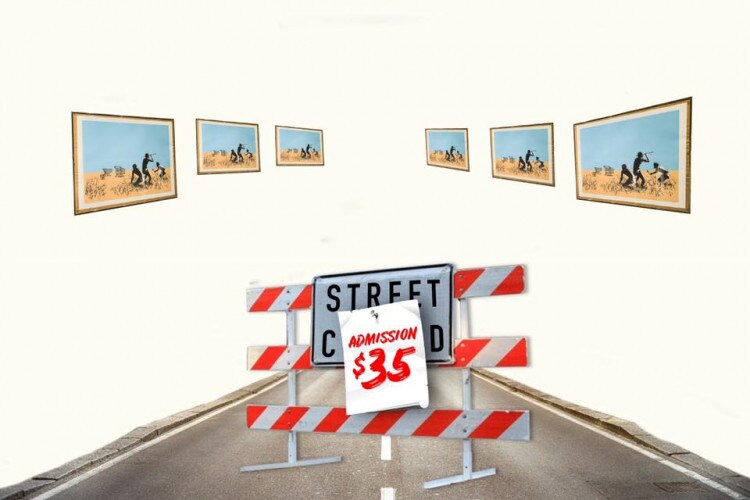 At the forefront of Ramanayake's print is a paper that reads "admission $35," posted over a "street closed" sign. Before security took it down, people had already taken pictures of it - truly reveling in the Banksy style artwork, which was hung next to one of Banksy's most famous pieces - 'Rage, the Flower Thrower.'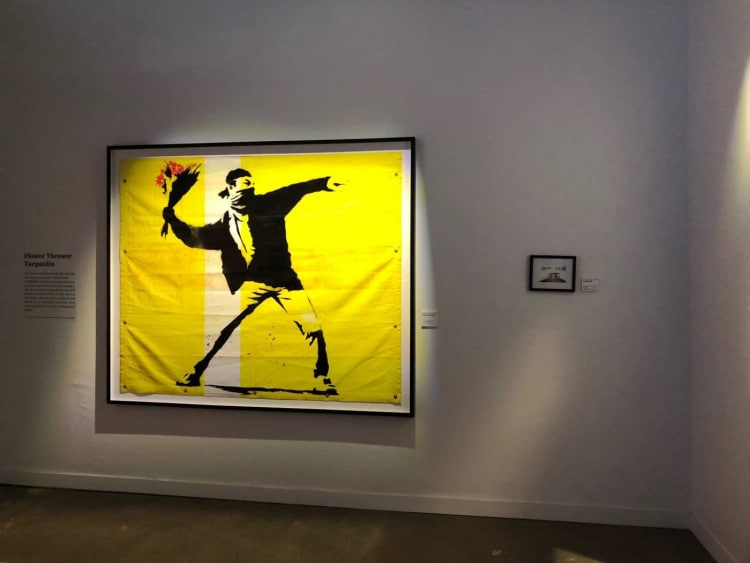 Even though this 'pranksy' piece didn't stay there for too long - it stayed longer enough to cause a stir - both between patrons viewing the exhibition (which has sold over 70,000 tickets so far) and Netizens are not only picking up on this - but commenting on the nature of the act. Some are debating on whether it was justifiable, and about the security of the art gallery.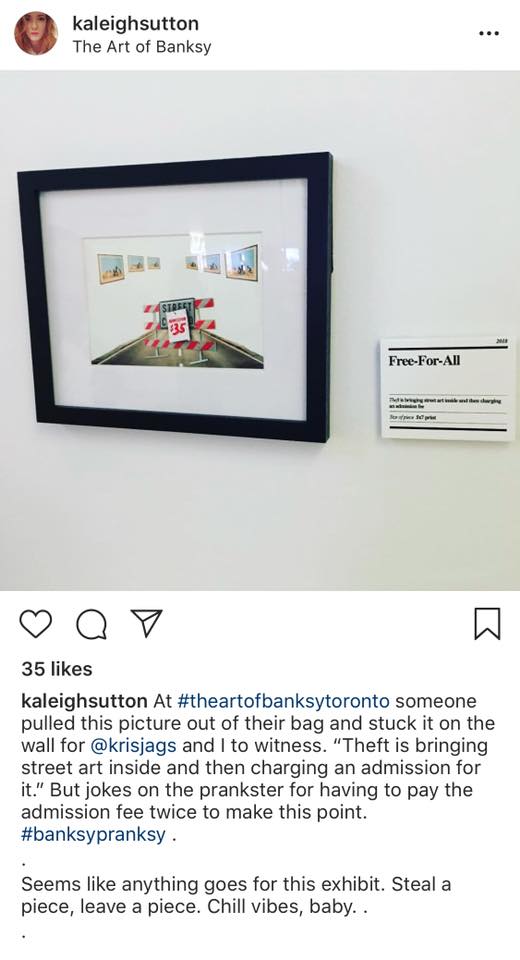 People walking out with paintings, people walking in with paintings. Have they heard of security? https://t.co/DIx75TS04u

— Dave Waddling (@waddling) July 5, 2018

Others, however, are a lot more supportive, stating how it was seemed like something the real Banksy would approve of.



"Theft is bringing street art inside and then charging an admission fee." Someone snuck into the Banksy exhibit and hung their own work on the wall. Love it. https://t.co/Z09xcpDjuo


— Matt Galloway (@mattgallowaycbc) July 5, 2018

This is the funniest thing to me, going to a museum and putting up your own art I love it https://t.co/bEJ61mcGAn

— emily vernon (@emilyvernon11) July 5, 2018




Best thing I've heard in a while - way to go @THARANGA_R https://t.co/GyVyqNXMSt


— Marsha Mowers (@MarshaMowers) July 4, 2018

THIS 🔥🔥🔥 https://t.co/MzcjjZXCNw

— Arisa Cox (@arisacox) July 6, 2018

With so much support in place, and getting away without paying a fine, the artist may just have pulled a Banksy - in a Banksy exhibition itself.
Read full article
Countdown To
Elections Results
To Assembly Elections 2018 Results