This Arunachali Version of Daler Mehndi's 'Bolo Ta Ra Ra' Left Everyone Grooving at BJP Yuva Event
When Arunachal Pradesh got groovin' to Daler Mehndi tunes.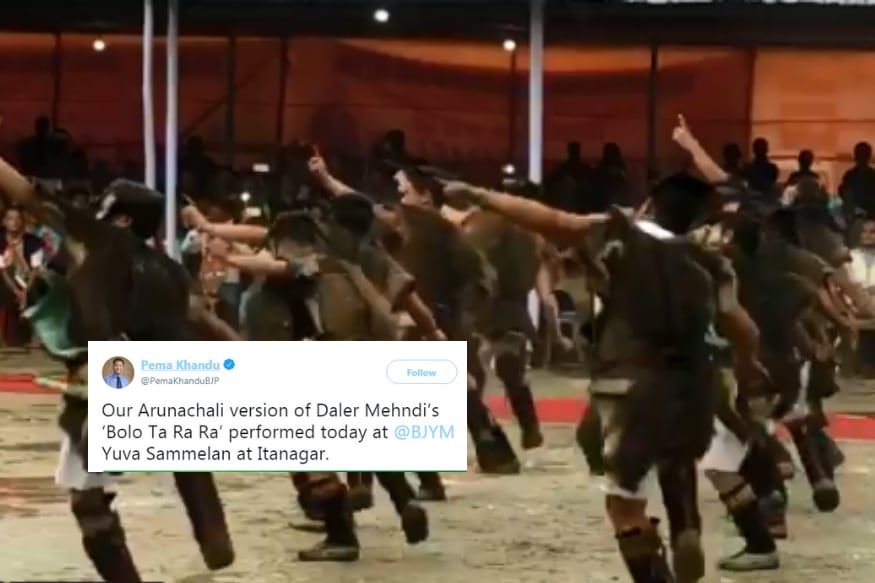 When Arunachal Pradesh got groovin' to Daler Mehndi tunes.
Daler Mehndi's iconic tunes still continue to dominate most of our party albums, and are part of that special collection which remind you of what growing up while watching MTV during the 90's was really like.
Most people will, therefore, recognize the song 'Bolo Ta Ra Ra' which came out in 1995, and instantly became so popular, that once it plays, you find yourself singing along to the lyrics that come with it.
But did you know that Arunachal Pradesh has its own version of the song?
A tweet shared by the Chief Minister of Arunachal Pradesh, Pema Khandu shows a video of a group of dancers from Arunachal Pradesh in costumes dancing along to 'Bolo Ta Ra Ra,' with innovative steps.
The dance was part of the BJP Youth Wing's event 'Yuva Sammelan' in Itanagar.
Our Arunachali version of Daler Mehndi's 'Bolo Ta Ra Ra' performed today at @BJYM Yuva Sammelan at Itanagar. pic.twitter.com/5MUlMHdQVh

— Pema Khandu (@PemaKhanduBJP) September 24, 2018
After the tweet was shared, it won hearts on the Internet, and people started coming out with the praise for the 'hidden talents' that Arunachal Pradesh has, and just how diverse - yet similar, India is.
We live in different states, but all Indians are one people. In our diversity we celebrate our oneness.

This endearing video of the Arunachali version of a popular Punjabi song truly captures the magic of our shared cultures, traditions & music.@PemaKhanduBJP @BjpBiplab @BJYM https://t.co/hXOTvUq7TY

— Hardeep Singh Puri (@HardeepSPuri) September 25, 2018
From Punjab to Arunachal ... Bolo Ta Ra Ra !!! Don't miss the end - Punjabi Tallipanti, Arunachali style... Balle Balle 👻 https://t.co/f4ssOTfBdl

— Supriya Bhardwaj (@Supriya23bh) September 25, 2018
Superb innovation. That's called taking global idea and adapting with local talent 👍👍 https://t.co/kAnqnvKSfM

— Sachin Birewar #GC (@Sachin_Birewar) September 25, 2018
The rest of the country doesn't have much idea about this rich culture.

A good idea could be to instate immersion programs and also showcase the culture through digital channels!

— Siddarth Jain (@siddarth_jain) September 24, 2018
Here's Punjab meets Arunachal Pradesh https://t.co/Gv2SHpaKv4

— Sourabh Choudhary (@MrChoudharyS) September 24, 2018
The original song has over 7 million views on Youtube, and we know why - despite it being 22 years old, it still remains a fan favorite - and Arunachal Pradesh reminds us of the same.
Read full article
Countdown To
Elections Results
To Assembly Elections 2018 Results