This Dad and Daughter Lip Syncing to Maroon 5's 'Girls Like You' is too Cute to Handle
Awwwwwww!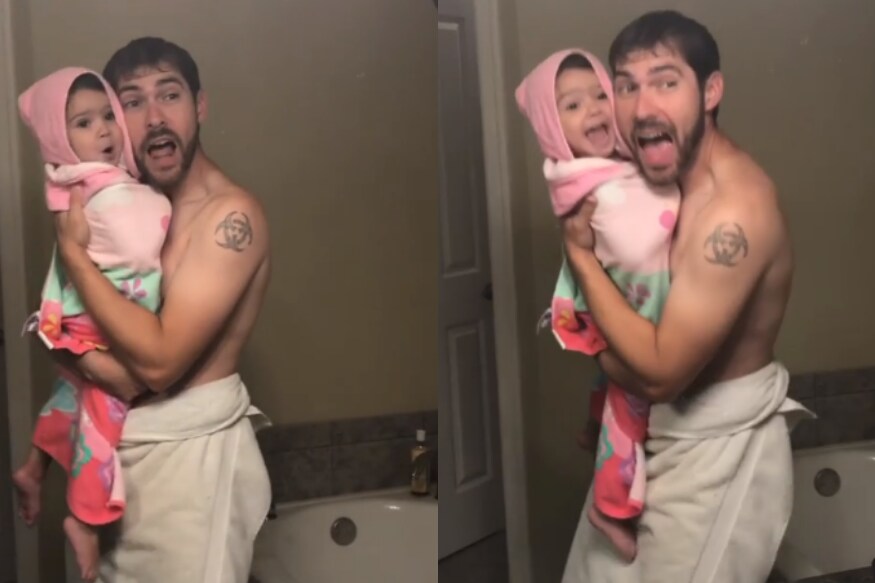 Image credits: mydarlingmyla / Instagram
While the Internet is already filled with cute cat and puppy videos for you to binge-watch, home videos shot with toddlers still takes away the cake.
One such video that has sent the Internet in a tizzy of awes is where a daughter teams up with her father to lip-sync Maroon 5's popular song 'Girls Like You'. It's the cutest thing you'll watch today.
In the video, the dad clad in a towel and his daughter Myla in her bathrobe put together a concert in front of their bathroom mirror that the entire Internet wants to attend now.
The video was first shared by Myla's mommy Trina Wesson on Twitter and it has gone insanely viral ever since. Uploaded on Monday, the adorable video has been retweeted nearly 8K times.
A little post bath lip sync battle the other night❤️

Myla is one heck of a lip syncer😂@adamlevine @maroon5 @TheEllenShow

Follow us on Instagram: @mydarlingmyla

Follow us on YouTube:https://t.co/lVYzucizY9 pic.twitter.com/w16gkhe7Yk

— Trina Wesson (@TrinaWesson) October 8, 2018
The video was equally hit on Instagram with nearly 4 million views.
It also turned into a spoof in no time.
Here's the original song:
Get the best of News18 delivered to your inbox - subscribe to News18 Daybreak. Follow News18.com on Twitter, Instagram, Facebook, Telegram, TikTok and on YouTube, and stay in the know with what's happening in the world around you – in real time.
Read full article