News18
»
News
»
Buzz
»
This Diwali, a Bunch of People are Gathering in the Heart of Delhi to Shout 'Thain Thain'
1-MIN READ
This Diwali, a Bunch of People are Gathering in the Heart of Delhi to Shout 'Thain Thain'
A viral meme has been put to a noble cause.
Last Updated: October 24, 2018, 10:20 IST
FOLLOW US ON:
Yes, you read that right. Thousands of Delhiites are 'interested' in shouting "thain-thain" in New Delhi's Connaught Place.
In case you have been away from the interwebz lately, a 13-second video of a Uttar Pradesh cop breaking into a bout of screams, mimicking the crackling sound of gunfire in order to petrify one of the criminals, had gone viral on social media.
The viral video showed police officers shouting "thain-thain" to imitate the sound of a gun while chasing a wanted criminal. Of course, the Internet did what it had to do. "Thain-thain" soon turned into a meme and the iconic gun sound turned into mashups and gunshots in popular games such as Counter Strike and PUBG were reduced to "Thain-Thain".
But the viral phrase isn't just a joke for the Facebook page - The Wander Bottle.
To celebrate eco-friendly Diwali, the page has combined the viral meme with a noble cause. Yes, the Delhiites will gather to yell "Thain-Thain". Why? Simply to cut down on noise and air pollution in the capital which already breathes unhealthy air.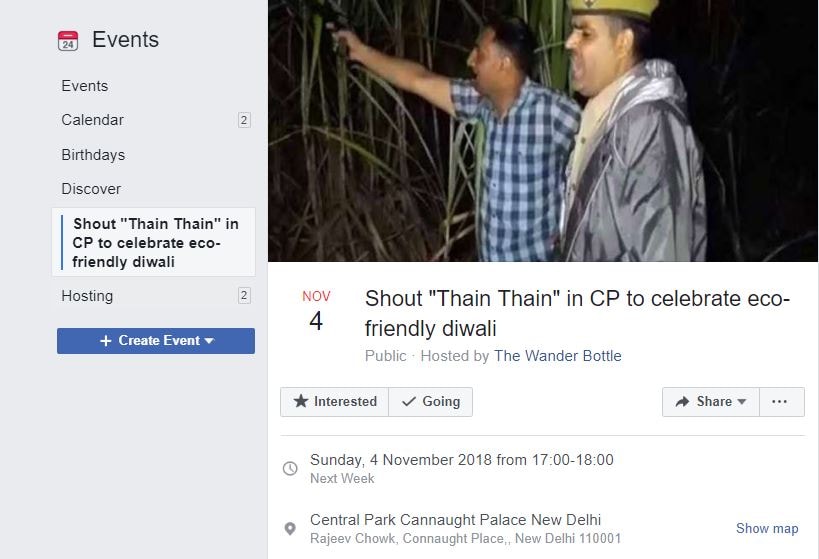 "To celebrate an Eco-Friendly Diwali, we request you all to mark your presence in Central park at 5 pm and shout "Thain, Thain" to celebrate eco-friendly Diwali. Yeh Diwali, thain thain waali," the event host wrote.
Scheduled to take place in CP's Central Park on November 4, netizens have shown a lot of interest in the event. Believe it or not, 2K netizens are 'going' to shout "Thain-than", while another 10K have shown their 'interest' in the unique event.
But it isn't just limited to celebrating a pollution-free Diwali. The event hosts are also crowdfunding to help the underprivileged kids living in the capital city.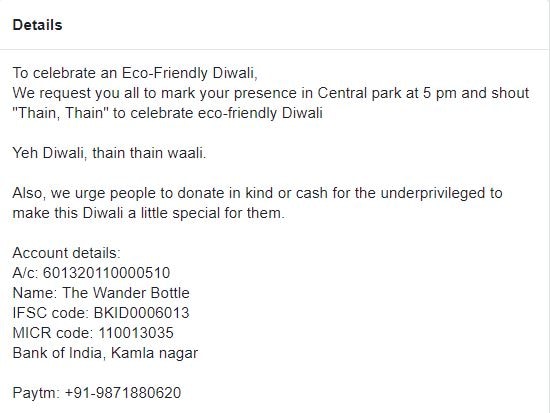 Meanwhile, the Supreme Court on Tuesday decided to restrict the bursting of crackers on Diwali evening to between 8-10pm.
The court clarified that on festivals, including Diwali, the bursting of firecrackers will be allowed only between 8 pm and 10 pm. On Christmas and New Year's Eve, the bench said, crackers can be burst between 11:45 pm and 12:45 am.
Next Story