GET Stock

Quotes


This Image From Kangana Ranaut's Explosive Interview Has Gone Viral
Kangana Ranaut is referring to Hrithik and Rakesh Roshan here in the meme that has now gone viral. (Photo credits: Aap Ki Adalat/IndiaTV)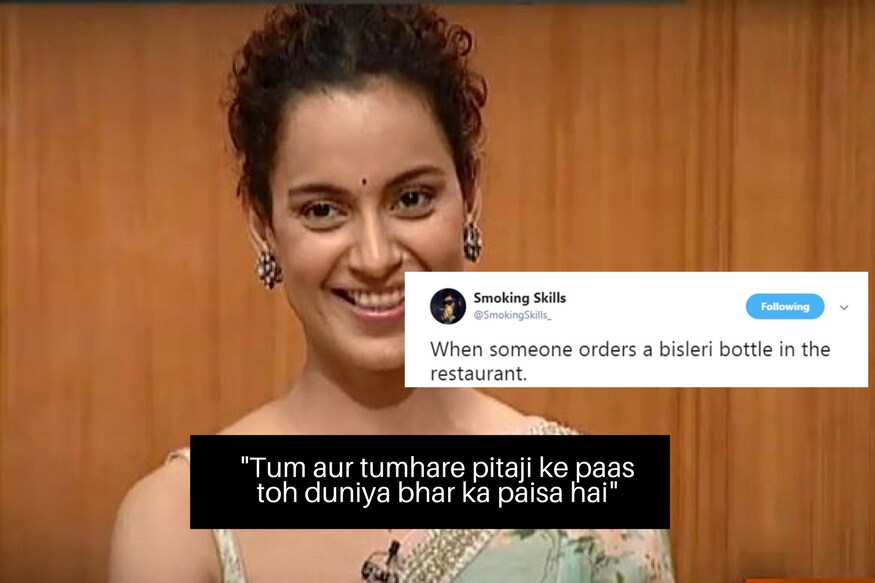 Kangana Ranaut is referring to Hrithik and Rakesh Roshan here in the meme that has now gone viral. (Photo credits: Aap Ki Adalat/IndiaTV)
After sparking the nepotism debate, Kangana Ranaut recently reopened the Hrithik Roshan-chapter in an interaction with
CNN News18
's Rajeev Masand and
India TV
's Rajat Kapoor.
The actress, who is currently gearing up for her next release,
Simran
, knows how to put things in perspective. She does not mince words and has no qualms about accepting her past.
The
Queen
is back in the news for making comments on the legal battle with actor Hrithik Roshan last year, and demanding an apology from him and his father Rakesh Roshan. The actress says it has nothing to do with publicity stunts and she has answers to all the queries.



#KanganaVsHrithik -- Hrithik and his father should apologise to me in public, says Kangana Ranaut to @RajeevMasand pic.twitter.com/5HBrTV3CAK


— News18 (@CNNnews18) September 1, 2017
Issues between the two began when Kangana hinted at Hrithik being her "ex-boyfriend" when she said in an interview that she fails to understand "why exes do silly things to get your attention".
The series of interviews not only took the nation by a storm but also
inspired the Internet janta to crack a lot of jokes
.
And now, Twitterati has somehow taken notice of the subtitles from the controversial
India TV's interview
 where Kangana says:
"Tum aur tumhare pitaji ke paas toh duniya bhar ka paisa hai, (You and your father have all the money in the world)."
Twitter users wasted no time in making highly relatable memes around the image.

#1


Friend, vacationing in Prague: "Dude what's up, where are you these days" Me, sitting at my work desk: pic.twitter.com/gS4tp2rflY

— Akshar (@AksharPathak) September 7, 2017

#2
Me when colleague calls coffee from starbucks pic.twitter.com/hcOwGmchan

— Godman Chikna (@Madan_Chikna) September 7, 2017
#3


My mother when I tell her dad bought dinner so don't cook tonight pic.twitter.com/V4W5Sd3dba

— jumpy excaite (@DailyVelli) September 7, 2017

#4
When new released movie is available in good print at torrent but you choose to go theatre.
Friends: pic.twitter.com/zMVNmx3w6b

— Robot 2.0 (@ChomuChikna) September 7, 2017
#5


Wen me and Dad do all the shopping without bargaining Mom : pic.twitter.com/y8rmkeasdC

— SwatKat (@swatic12) September 7, 2017

#5
me when my friend says chal lower parel se malad uber me jaate hai pic.twitter.com/vQk0uHr4Q0

— nirzary (@nirzary) September 7, 2017
#6


me when my friend asks "Goa chalega kya?" pic.twitter.com/RxOrQ1xYID

— ㅤ ㅤ (@firkiii) September 7, 2017

#7
When friends buy tickets to the chainsmokers concert pic.twitter.com/19InFAqoRT

— That Goan Boy (@schmmuck) September 7, 2017
#8


When someone orders a bisleri bottle in the restaurant. pic.twitter.com/VO3oRkB3PO

— Smoking Skills (@SmokingSkills_) September 7, 2017

#9
Me: Bhai aaj bus mein nahi uber/ola me chalte hai

Friend: pic.twitter.com/ybyEmK4H48

— Akshay Jain (@AkshayKatariyaa) September 7, 2017
#10


Me : Aaj chhoti Gold Flake ki jagah badi Gold flake piyenge Friend : pic.twitter.com/g9cCxp9E4z

— Pakchikpak Raja Babu (@HaramiParindey) September 7, 2017

#11
1. Ambanis Praying.
2. Reaction of God. pic.twitter.com/Z1RRN0FJrF

— Cryptic Mind (@Vishj05) September 7, 2017
#12


Me to Honeypreet pic.twitter.com/W8Y5WGoKdo

— Shan (@klpe) September 7, 2017

#13
Not all surprises are pleasant. pic.twitter.com/vgUKqgMR2C

— Bollywood Gandu (@BollywoodGandu) September 8, 2017
#14


Dad: "Din bhar laptop ke saamne, why are you wasting your life like this" Me: pic.twitter.com/Q7lqPcXp7D

— Akshar (@AksharPathak) September 7, 2017

#15
Me, looking at everyone sitting in office post 6 pm pic.twitter.com/XPQpy8Tz8Z

— Akshar (@AksharPathak) September 7, 2017
Also Watch
Read full article