This International Literacy Day Mumbai Police Gives 'Literates' a New Meaning
If you can read it, follow it.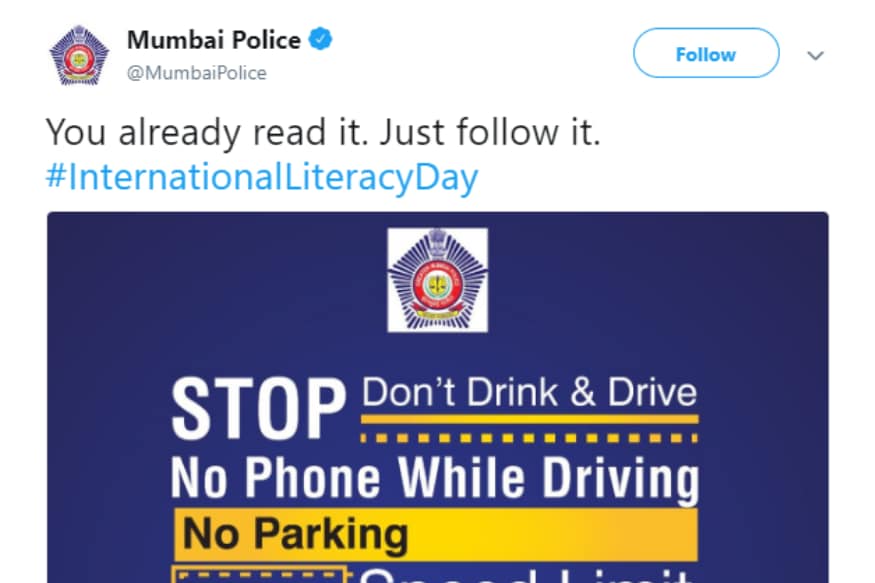 (Image: Twitter)
It's International Literacy Day today. First declared by UNESCO in October 1966, the day aims to highlight the importance of literacy to all individuals and communities.
But what purpose does literacy serve if it does not make us a more law-abiding citizen? How literate are we if we pompously flaunt our ignorance and break rules? Pointing out the same hypocrisy is Mumbai Police.
The post talks about no drink and drive, no phones, and to drive responsibly. Yes, the usual rules that we should be following, but with a twist.



You already read it. Just follow it. #InternationalLiteracyDay pic.twitter.com/0YjWEojShT


— Mumbai Police (@MumbaiPolice) September 8, 2018
The post ends with, "If you can read all of this, why not flaunt your traffic literacy on the roads?" And needless to say, everyone was on board with the message.

This is really very important..! If people start following this then nothing better then this. 👍🏻

— Vertical Adventures (@VAMulund) September 8, 2018



— blinkorshrink (@Blinkorshrink) September 8, 2018

So very true even the literate people seem illiterate in this context #InternationalLiteracyDay

— HeadwayBPO Solutions (@headwaybpo) September 8, 2018

However, some users were quick to point out the traffic problems in their areas and others said that there needs to be a ground implementation of such traffic rules.



Research has proved that ground implementation of rules by police pays much more than digital buffs on social media. While you might look cheeky eoth these tweets, time to spend more time on ground level activities that change public behavior.


— Gaurav (@rollingaurav) September 8, 2018
Read full article
Countdown To
Elections Results
To Assembly Elections 2018 Results