nda:
Needmore seats to Win

Needmore seats to Win
upa:
This is Exactly what Happened When Scientists Drugged Octopuses with MDMA: They Got Cuddly
Octopuses are perhaps more human-like than we'd have thought.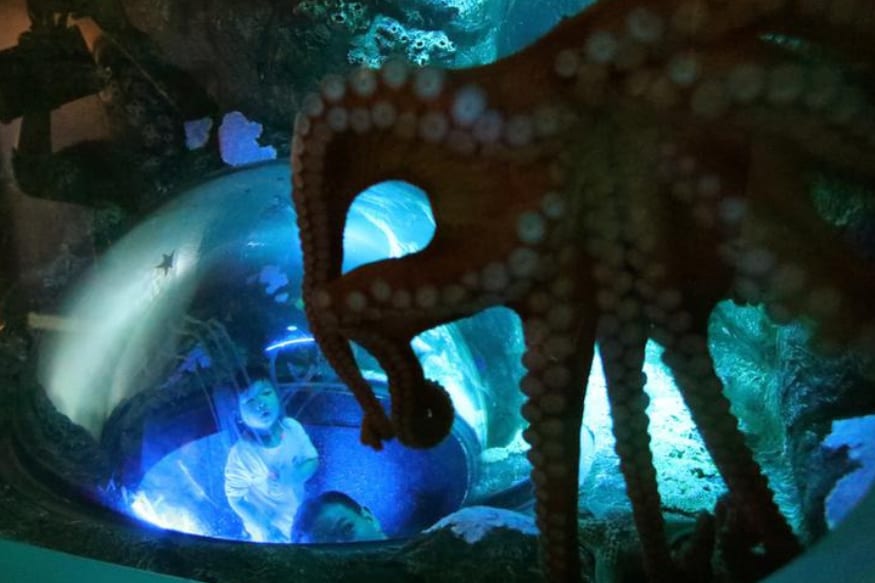 Octopuses are perhaps more human-like than we'd have thought.
Octopuses are smart creatures. While they live primarily in the sea - they've achieved very strange feats when observed.
There are even octopuses who can
predict the World Cup
as well as the famous
Octopus Paul.
Octopuses have also, in several viral videos, been caught escaping
very complicated situations and locked boxes.
One could even argue that they're smarter than humans.
In an experiment, scientists gave Octopuses MDMA, known more commonly to us as 'molly' or 'ecstasy.' Humans usually react to this by becoming more social - including feeling euphoria and empathy. The same effect usually occurs
for most mice and rats.
However, unlike mammals, octopuses have a completely different wiring for their brains. For starters, their brains are shaped like donuts. It's more similar to a snail's brain than it is to a humans. Human and octopus lineages are separated by over 500 million years of evolution.
Scientist Gül Dölen, who is an assistant professor of neuroscience at John Hopkins, and octopus expert Eric Edsinger, tested how octopuses would react to the effect of MDMA. In the
experiment,
the scientists put an octopus in a bath containing ecstasy, then was moved to a chamber which had three rooms to pick: a central room, a room containing a male octopus and another one containing a toy. This setup is very similar to one the one used
in mice studies.
The first dose used appeared to be too high, and the animals "freaked out and did all these color changes,"
Dölen says.
 After a more suitable dose was found, the animals behaved more calm and social.
Before the MDMA, the octopuses avoided the male octopus in the room. But after being drugged, they spent more time with it, and touched it in what seemed to be an exploratory, rather an aggressive manner.
People often see MDMA as "an empathogen," because "it reduces inhibition, it reduces social anxiety, it reduces the fear of social interaction," Robert C. Malenka, a professor of psychiatry and neuroscience at Stanford University, who was not involved with this study,
had written in an influential Cell paper in 2016.
"MDMA can curb hostility and anger, and can be seen as a valuable tool in neuroscience," he had argued.
For the octopuses to display the same human-like tendencies after the influence of this drug, has left Twitter amused.



"An octopus doesn't have a cortex, and doesn't have a reward circuit. And yet it's able to respond to MDMA and produce the same effects, in an animal with a totally different brain organization." https://t.co/jXreZjOu07


— American Mensa (@AmericanMensa) September 20, 2018

Octopi are the real cuddlefish 🐙 https://t.co/fCHeQclPpp

— CulinaryPen (@CulinaryPen) September 21, 2018




Fascinating. https://t.co/CMqbOQcRVl pic.twitter.com/ik24tNxE1s


— Alex O'Neal (@alexfiles) September 20, 2018

This is your octopus. This is your octopus on drugs....Any questions?
#Cuddly #MDMA https://t.co/pazfDQg9z1

— Sam Rosenthal (@BlackTapeSam) September 20, 2018




I love how someone thought "we MUST use funds to find out what octopuses are like high." For SCIENCE. https://t.co/9E8RS5O00S


— Kimberly Yam (@kimmythepooh) September 20, 2018

I read this so I could learn why scientists were dosing octopuses with Molly. Not sure I got an answer other than "cuz." https://t.co/hQBmhppDzn

— Max L Hrenda (@MaxLHrenda) September 20, 2018

(Get detailed and live results of each and every seat in the Lok Sabha elections and state Assembly elections in Andhra Pradesh, Odisha, Arunachal Pradesh and Sikkim to know which candidate/party is leading or trailing and to know who has won and who has lost and by what margin. Our one-of-its-kind Election Analytics Centre lets you don a psephologist's hat and turn into an election expert. Know interesting facts and trivia about the elections and see our informative graphics. Elections = News18)
Read full article
Countdown To
Elections Results
To Assembly Elections 2018 Results