This is How India is (Not) Celebrating Valentine's Day
There's much more to Valentine's Day than you think.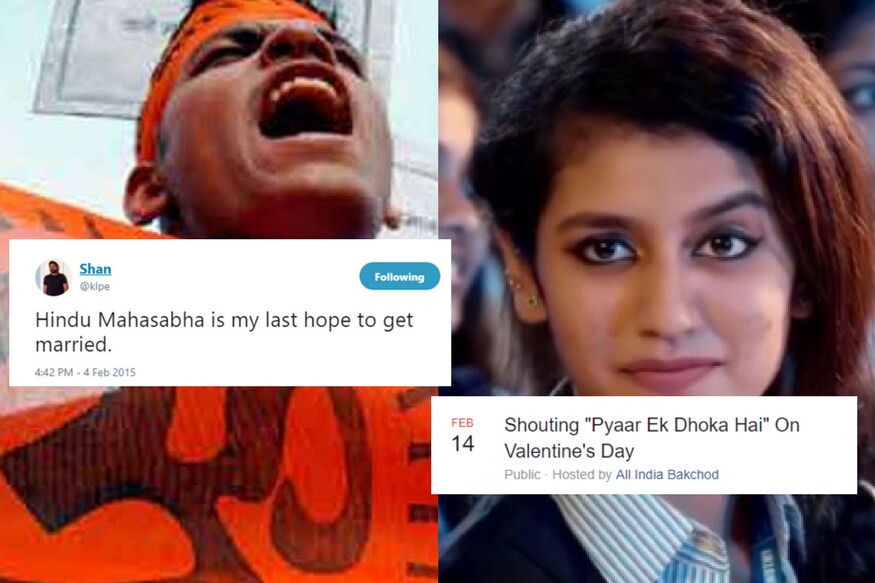 There's much more to Valentine's Day than you think.
Yes, it is that time of the year when couples get all mushy-gushy with each other, singles dodge their evening plans' question, and others mark "interested" in Facebook events declaring 'Pyaar ek dhoka hai'.
If you are hopelessly scrolling through your timeline, we have some great news for you. We have compiled a list of how Indians are (not) celebrating V-Day.
1) Twitter users who are single by choice or halaat came forward with some hilarious jokes.
she: mera valentine's day ka gift kaha hai??

me: pic.twitter.com/D7YruXcLDH

— ㅤ ㅤ ㅤ ㅤ ㅤ ㅤ ㅤ ㅤㅤ ㅤ ㅤ ㅤ (@firkiii) February 13, 2018
Me: ladki mil gayi... Friend: aur ladka Me: wo udhar bhaaga...pakad saale ko #JaiBajrangdal — InGenious (@Bees_Kut) February 9, 2018
Last minute festival shopping pic.twitter.com/M482osWqGG

— dorku (@Dorkstar) February 14, 2018
the safest place to meet today is a temple - pakde gye to bum bum bole #ValentinesDay — Dr. Gill (@ikpsgill1) February 14, 2018
This Valentine's day take time to celebrate the connection between the one you love, yourself, and your adhaar card. It's mandatory.

— Vir Das (@thevirdas) February 14, 2018
2) Comedy collective All India Bakchod has organised an event to shout "Pyaar ek dhoka hai" in Mumbai
The event created by AIB soon resonated with many.
There were memes. A LOT of them.
Jokes aside, they are pretty damn serious. Here are all the deets in case you want to attend the event.
SHOUTING PYAAR EK DHOKA HAI VENUE ANNOUNCEMENT Address : Kamgar Krida Bhavan, Hutatma Babu Genu, Senapati Bapat Marg, Lower Parel, Mumbai - 400013 THERE IS NO PARKIN AT THE VENUE. PLS USE PUBLIC TRANSPORT. TIME: 6pm Google Maps link - https://t.co/44Pwe7wW4W — All India Bakchod (@AllIndiaBakchod) February 12, 2018
3) Gurgaon man offers "boyfriend on rent" services on Valentine's Day
26-year-old Gurgaon-based entrepreneur Shakul Gupta is renting himself out and providing four "packages" from "holding hands" to "anything you want" on the V-day.
Needless to say, his offer went insanely viral on the platform with over 70k likes on his post.
4) Bajrang Dal warns to marry off couple celebrating Valentine's Day
No surprises here. Every year Bajrang Dal becomes hyperactive in imbibing Indian culture among young lovers.
The saffron outfit has approached pubs and club owners in Hyderabad's upscale Banjara and Jubilee Hills, asking them not to plan any special events on Wednesday, as Valentine's Day is "a foreign culture", Deccan Chronicle reported.
While the group in Maharashtra's Nagpur has threatened that couple, who will be found celebrating Valentine's day in public will be married off immediately.
"If they have the right to celebrate Valentine's day than we have the right to save our culture. We will take pandits with us and if we find someone in the garden we will get them married immediately," Manish Moriya, member of Nagpur Bajrang Dal told Outlook India.
5) Lucknow University bars students from entering its campus on Valentine's Day
On Feb 10, Lucknow University issued circular telling students not to wander inside its premises on Valentine's Day, ANI reported. The university said that disciplinary action would be taken against those who violate the directive.
Lucknow University issues advisory to its students to not to roam inside the premises of the university on Valentine's Day (14.2.2018). Disciplinary action will be taken against whosoever is found violating the advisory. pic.twitter.com/dQ8cdESICK

— ANI UP (@ANINewsUP) February 13, 2018
6) Shiv Sena conducts "lathi puja," says will use sticks against lovers on Valentine's Day
On Sunday, Shiv Sena conducted a "stick puja" in Muzaffarnagar city and said that the weapons would be used to "teach a lesson" to couples on Valentine's Day, TOI reported. "Our workers will visit restaurants and hotels and conduct checks. We have also warned owners of such establishments not to organize Valentine's Day events. There could be a risk of property damage, for which the owners themselves will be responsible," said the party's deputy head for Uttar Pradesh Lalit Mohan Sharma to TOI. Lokesh Saini, member of the party, said that Valentine's Day increases the occurrence of love jihad. "Celebration of Valentine's Day increases the occurrence of love jihad. This is not our culture. Our people will be deployed in parks and schools. If we find someone in an objectionable position, we will teach him a lesson."
7) Bajrang Dal chases away couples at Ahmedabad's Sabarmati riverfront
Bajrang Dal thugs ran amok on the Sabarmati Riverfront in Ahmedabad on Valentine's Day scaring away young couples. Carrying sticks and shouting slogans like "Jai Shri Ram", about two dozen activists of the Bajrang Dal came to the riverfront road on motorcycles and began chasing young couples who were standing or sitting along the road.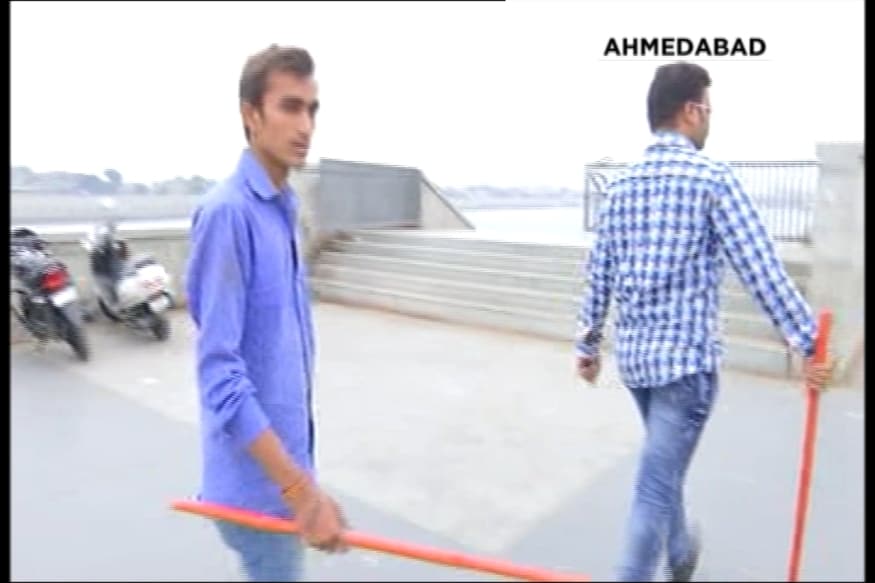 The scared youngsters were seen scampering to safety as fast as they could. A few Bajrang Dal men even walked down to the walkway of the riverfront and began chasing away couples from there as well.
And if all of that made you boil in anger, here are a bunch of jokes to cool it all down.
When he finally finds your g-spot pic.twitter.com/jgFRLyAW7q

— Priyal (@priyal) October 7, 2015
Hindu Mahasabha is my last hope to get married.

— Shan (@klpe) February 4, 2015
The true face of the Friendzone pic.twitter.com/keGxR0DjmD

— Sahil Rizwan (@SahilRiz) December 22, 2014
Texted 'Get well soon' to a guy who's in coma and 'Happy birthday' to my crush. The guy replied 'Thanks'

— P.R. (@pr_akash_raj) September 25, 2016
This is one of the most fulfilling relationships I've had in in my life pic.twitter.com/wBF9CuvCG4

— Bratticus (@bharatunnithan) August 6, 2016
It's so annoying when you love someone and want to spend the rest of your life with them and they don't accept your friend request.

— Shivam (@GhantaGuy) August 19, 2015
(late 20s & living w parents)

me: mom we r out of eggs so i am going out to buy some

mom: soon u will b out of eggs that cannot be bought

— bangsty (@Creepowoman) December 24, 2016
Like they say, make love not war.
Get the best of News18 delivered to your inbox - subscribe to News18 Daybreak. Follow News18.com on Twitter, Instagram, Facebook, Telegram, TikTok and on YouTube, and stay in the know with what's happening in the world around you – in real time.
Read full article