This is How Sardar Vallabhbhai Patel's Statue of Unity Looks Like From Space
Have you seen it yet?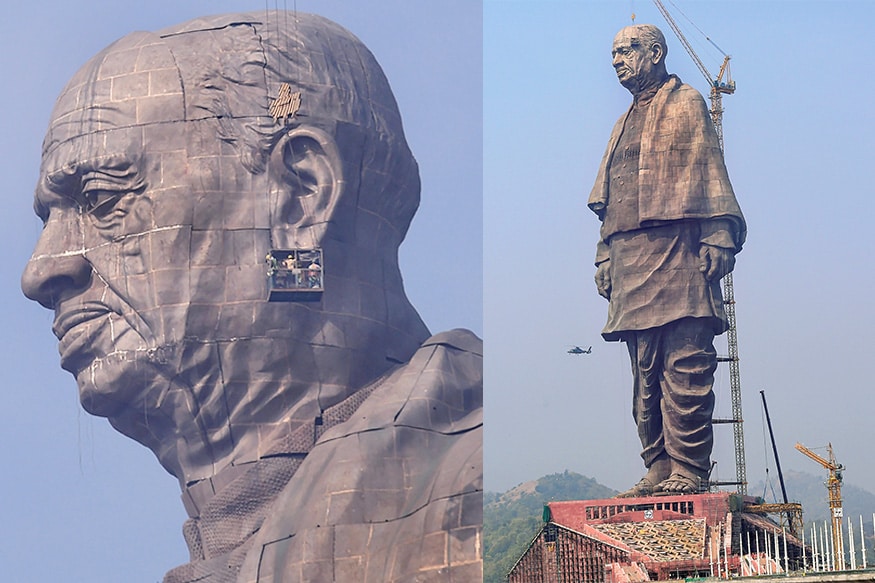 Have you seen it yet?
Ever wondered what Statue of Unity looks like from space?
Standing at an astounding 182m, India became home to world's tallest statue after Prime Minister Narendra Modi unveiled the statue on October 31 to commemorate Sardar Vallabhbhai Patel's 143rd birth anniversary.
Built at a cost of Rs 1989 crore with 1,40,000 cubic mts of concrete and 18,500 tonnes of reinforced steel rods, the statue grabbed the global headlines after it was revealed that it was twice as tall as the Statue of Liberty. Even comedian and host of The Daily Show, Trevor Noah had something to say about the giant structure.
And now, the statue is visible from space. Yep. The American Earth-imaging company recently took to their Twitter page to share a picture of the Sardar Vallabhbhai Patel statue as seen from the space. It's that huge!
Image credits: @Planetlabs
"At 597 feet, India's Statue of Unity is now the tallest statue in the world and clearly seen from space! Oblique SkySat image captured today, November 15, 2018," the company wrote while attaching a photograph.
At 597 feet, India's Statue of Unity is now the tallest statue in the world and clearly seen from space! Oblique SkySat image captured today, November 15, 2018. pic.twitter.com/FkpVoHJKjw

— Planet (@planetlabs) November 15, 2018
Twitterati took pride in the revelation.
At last Sardar Patel the 'Iron Man of Bharat', also known to many as the 'Bismarck of India', and who was referred to as 'the Boss' by Time magazine in an 1947 edition has got his due in the form of this extraordinary memorial that Bharat has shown she can put up. pic.twitter.com/ZdcQVPr7uQ

— Sanjay Tirdiya (@sanjaytirdiya) November 17, 2018
It's wonderful that we are now having the world largest statue #597feets pic.twitter.com/yoStI4ww6e

— Gaurav Chandra (@GauravC46029301) November 16, 2018
Great tribute to India's tallest leader. Thanks to @narendramodi and his team.

— SRI SAI 📚🇮🇳 (@casatyasai) November 16, 2018
The name itself " Statue of Unity" has great significance to boost the image of India in today's turbulent divisive world.

— JAY RAJ (@avjraj) November 17, 2018
proud to be an INDIAN

— nitin dagar (@nitinda66156337) November 16, 2018
✌️🙏🇮🇳 this great leader's statue became reality because of our beloved PM Narendra Modi ji 🙏 jai ho

— प्रिया झाझरिया (@priya_jhajharia) November 16, 2018
However, it is worth noting that the world's tallest statue is not quite visible/updated with images on Google Maps and Google Earth.
This was pointed out by a Twitter user.
Yo @googlemaps & @googleearth. We expected more of you.. Your satellite images are not updated with latest image of #StatueOfUnity yet.

Do your thing.. Stay updated pic.twitter.com/ngrCVHwmAa

— Argumentative Indian (@Public_RTI) November 16, 2018
Meanwhile, the Statue of Unity has been built to withstand wind speeds of up to 180 km and an earthquake of up to 6.5 richter.
The statue is covered with 2,000 tonnes of bronze sheets and has been completed in record time of 33 months through the efforts of over 3,000 labourers who worked on it round the clock.
It has been designed by Noida-based Padma Bhushan awardee sculptor Ram V. Sutar, who has designed over 50 monuments in his 40-year-old career. He is said to have taken special care to ensure that the statue's face resembles Patel's facial features by going through 2,000 photographs of the leader.
Sutar also reportedly consulted historians and people who had seen the "Iron Man". The statue has been designed to give an impression of Patel walking on water towards the Sardar Sarovar dam.
You can read more about the statue here.
Get the best of News18 delivered to your inbox - subscribe to News18 Daybreak. Follow News18.com on Twitter, Instagram, Facebook, Telegram, TikTok and on YouTube, and stay in the know with what's happening in the world around you – in real time.
Read full article