195/288 Seats ((145 Seats to Win)
Alliance
BJP+
YSRCP+
TDP+
INC+
OTH
Wins + Leads
133
31
31
18
13
+/- 2014
+12
-06
-02
+01
195/90 Seats ((145 Seats to Win)
| Alliance | BJP+ | INC+ | BJD+ | OTH |
| --- | --- | --- | --- | --- |
| Wins + Leads | 133 | 31 | 18 | 13 |
| +/- 2014 | +12 | -06 | -02 | +01 |
This Is How Social Media Reacted After Kangana Ranaut's Explosive Interview
Kangana Ranaut is back in the news for making comments on the legal battle with actor Hrithik Roshan last year, and demanding an apology from him and his father Rakesh Roshan. (Photo credits: Filmkraft Productions Pvt. Ltd)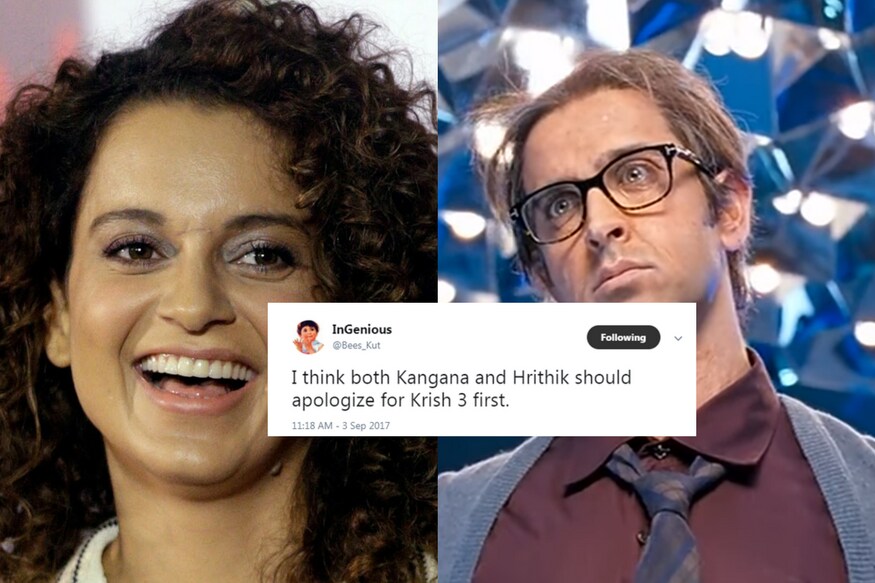 Kangana Ranaut is back in the news for making comments on the legal battle with actor Hrithik Roshan last year, and demanding an apology from him and his father Rakesh Roshan. (Photo credits: Filmkraft Productions Pvt. Ltd)
After sparking the nepotism debate, Kangana Ranaut recently reopened the Hrithik Roshan-chapter in an interaction with CNN News18's Rajeev Masand and India TV's Rajat Kapoor. The actress, who is currently gearing up for her next release, Simran, knows how to put things in perspective. She does not mince words and has no qualms about accepting her past.
The Queen is back in the news for making comments on the legal battle with actor Hrithik Roshan last year, and demanding an apology from him and his father Rakesh Roshan. The actress says it has nothing to do with publicity stunts and she has answers to all the queries.
Issues between the two began when Kangana hinted at Hrithik being her "ex-boyfriend" when she said in an interview that she fails to understand "why exes do silly things to get your attention".
#KanganaVsHrithik -- Hrithik and his father should apologise to me in public, says Kangana Ranaut to @RajeevMasand pic.twitter.com/5HBrTV3CAK

— News18 (@CNNnews18) September 1, 2017
The actress lodged a legal complaint against Hrithik for "misusing" the confidential emails and photographs of the time when they were together.
Hrithik later filed a complaint with the cyber crime cell, claiming an imposter had been emailing Kangana from a bogus email ID, pretending to be him.
#EXCLUSIVE -- @iHrithik runs away when he sees me: Kangana Ranaut to CNN-News18's @RajeevMasand #KanganaVsHrithik pic.twitter.com/a4NYtKxmmu

— News18 (@CNNnews18) August 31, 2017
Kangana also brought in the topic of nepotism and accused Karan Johar of giving preference to lineage over talent, which has given him the title of "Flag Bearer of Nepotism".
Ungrateful people need a reality check!!!!!!!!

— Karan Johar (@karanjohar) September 2, 2017
Report of cyber crime is NIL. Hrithik & his father claimed they would expose me but couldn't prove anything: Kangana Ranaut to @RajeevMasand pic.twitter.com/Z2JmIagxB3

— News18 (@CNNnews18) August 31, 2017
After her explosive interviews were aired, Twitter was flooded with reactions, some in favour of the actress while some thought she was beating the dead horse.
Hrithik Roshan's reaction after watching #AapKiAdalat #Kangana pic.twitter.com/OP7vtMRI72

— Akshay Jain (@AkshayKatariyaa) September 2, 2017
#KanganaRanaut pic.twitter.com/vJuULlzC81

— RoAdSiDe BaBa (@Roadside_Monk) September 3, 2017
Hrithik hasn't yet issued a statement in reply to Kangana's allegations because Rakesh Roshan is out of town and can't direct him.

— Pakchikpak Raja Babu (@HaramiParindey) September 2, 2017
Kangana Ranaut in Bollywood. pic.twitter.com/kV3T6SciuV

— PhD in Bakchodi (@Atheist_Krishna) September 3, 2017
I think both Kangana and Hrithik should apologize for Krish 3 first.

— InGenious (@Bees_Kut) September 3, 2017
Hrithik Roshan and Rakesh Roshan watching Kangana's interview on India TV. pic.twitter.com/c2MQVuylOt

— Pakchikpak Raja Babu (@HaramiParindey) September 2, 2017
Manager: Sir Kangana ne aapke khilaaf interview diya haiHrithik: ab kaunsi movie aa rahi hai iski

— InGenious (@Bees_Kut) September 2, 2017
Clashing with Kangana proved more costly for Hrithik than clashing with Raees and Rustom.

— Anshu Mor (@anshuMor) September 3, 2017
I had so much respect for Hrithik, I thought he was Bradley Cooper of India. Now he's not even Harman Baweja of India!

— Shan (@klpe) September 3, 2017
Reality of Kangana Ranaut blaming Hrithik Roshan has been revealed xD pic.twitter.com/l9d37NXAEY

— Deνιℓ (@ibeingdevil_) September 3, 2017
"Kangana vs running bollywood flop Actors" pic.twitter.com/YRNJnMjKK1

— Diksha (@dikshas_96) September 3, 2017
Kangana should just get over Hrithik Roshan.. what's the point of raking up his name every now & then! He has maintained a dignified silence

— Navneet Mundhra (@navneet_mundhra) September 1, 2017
Meanwhile, Susanne Khan has supported her former husband in the ongoing ugly spat between him and Kangana Ranaut.
While posting a selfie on Instagram, Khan wrote:
"There is no allegation or a sad evil plot that can have the weight to triumph over a good soul. #mafamilia #powerofthetruth #pureheart."
(With IANS inputs)
Get the best of News18 delivered to your inbox - subscribe to News18 Daybreak. Follow News18.com on Twitter, Instagram, Facebook, Telegram, TikTok and on YouTube, and stay in the know with what's happening in the world around you – in real time.
Read full article