This is What Happened When a Lion Climbed into a Safari Van Filled With Tourists
A meal on wheels, eh?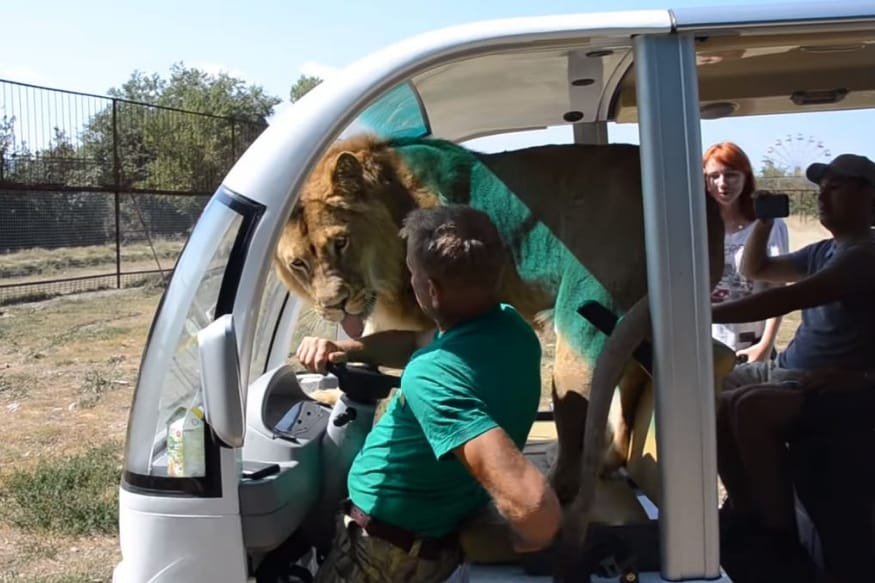 (Image: YouTube)
Ever had a lion accompany you on a safari trip? Well, that's precisely what happened at Taigan Safari Park in Vilnohirsk, Crimea, where a lion was filmed jumping into a vehicle with tourists sitting inside.
The video of the incident was shared by the park on YouTube.
The video shows Filya, the lion, climbing into an open-air safari vehicle filled with tourists. In the video, some tourists, trying to make fun of the incident, pet the lion as it licks them generously, while another woman is seen hopping out of the vehicle.
The Internet too was just as scared and amused while watching the video.
The Lion King was cool and all, but hell no!

— Steffi (@Steffi_Cole) September 6, 2018
I'm an animal lover, but this is crazy and dangerous! — Patty Sussmann (@pattysuss) September 6, 2018
If I had been there..

I would not have been there!!

— Alison Book (@AlisonBook) September 6, 2018
Reminds me of my dog when he's trying to get on the couch 😂😍 — Kira Louise (@Kiralouise2018) September 6, 2018
Although he looks as affectionate as my cat NO chance would I chance that 😹

— gladiatorjac's🍷💛🌹🇬🇧 (@gladiatorjacs) September 5, 2018
If my cat was that big, I'd have been tortured and eaten years ago. I can tell by the way she looks at me. I'm tolerated at best. — Andrew Snape (@StyxTravel) September 6, 2018
My love of animals says yes, give me a cuddle but my head says, I'm food, it wants to eat me and I wouldn't stand a chance.

— Steve (@SteveHy30160112) September 5, 2018
Meals on wheels comes to mind — jonathan lewis (@jonathanlewisuk) September 5, 2018
Previous media reports have said that there have been cases of animals biting tourists in the safari park.
Read full article
Countdown To
Elections Results
To Assembly Elections 2018 Results