This Kerala Tea Seller is Being Hailed as Superhero for His Bizarre Experiments With 'Chai'
Are you ready for the 'Tea-Man'?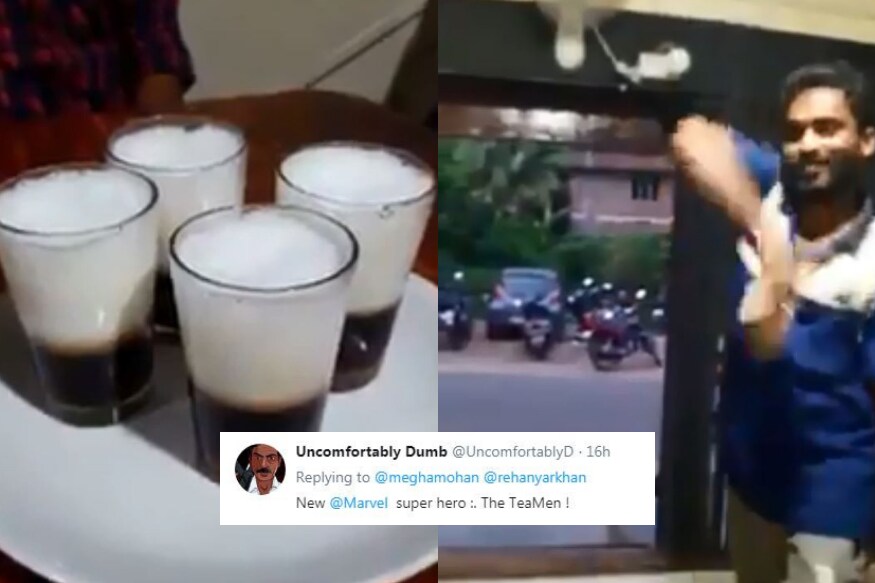 (Image: Twitter)
For most of us, mornings don't start right without at least one cup of tea, the national drink of India by people's own admission. Of course, as evening comes, that one cup becomes six but we Indians can't help remain obsessed with chai. And catering to that very obsession are chai-wallahs who often come up with bizarre experiments to serve tea to their customers.
Recently, Twitter user Megha Mohan uploaded a 40-second video taken at 'The Chappati Factory' in Ponnani, Kerala.
In the video, a man can be seen with four glasses of tea. But wait, this isn't your ordinary tea. The drink is separated in three distinct layers - tea, cream, and froth. But the man knows that the drink is not to be enjoyed in separate layers but as a concoction. What does he do? He picks up the hot glass one by one and swirls them around so quickly that before you can process what has even happened, the tea is served on your table.
How tea is served at The Chappati Factory in Ponnani, Kerala. pic.twitter.com/8cxJctMrJT

— Megha Mohan (@meghamohan) September 9, 2018
The video which has been viewed over 2,28,000 times on Twitter has users wondering how the man manages to perform the feat.
While some are wondering what force of Physics is at play here, others feel that the 'Tea-Man' deserves a Padma Shri for simply swinging the tea.
"I'd like a tea, please - swung, not stirred..."

— CitizenSRai (@Sushant_Rai) September 10, 2018
Brilliant... hope he gets the Padma Shri,at least he deserves it and he could benefit from the tokenism towards his state.

— arvind bhanumurthy (@ariputtar) September 10, 2018
Yay physics and tea. Super cool!

— Heraa Hashmi (@caveheraa) September 9, 2018
Unless physics isn't functional up there .......So basically he is using his palm to stop the concoction from falling out while inverting the glass ?

— Dòn Feldër (@Grieshnak) September 9, 2018
I forget if it's centrifugal force or centripetal force (been a long time since middle school science class!) but it's basically the same thing that let's you swing a bucket of water around so that it goes upside down but the water doesn't spill.

— Pinko.Snob (@pinko_snob) September 9, 2018
The force of the motion keeps the liquid in the glass

— Pinko.Snob (@pinko_snob) September 9, 2018
@Shakti_Shetty Disclaimer: Please don't try this at home. I threw a cup of hot chai on my brother.

— Emergency BF (@Tweeteesh) September 9, 2018
He seems to be actually doing better than some other chaiwala we know of. people are really getting served with some tea.

— Rob De Niro (@beerman12311) September 9, 2018
New @Marvel super hero :. The TeaMen !

— Uncomfortably Dumb (@UncomfortablyD) September 9, 2018
Aaaaaaaaaaa as a hardcore tea lover, I almost got a heart attack. Now I wanna drink it.

— DEEP (दीप) (@ActDeep) September 9, 2018
Life hacks when you are too lazy to get up for a spoon

— Saniya Kaluskar (@SaniyaKaluskar) September 10, 2018
Fantastic but I think I'd better stick to conventional way or the mess in the kitchen would be never ending!

— Denise Schwarz (@colwynDS) September 9, 2018
Read full article
Countdown To
Elections Results
To Assembly Elections 2018 Results