This One Photo From the Asian Games is Winning Hearts in Both India and Pakistan
A heartwarming moment.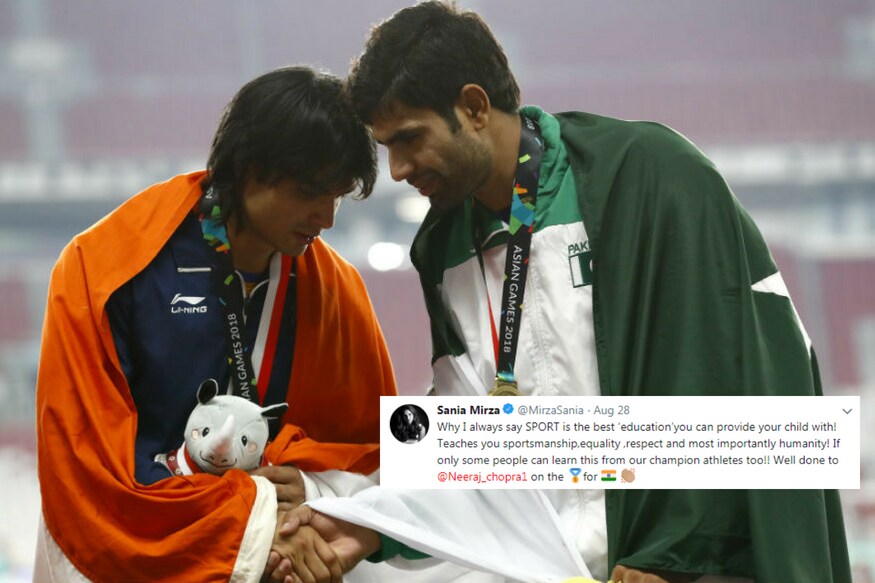 (Image: AP)
On Monday, Neeraj Chopra made history after winning the country's first gold medal in the javelin throw at the ongoing 18th Asian Games in Indonesia.
But the Internet was not just celebrating Neeraj's victory, but also a now-viral image of Neeraj shaking hands with Pakistan's Arshad Nadeem who won the bronze medal at the same event.
Indian Tennis star Sania Mirza shared the heartwarming image on Twitter and while congratulating Neeraj on his victory, she said that "sports is the best education a child could be provided".
Why I always say SPORT is the best 'education'you can provide your child with! Teaches you sportsmanship,equality ,respect and most importantly humanity! If only some people can learn this from our champion athletes too!! Well done to @Neeraj_chopra1 on the for https://t.co/YhyaRfbI9u

— Sania Mirza (@MirzaSania) August 28, 2018
The photo was also noticed by Pakistan pacer Hassan Ali who applauded the spirit of sportsmanship shown by the two players.
sportsmanship,equality ,respect and most importantly humanity well done both of you for lovely msg sports always best https://t.co/SLAZLf6CbS

— Hassan Ali (@RealHa55an) August 28, 2018
The internet's heart grew three sizes that day as people could not stop themselves from praising the sportsmen.
Shareworthy! Indian champion Neeraj Chopra sharing a warm and friendly gesture with Pakistan's Arshad Nadeem during the medal ceremony of javelin throw at the #AsianGames2018⁠ ⁠.@khatana_ashraf @arifamin16 @parawahid @bhatray @Umerwani99 pic.twitter.com/Z755kbYemW

— Muheet Gulzar (@GulzarMuheet) August 29, 2018
Picture SPEAKS 1000 words!! India's Neeraj Chopra showing warm and friendly gesture to Pakistan's Arshad Nadeem during the medal ceremony of javelin throw at the #AsianGame2018

— Faisal Iqbal (@FaisalIqbalCric) August 29, 2018
Exchange of warm greetings between Neeraj Chopra of representing #India and Arshad Nadeem from #Pakistan at the #AsianGames2018

Sania Mirza appreciates the move as it's a lovely gesture and display of sportsman spirit by the athletes. pic.twitter.com/J8HqFAVWkr

— Abu huzaifa (@huzaif_butt) August 29, 2018
Neeraj Chopra and Arshad Nadeem at the Javelin Throw Medal Ceremony, Asian Games. Sport is meant to make us strive and become more sporting. It is not a quasi war. ❤️ #DilKhushKitta @Ram_Guha @svaradarajan @MahtabNama pic.twitter.com/yTMt72c0zO

— Nupur Sharma (@theothersharma) August 29, 2018
Congrats Neeraj Chopra and Arshad Nadeem.Feeling proud of you both.Wish you both many more laurels in future .

— Vineeta (@vineeta0202) August 28, 2018
Neeraj Chopra not only won a gold medal at Asian Games but also won hearts with his friendly sporting gesture towards Pakistan Arshad Nadeem

who settled for bronze in the same event

SPORT TEACHES MANY QUALITIES ,BEING HUMBLE STANDS A TOP

SPORTS DONT MAKE CHARACTER :IT REVEALS IT pic.twitter.com/tatP1RjfVp

— ashraf Khatana (@khatana_ashraf) August 28, 2018
@Neeraj_chopra1 Wow i never thought such an adulation for a player , please help Arshad Nadeem (javelin thrower from Pakistan). And we are proud of your achievement , we would be even more proud if you can help another colleage..Thank you lots. Jai Hind!!https://t.co/kNFzMwmOoP

— Sushant Wats (@sushantwats) August 28, 2018
Read full article