This Pakistani Girl's Message On Indo-Pak Peace Is Winning The Internet
Make peace not war.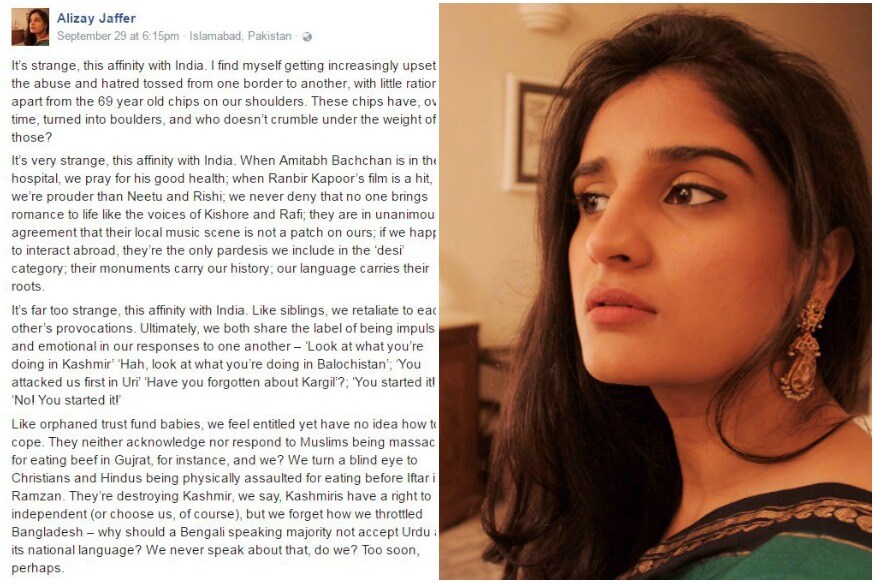 (Photo: Facebook/Alizay Jaffer)
'War does not determine who is right - only who is left'.
After the recent terror attack at the Uri army camp which killed 19 soldiers, many people in both India and Pakistan have been shrill in their calls for war as the ultimate solution.
And after Pakistani Comedian Shehzad Ghias Shaikh wrote a Facebook post sharing his thought on why India and Pakistan should not go to war, here's a Pakistani girl Alizay Jaffer who has one message for all those wanting to take this war of words to the battlefield: Peace. She says, "It's very strange, this affinity with India. When Amitabh Bachchan is in the hospital, we pray for his good health; when Ranbir Kapoor's film is a hit, we're prouder than Neetu and Rishi; we never deny that no one brings romance to life like the voices of Kishore and Rafi; they are in unanimous agreement that their local music scene is not a patch on ours; if we happen to interact abroad, they're the only pardesis we include in the 'desi' category; their monuments carry our history; our language carries their roots. (sic)"
India and Pakistan cannot do without each other is what Alizay Jaffer means to tell the world and the people of the two countries. She says they are at times like siblings provoking each other and at other times like a divorced couple, "sharing space, constantly bickering over who lost out in the settlement, unable to finally come to terms with the fact that we are no longer together."
Asking Pakistan to introspect before pointing fingers at the situation in Kashmir, she goes on to say, "They're destroying Kashmir, we say, Kashmiris have a right to be independent (or choose us, of course), but we forget how we throttled Bangladesh – why should a Bengali speaking majority not accept Urdu as its national language? We never speak about that, do we? Too soon, perhaps (sic)."
She ends her post by saying that "it is comforting somehow, that when I messaged one of my closest friends across the border, expressing concern over the destructive megalomaniac tendencies of our governments, he responded and said, "It doesn't matter what they do, you know I will always love you."
She concludes with a message for people of both the countries: Love.
Read the full post here.
Get the best of News18 delivered to your inbox - subscribe to News18 Daybreak. Follow News18.com on Twitter, Instagram, Facebook, Telegram, TikTok and on YouTube, and stay in the know with what's happening in the world around you – in real time.
| Edited by: Mugdha Kapoor Safaya
Read full article