This Photo of Trump Surrounded By World Leaders at G7 Summit Has Caught the Imagination of the Web
One key moment in a two-day meeting. Five official photos. Five opposing stories.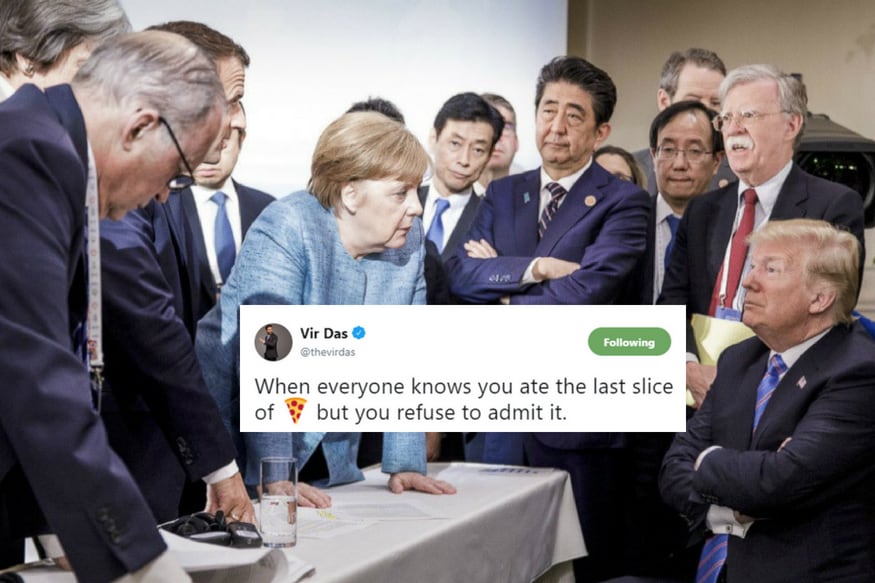 German Chancellor Angela Merkel speaks with US President Donald Trump at the G7 summit in Canada on June 9, 2018. (AP)
A photo posted by German Chancellor Angela Merkel on her Instagram account from this weekend's G7 summit in Canada has caught the imagination of the web.
The now viral photo captures a rather serious Merkel with her fists planted on the table, surrounded by world leaders including Britain's Prime Minister Theresa May, Japan's Shinzo Abe France's Emmanuel Macron-- all staring at the US Prez Donald Trump, the only leader seated with his arms crossed.
However, there are five versions of this photo with five opposing stories.
In the US version, we see Donald Trump face on, apparently calm, leaning back confidently with a skeptical almost sarcastic air, his arms crossed in a rebuff to the other leaders, bent towards him pleadingly.
.@POTUS meets with world leaders and negotiates on Trade, Iran, and National Security. #G72018 #BTS pic.twitter.com/OobyyDswNP

— Sarah Sanders (@PressSec) June 9, 2018
While the French version shows Macron negotiating with his American counterpart. The other leaders have fixed him with their regard, apparently fascinated.
However, it was the German version that caught the eye of social media. Taken by Jezco Denzel, a photographer working for the German government and winner of a category award in this year's prestigious World Press Photo award, the German picture shows Merkel dominant.
The photo kept popping up all over social media, sometimes in its original form, sometimes altered for humorous or satirical ends.
Here's the exhibit:
This is a Renaissance Painting. https://t.co/vNOJOFLLTl

— Pete Forester (@pete_forester) June 9, 2018
The last Covfefe. 😁😂#Trump #G7 #TrumpKimSummit #TrumpKim #covfefe pic.twitter.com/OhZztddQEp

— Leah Jacob (@LeeahJacob) June 10, 2018
G7 summed up in one photo. pic.twitter.com/TLv1wr6xrW

— Greg Hogben (@MyDaughtersArmy) June 9, 2018
"Just tell us what Vladimir has on you. Maybe we can help." pic.twitter.com/DLc7YJFXqT

— Guy Verhofstadt (@guyverhofstadt) June 10, 2018
When everyone knows you ate the last slice of 🍕 but you refuse to admit it. pic.twitter.com/8oJhNh4KaP

— Vir Das (@thevirdas) June 10, 2018
One scene - four different perspectives #G7

1) by Merkel's team 🇩🇪

2) by Macron's team 🇫🇷

3) by Conte's team 🇮🇹

4) by Trump's team 🇺🇸 pic.twitter.com/q3qaSfaiQS

— Fabian Reinbold (@fabreinbold) June 9, 2018
I love that Angela Merkel posted this photo on her Instagram. She knows how to send a message. pic.twitter.com/zYNATIyRjk

— Kathy Griffin (@kathygriffin) June 9, 2018
When Art History comes for you. pic.twitter.com/kCeq9nLqiy

— Cameron Bailey (@cameron_tiff) June 10, 2018
My God, this G7 is producing a hell of a set of images.

Has Angela Merkel placed Trump on the naughty seat? pic.twitter.com/yMIJr1nE1U

— John O'Brennan (@JohnOBrennan2) June 9, 2018
baby go wah, want to go home !! https://t.co/CzKAqPXXgJ

— christine teigen (@chrissyteigen) June 9, 2018
(With AFP inputs)
Get the best of News18 delivered to your inbox - subscribe to News18 Daybreak. Follow News18.com on Twitter, Instagram, Facebook, Telegram, TikTok and on YouTube, and stay in the know with what's happening in the world around you – in real time.
Read full article