Pune Police Officer Conducted a Bizarre Traffic Experiment to Prove a Point
A quirky and unique experiment to convey an important message.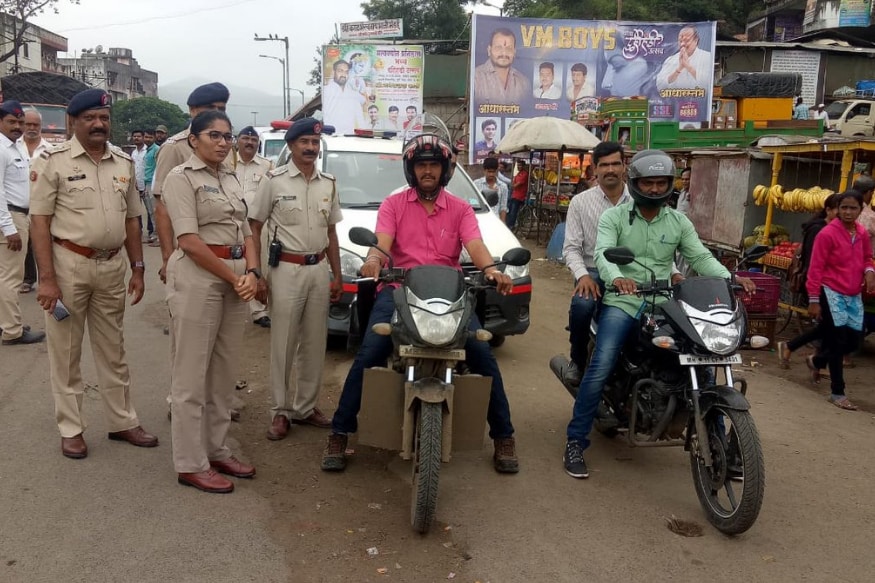 (Image: Twitter/@TejaswiSatpute)
Often in the humdrum of our daily routines, we feel it's ok, even justified, to break some rules to enjoy some moments of leisure and peace before we are back to following the monotony of our lives. And so, we don't think twice before breaking even basic traffic rules like skipping the red light or overtaking another vehicle.
Pointing out the same human tendency is Deputy Commissioner of Police (Traffic) Tejaswi Satpute, who recently conducted an interesting experiment in Pune.
She designated two men driving bikes of the same brand to drive for 10 kms from from Katraj to S. Nagar. But there was one catch. One of the drivers could flout EVERY possible traffic regulation to reach the destination as quickly as possible, while the other driver had to follow every traffic rule.
The results were shocking. The time difference between the two drivers was only FOUR MINUTES. Wait, what?
Dear allDid a small experiment 2day. Sent 2 bikers on 2 same company bikes frm katraj to s.nagar(10km), one was told to do whatever and reach at the earliest n other was asked to religiously follow traffic rules. Travel time diff ws 4mins.IS IT WORTH RISKING LIFE FOR 4 MINS??? pic.twitter.com/SwYa8EDZpi

— Tejaswi Satpute (@TejaswiSatpute) September 4, 2018
The agenda of Tejaswi was simple - "Is it worth risking your life for four minutes?"
Twitter was shocked at the results, to say the least, and praised the police officer for conducting such an exercise.
Surely its not. Instead of breaking traffic rules & putting someone's life in danger, its better to start early drive comfortably reach timely. Appreciate your efforts & innovative approach.

— Bhushan (@BhushanRanade7) September 5, 2018
great initiative - keep it up

— Pushkar Sane (@pushkarsane) September 5, 2018
Great initiative. Keep it up. We need more and more public awareness.

— PDS (@Shahpratikd) September 5, 2018
Excellent way of teaching public.

— Strategic Securities (@strattsec) September 5, 2018
Wonderful experiment - salute you Satputeji 🙏🏾😊

— Ramyavaran (@Ramyavaran) September 5, 2018
Great out of box thinking .. pls create a video of this.. Congrats

— iMihir (@mihirsa) September 5, 2018
Wonderful experiment... Much needed awareness ... Superb

— Elamvazhuthi (@agelamvazhuthi) September 5, 2018
Good stuff. Better way to make people understand.!! Lovely experiment. I am liking the way this team is taking up things. All the best

— Vidyadhar Purandare (@vidyadharP1) September 5, 2018
Wow!!! This is something innovative. Appreciate the efforts. Hope every city riders & drivers should get this point clear. If you have life you can spend time.

— NI3 (@NI3INDIAN) September 5, 2018
Good experiment. 4 minutes is nothing. Everyone should learn from this experiment.

— Crypto_ogre (@Shiva_SPC) September 5, 2018
Excellent approach. Great to hear police is trying innovative methods to convey the message.

— Uthista Bharata (@sanjayavaacha) September 4, 2018
Read full article
Countdown To
Elections Results
To Assembly Elections 2018 Results