GET Stock

Quotes


Indian Army Veteran's Post Argues Why Ban On Pakistani Artistes May Be Right
Peace is not a punchline. It is the end result of war.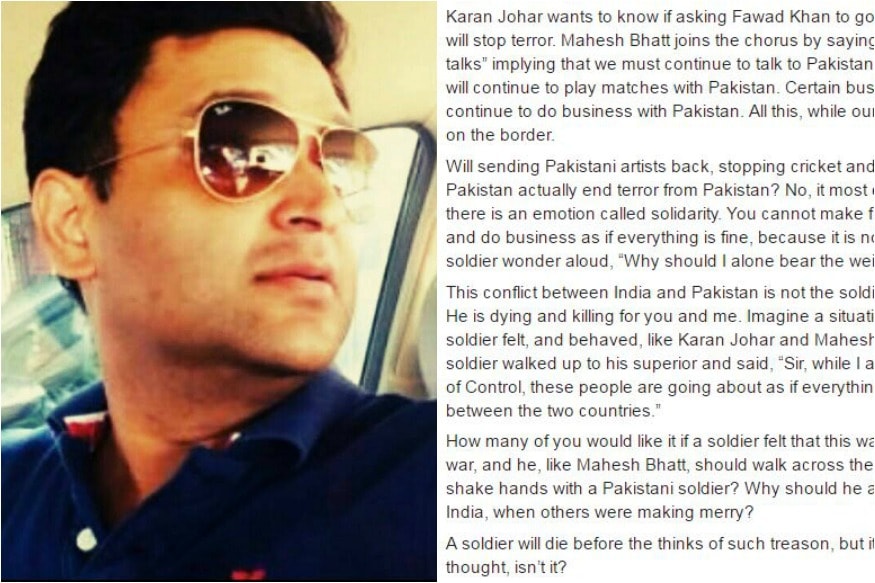 (Photo: Facebook/Major Gaurav Arya)
The Uri attacks and the subsequent developments - diplomatic impasse, temporarily banning Pakistani artists in India, surgical strikes, terror strike in Baramulla - have angered and pained people on both sides of the border.
The banning of Pakistani actors particularly attracted mixed reactions from people within and outside the film industry.
While many from the Hindi film industry, including producer, director Karan Johar, actor Salman Khan, veteran actor Om Puri, came out in support of Pakistani actors, a large section of people on social media believes that the decision to ban the actors was right.
And while debate and discussion on whether or not the decision to ban the Pakistani artistes was a step in the right direction is ongoing, an Indian army veteran, Major Gaurav Arya, has shared his opinion on the matter.
An alumni of St. Stephens College Delhi, Arya, joined the Indian Army in 1993 and served with 17 Kumaon Regiment in various operational areas including Kashmir.
In a detailed post, Arya lists down several reasons as to why banning the Pakistani artistes might just be the right move.
He writes, "For 70 years, Pakistan has been killing Indian citizens. Are we so inured to the pain of our fellow brethren that making a movie or playing a cricket match takes precedence over a soldier's mourning home? 18 families have been shattered like glass. Not a word for them by our Bollywood royalty, mind you. But the pain of Fawad Khan's departure is too much to bear, it seems. A tweet in support of Pakistani artists is mandatory."
In a few paragraphs, Arya explains why the United States boycotted the Moscow Olympics in 1980, and the Russians boycotted the Los Angeles Olympics in 1984. He says it is because "this is what happens when national interest is held paramount. And this is what must happen now."
Arya ends by saying that "peace is not a punchline. It is the end result of war." "It's easy to ask for peace when you are a thousand miles away from the Line of Control, and your primary concerns are which party to attend this evening and where to get financing for your next film," reads his post.
Read the full post here:
Also Watch
Read full article