GET Stock

Quotes


This Reddit Thread Proves How Women are Always Strategising to Avoid those Lecherous Stares
"Since moving here I've had a few incidents where I have received the most unashamed, lecherous, disgusting 'undressing you with their eyes' looks from men. They have no shame."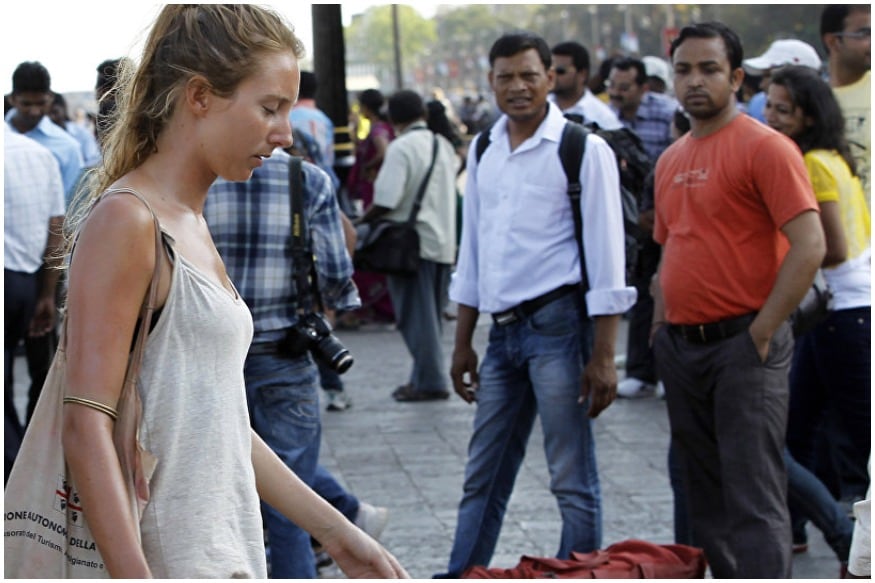 "Since moving here I've had a few incidents where I have received the most unashamed, lecherous, disgusting 'undressing you with their eyes' looks from men. They have no shame."
Kirron Kher had found herself in a soup when she said that the survivor of the Chandigarh gangrape should not have boarded the autorickshaw after she saw three men already sitting in it. While that's how our politician's feel about women's mobility, thankfully, women across the country are not listening to them. They are going out to work; taking buses, metros and autorickshaws and haven't decided to stay at home when there are men out there freely roaming around. But here's the thing, although Kher's advise was ridiculous, there's no denying the fear that comes with stepping out especially during late hours, or if you happen to be from another country.
Take, for example, the case of a UK resident who has been living in Delhi for some time and
who recently took to Reddit to talk about her experience
of being blatantly and shamelessly gawked at by the Indian men.
"I don't have a problem with 'curiosity' stares, given that the way I dress is perhaps a bit different to what people are used to (not in terms of being revealing, but just being 'different'). However, since moving here I've had a few incidents where I have received the most unashamed, lecherous, disgusting 'undressing you with their eyes' looks from men. They have no shame. They have a pervy smile on their face whilst doing it, and it makes me sick. Just yesterday whilst I was WITH MY PARTNER it happened to me,"
the woman wrote on Reddit.
The UK national goes on to detail how she has been tackling the incidents by shouting at the perpetrators or calling them out if she catches them staring.
"Any range of 'what are you looking at?' 'Stop staring at me' 'You have no shame, stop looking at me like that' is what I've taken to saying.", the woman wrote.
The UK woman concluded her Reddit post asking Indian women if calling out creepy 'stare-gazers' was safe and while seeking suggestions on alternative courses of action that victims at such situations could take.
While the post in itself is not very surprising as such incidents are not news to women living in Delhi, shameful as they may be, the responses it evoked in the comments thread could be read as an alarming clue to how unsafe women in Delhi really feel.
From the scores of suggestions the post generated, it is evident that most Indian women, especially women living in Delhi, feel the need to 'strategise' and prepare for the worst before stepping out of their homes.
From mild retaliation such as feigning (or actually) clicking a photo of the ogler to more definite plans of action such as carrying pepper spray, Redditors had a lot of suggestions to deal with men who stare or those whom they perceive as 'threats'.
"(I) am an Indian girl, in Delhi. What works for me is taking out my mobile phone and pointing towards them as if taking their picture. Worked on 3 instances I was being creepily stared at - and I don't even dress in a manner which some people might deem curiosity-generating," reads one comment.
Another says, "Stare back. It works nine times out of ten (times). For that one unusually persistent creep, just throw a stern "what?" (kya hai?). You need to call these people out on their pathetic behaviour. That's the only way. And the police will help whenever needed, trust me. They're not really that bad. I live in Delhi as well, and I am fully aware that this happens everywhere in the world but that's no excuse to let someone make you feel uncomfortable (as some responses here seem to be indicating). Also, pepper spray in bag at all times is very important!"
One Redittor's response was to scream
"ma behen nahin ya kya teri?"
(Do you not have a mother or sister?) at those who made her feel uncomfortable by thier ogling.
Sample this out-of-the-box idea, which if it existed, would surely have many takers: an app on which you could upload the photos of creeps who were caught staring at you to create a veritable database of perverts. Though the Redditor agreed that it could be grossly misused.
In just ten hours, the Reddit post had almost 300 comments.
However, not all considered retaliation to be the best option. There were others who cautioned against such measures if the location of the incident were remote and deserted. Some claimed that the fact that the victim is foreign may well work against them at times.
"..even after shouting and calling them out yields no response, I think I'd be better if you ignore it and don't even think about confronting them, It's a bad idea especially when they're locals and you're not.Even if you confront them and it somehow escalate's to cops involved in this, remember it is you who'll get blamed. I hate to say this but ignore it,", one Redditor wrote.
Some women stated that they ensured that they never went out alone, though quite a few admitted to being disconcertingly stared at, even in company.
The post also led to a conversation about the different ways in which men and women perceive staring.
You can read the full post here.
An alarming trend?
The wide scope of actions suggested by women to defend themselves against possible violence or intimidation on roads directed at them is nothing short of scary. The fact that so many feel the need to draw up war plans or procure protective company before stepping out is indicative of a growing dread among women regarding their own safety today.
Such self-preservatory behaviour, however, has been around for centuries. Studies show that from a sociological perspective, women have always preferred to move in packs because of the perceived safety in numbers. This behaviour is reflected even today in women preferring to go to bathrooms in the company of other women, even in conventionally 'safe spaces' such as schools.
But while some are ready to bear the brunt, as it were, of womanhood, others yet feel that reacting to repression, calling out those who make women feel uncomfortable, were necessary evils, no matter what, especially today.
In recent years, the conversation about 'safe spaces' for women has grown, with many protesting for women 'reclaiming' public-spaces for themselves. Many campaigns, movements, political parties and individuals have taken strong stands on women's safety. But if this Reddit thread is anything to go by, it looks like we still have a long way to go to make women truly feel safe.
Read full article
Countdown To
Elections Results
To Assembly Elections 2018 Results