This Revelation About the 'Eight of Diamonds' Playing Card Has Left Twitterati in Disbelief
Once you see it, you cannot unsee.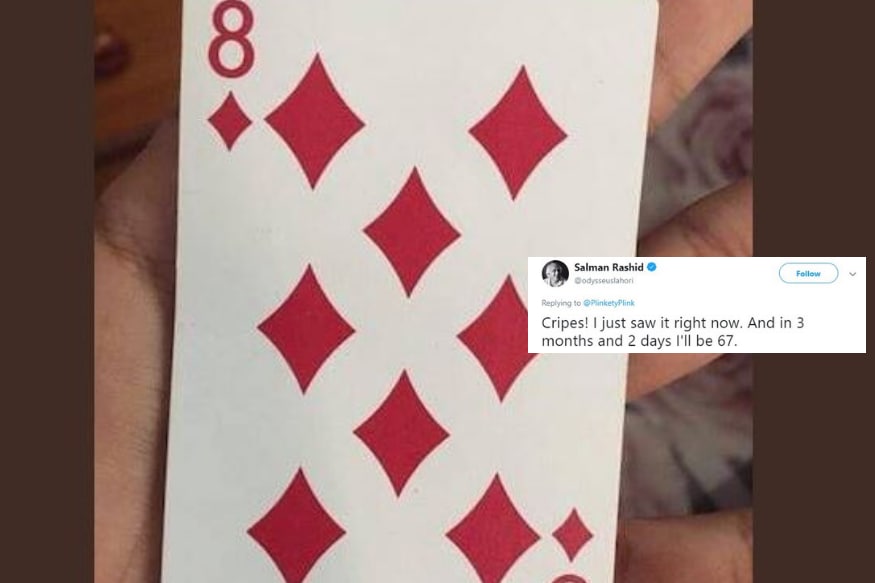 Image credits: @PlinketyPlink / Twitter
We all like digging up some good ol' bits of trivia to brag about during parties, don't we? For instance, did you know in 'Hey Jude,' Paul McCartney of The Beatles misses a chord and then goes on to utter, "f**ing hell"? This made it to the final song. Yep.
While it is easy to get sucked into the wormhole of trivia and the quest to gather information about unusual occurrences around the world, it is the mystery in mundane, everyday stuff that is usually harder to spot. It was one of these mundane little mysteries waiting to be discovered that has freshly caught Twitter's attention.
Recently, a Twitter user, who goes by the handle @PlinketyPlink, pulled off a card trick that no magician must've tried before. Ever. Holding an eight of diamonds in a deck of playing cards, the user asked people to notice a tiny detail in the card - an eight of diamonds.
The user also attached a photo and asked users how old they were when they saw the hidden number eight.
What age were you when you first saw the 8 in the middle of the 8 of diamonds? 😯 pic.twitter.com/GjRLkyl7Vu

— Plink (@PlinketyPlink) November 17, 2018
Do you see it? 
At a glace, the card appeared to be an average, innocent eight of diamonds. But on closer inspection, users found something more, something that they had perhaps never noticed through all those years of looking at playing cards - a numeric eight made from diamonds was hidden in the card's outlay which, as users know, includes eight diamonds. Geddit? Many on Twitter didn't at first either.
asy hai isko dekho phr orignal pic.twitter.com/lZLxrgJhmg

— Venom (@Hassan_xDD) November 19, 2018
But then, as the revelation dawned on them, the internet was in disbelief at never having noticed the tiny detail. Several social media users responded to Plimp's question in utter shock.
today years old

— TheFinleyZone (@TheFinleyZone) November 18, 2018
@nicolasant4 pic.twitter.com/99PfYYHrhx

— Laura💜 (@lauragrisales_s) November 18, 2018
the fact this went viral shows peoples priorities in life.

— Joseph Sulenski (@XJ9LoL) November 18, 2018
Say what now?... pic.twitter.com/osqgbQ3mVx

— Tommie Earl Jenkins (@teejaye84) November 19, 2018
— /Cam Robinson/ (@Hockey_Robinson) November 18, 2018
these ruin my life

— brooklynne (@TgiBrooke) November 18, 2018
Twitterati didn't shy away from revealing their ages.
Errrrr, 61!!!!

— Nicola Pettit (@nicolapettit3) November 18, 2018
Cripes! I just saw it right now. And in 3 months and 2 days I'll be 67.

— Salman Rashid (@odysseuslahori) November 19, 2018
48 (today)

— Lila 🌷 (@purple_horny) November 18, 2018
Exactly today years old.

— sara (@SaraTemelkova) November 19, 2018
How old were you when you first noticed the eight?
Get the best of News18 delivered to your inbox - subscribe to News18 Daybreak. Follow News18.com on Twitter, Instagram, Facebook, Telegram, TikTok and on YouTube, and stay in the know with what's happening in the world around you – in real time.
Read full article