This Scene Between Aamir Khan and BigB From 'Thugs of Hindostan' Has Turned into a Meme
Memes, memes everywhere.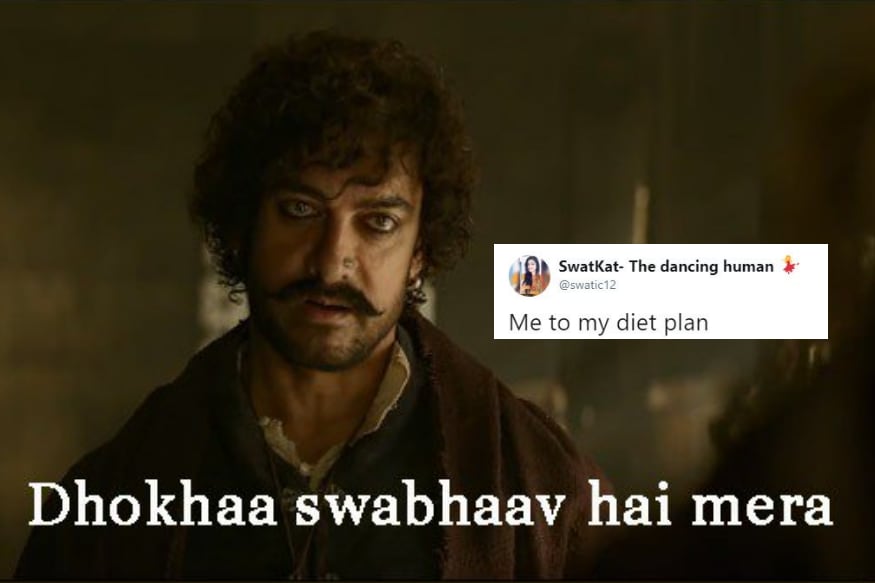 Image credits: YRF / Facebook
The makers of Thugs of Hindostan finally released the much-anticipated trailer on social media on Thursday.
Touted as one of the biggest releases of 2018 and boasting names such as Amitabh Bachchan, Aamir Khan, Katrina Kaif and Fatima Sana Shaikh in the lead, the trailer on Facebook has already garnered more than 3 million views under 24 hours.
Amitabh Bachchan playing Azaad is determined to liberate his country. But there's a slight problem. The British have hired the biggest thug - Firangi (Aamir Khan), to stop him. In a particular scene, Aamir Khan and Amitabh Bachchan come face to face with Khan saying, "Dhoka swabhav hai mera." To which Bachchan responds, "aur bharosa mera."
This 3-second scene from the trailer gave Twitterati the perfect opportunity to showcase their meme making skills.
Here you go:
1. Umpire's decision

2. Dhoni's DRS#ThugsOfHindostanTrailer pic.twitter.com/yMRyQAdN2r

— SAGAR (@sagarcasm) September 27, 2018
Me to my diet plan pic.twitter.com/PFOr2rSMFV

— SwatKat- The dancing human 💃 (@swatic12) September 27, 2018
Mumbaikars unite! pic.twitter.com/C4gvoSftZw

— East India Comedy (@EastIndiaComedy) September 27, 2018
View this post on Instagram

A post shared by All India Bakchod (@allindiabakchod) on
Mom : Beta shaadi karle sab theek ho jaayega

Me *Gets Married* : Mom kuchh bhi theek nahi hua

Mom : pic.twitter.com/XDB3JemjGo

— Bollywood Gandu (@BollywoodGandu) September 27, 2018
Pic1- WhatsApp forwards in family group.

Pic2- Parents. #ThugsOfHindostanTrailer pic.twitter.com/SN3w0etdMQ

— Angoor Stark 🍇🇮🇳 (@ladywithflaws) September 27, 2018
Mallya be like #thugsofhindostantrailer pic.twitter.com/v2jWUyyjBx

— Bollywood Gandu (@BollywoodGandu) September 27, 2018
Indian politicians after winning elections pic.twitter.com/lFJZlJWODD

— Attraversiamo !!! (@i_upasana) September 27, 2018
The CGI in the trailer left many unimpressed.
My Sony PS4 graphics are better than this. Zoom into water layers 😂#ThugsOfHindostanTrailer pic.twitter.com/BQOmepXSe1

— Dexter 🗯️ (@TonightIsTheOne) September 27, 2018
The ships in #ThugsOfHindostanTrailer look like they were lifted from a Playstation video game. Don't tell me they paid the VFX guy more than they paid their Writer-Director. pic.twitter.com/ISSGuxIiWh

— Gabbbar (@GabbbarSingh) September 27, 2018
Copy paste

😂😂😂😂😂#ThugsOfHindostanTrailer pic.twitter.com/MNDlPbzPle

— HUNTER SINGH ᶻᵉʳᵒ ᶜʰʳᶦˢᵗᵐᵃˢ ²⁰¹⁸ (@SRKsCombat1) September 27, 2018
The Internet also had an important query - why didn't the women talk back?
Didn't realise none of the women knew how to speak back then.#ThugsOfHindustan https://t.co/EcSCL2tY97

— Sucharita Tyagi (@Su4ita) September 27, 2018
And yet another Big Bollywood movie trailer in testosterone overdrive with nothing but tiny traces of the female leads sprinkled about. Pirates of the patriarchy.

— Mallika Dua (@MallikaDua) September 27, 2018
Katrina Kaif in every movie pic.twitter.com/dXXv5cQcKW

— InGenious (@Bees_Kut) September 27, 2018
You can catch the trailer here:
Get the best of News18 delivered to your inbox - subscribe to News18 Daybreak. Follow News18.com on Twitter, Instagram, Facebook, Telegram, TikTok and on YouTube, and stay in the know with what's happening in the world around you – in real time.
Read full article