This Twitter User Photoshopped Eyeballs on Venom and Now We Can't Unsee It
Why?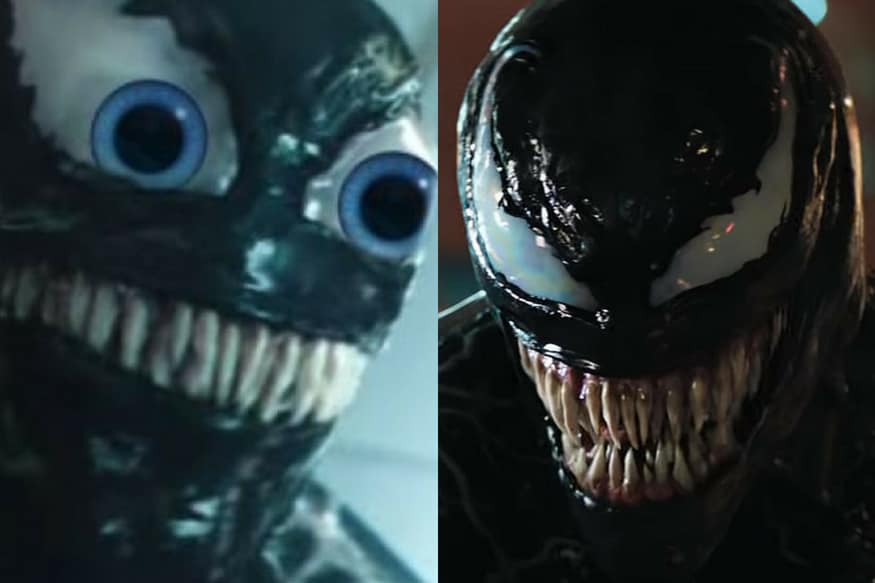 (Image: Twitter)
Twitterati often love to experiment with Photoshop, with users coming up with hilarious and often unsettling images that tend to leave the remaining Twitterverse in splits.
One such experiment in response to a simple question by Twitter user Mathew Gaydos left other users gasping for breath on Thursday.
The question? Pretty simple and absolutely hypothetical, of course:
What if Venom had eyes?
Let's take a moment to imagine that.
The eponymous superhero horror film 'Venom' based on the Marvel Comics villain is set to release this year. For the uninitiated, Venom is the villainous alter ego of Spider-Man,and the bespoke hero's adversary in the 2007 film Spider-Man 3.
Before his followers could come up with an answer, Gaydos posted a picture of Venom with eyes.
The image, which looks like Venom's 'white-walker' version (read unveiled Game Of Thrones reference) left many flabbergasted, amused and frankly, a little creeped.
But what if Venom had eyes? pic.twitter.com/Kl8TwI3rqz

— Matthew Gaydos (@MatthewGaydos) August 1, 2018
Now that you've seen it and had your reaction, here's how Twitter reacted to the creepy image.
EXACTLY
NO!!!

— maybe: nikki (@nikgayy) August 1, 2018
NOOOO
What if?! pic.twitter.com/9I60FwzirR

— Matthew Gaydos (@MatthewGaydos) August 1, 2018
OURS TOO
this is gonna haunt my dreams forever

— maybe: nikki (@nikgayy) August 1, 2018
MAKE. IT. STOP.
August 2, 2018
GIVE NINTENDO NOW
Mom said it's my turn to play the Nintendo pic.twitter.com/bdLgauUTc4

— Tyler ! (@Altruest_) August 2, 2018
STOPPPPP
something like this? pic.twitter.com/S4wHKuCeUx

— Ángel David (@AngelDare95) August 2, 2018
YAAAAS
Me looking at food after an exhausting day pic.twitter.com/fRnUAS6zUb

— Ice ❄️🌼 (@IceSnipe) August 2, 2018
ALL CHILDREN IRL
Do you have any games on your phone? pic.twitter.com/hot28oVTG4

— DicedPineapplesOnPizza (@tspofbrownsugar) August 2, 2018
YES, THANK YOU
I think that's actually terrifying. pic.twitter.com/lQrbG1JBor

— Fatima GalBos (@FatimaGalBos) August 2, 2018
DELETE NOW
August 2, 2018
SAVE ME, GOD
August 2, 2018
WHHAAAAAT?
What! He's kinda cute here. I could see a toy line already.

— Clarity Jones (@clarity_jones) August 2, 2018
ME NEITHER
Venom is supposed to be terrifying and the concept of him is supposed to instill fear. I've never been truly terrified of him until this moment. https://t.co/iIa3qoT06W

— Cavs🗡️ 6th Seed (@I_Exude_Sarcasm) August 2, 2018
That's probably enough internet for today.
Get the best of News18 delivered to your inbox - subscribe to News18 Daybreak. Follow News18.com on Twitter, Instagram, Facebook, Telegram, TikTok and on YouTube, and stay in the know with what's happening in the world around you – in real time.
Read full article