This Video of ITBP Jawans Carrying a Pregnant Woman for 5 Kms is Winning The Internet
The ITBP jawans of the 41st battalion carried a pregnant woman on a stretcher for 5 kms. Their video has been garnering praises on social media.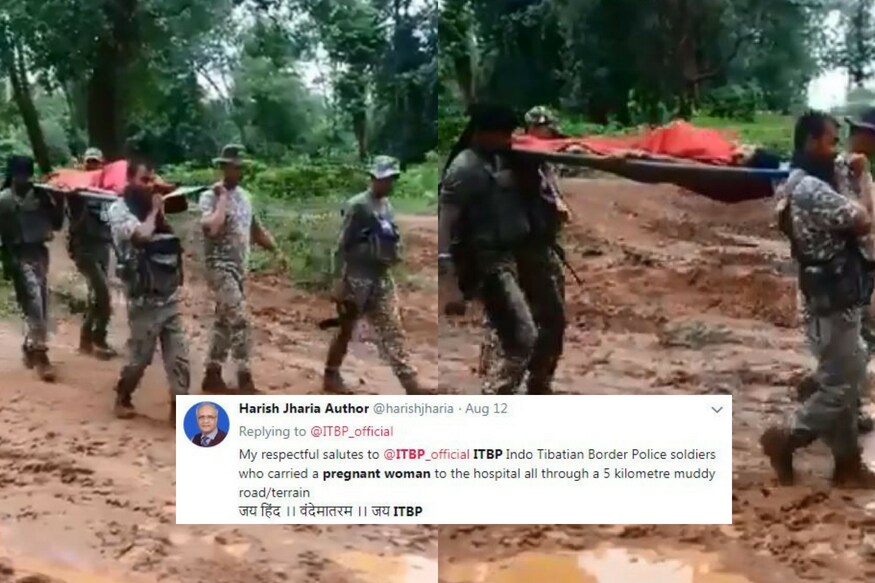 (Image: Twitter/@ITBP_official)
The jawans from the 41st Battalion of the Indo-Tibetian Border Police (ITBP) set a new example of courage and humanity this Sunday when they carried a pregnant woman on a stretcher to a hospital that was five kilometers away from her village in Chhattisgarh.
Another humanitarian effort by ITBP. A pregnant women Smt Sahdai of Hadeli village with labour pain evacuated on strecher by 41 Battalion in Distt Kondagaon in Chhattisgarh. Hadeli and Ranapal COBs jointly carried the lady on stretcher for 5 KMs to take her to PHC Mardapal pic.twitter.com/uSaRCIYrA1

— ITBP (@ITBP_official) August 12, 2018
The 30-year-old woman, identified as Sahdai of Hadeli village in Kondagaon district, approached the ITBP Coy Operating Base (COB) after learning that heavy rains and water logging were preventing the ambulance from reaching her residence.
The woman was then carried by ITBP Post Commander AC Laxmikani and his men on a stretcher for five kilometers, after which an ambulance was called and the woman was immediately admitted to a Primary Health Centre (PHC) in Mardapal.
Surinder Khatri, ITBP Commandant of 41st Battalion of Kondagaon told ANI, "As part of the WHAM (Winning, Hearts, and Minds) project in Anti-Naxal Operation (ANO), ITBP jawans of 41st Battalion Kondagaon troopers are also addressing the health care of the people located in extreme remote tribal areas where PHC are not available."
The video which was uploaded on ITBP's Twitter handle has been at the receiving end of a heap of congratulatory messages, with people praising the men of the hour while also commenting on the impending need of a better infrastructure in the remote areas of the country.
My respectful salutes to @ITBP_official ITBP Indo Tibatian Border Police soldiers who carried a pregnant woman to the hospital all through a 5 kilometre muddy road/terrain

जय हिंद ।। वंदेमातरम ।। जय ITBPhttps://t.co/71q65SHHFe

— Harish Jharia Author (@harishjharia) August 12, 2018
This is the best video that explains about our Forces in action

One shoulder carrying the gun the other shoulder supporting the sister..

God bless you my friends..

— Sachin Y Karlekar (@KarlekarSachin) August 12, 2018
Appreciate very much @ITBP_official your humanitarian efforts to save citizens, especially women in distress. My sincerest gratitude to jawans for spreading joy and hope. @narendramodi @PMOIndia @rajnathsingh @KirenRijiju

— Sreerupa Mitra Chaudhury (Nirbhoy Didi) (@sreerupa_mitra) August 12, 2018
Eel done Him Veers

You r winning hearts of those who really need care & support in those remote areas.

Providing sense of security through such civic work. https://t.co/WWhQsR1bba

— Bhola Nath IG BSF (Retd) (@BholaNath_BSF) August 13, 2018
While their efforts are applauded, sadly the army cant be everywhere for such rescue...

We have to build up our infrastructure much stronger.. https://t.co/M9AZuwo3xz

— Punam (@PUNAMDG) August 12, 2018
@ITBP_official Efforts like these make us salute you. Your actions speak for you, and we shall be indebted to you for the services you carry out for the nation. The Nation won't forget every single contribution of yours. Jai Hind. Jai Bharat. Vande Mataram 🙏🙏🙏

— ABHISHEK NAHARIA (@abhinaharia007) August 13, 2018
Appreciate our Soldiers.We are proud of them.What is the Govt doing?Looks like the village is not well connected nor has proper roads. No hospitals, emergency services.Our politicians are good enough to be in Capital cities,live in AC rooms,travel in highfi cars with Zero traffic

— PK (@PK_Chiguru_488) August 12, 2018
Get the best of News18 delivered to your inbox - subscribe to News18 Daybreak. Follow News18.com on Twitter, Instagram, Facebook, Telegram, TikTok and on YouTube, and stay in the know with what's happening in the world around you – in real time.
Read full article