Tiny 'Pee on Me' Donald Trump Statues in New York Invite Dogs to Urinate on Them
The tiny Donald Trump statues with 'Pee on Me' signs were spotted in Brooklyn, New York.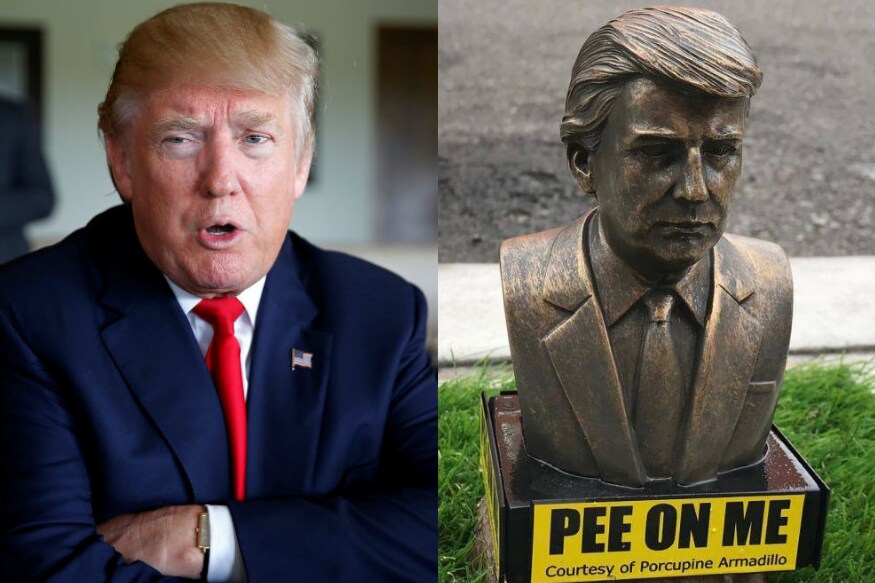 (Image: Twitter)
People in Brooklyn, New York finally gained a leverage over their Upper East Side neighbours after tiny statues of US president Donald Trump were spotted on several sidewalks with a 'Pee On Me' sign.
According to several media reports, the statutes which were placed by advertising professional Phil Gable were a personal expression of his disdain for Trump as a president and a human being.
While creating the statues, Phil decided to depict the president in his younger avatar from the 1980s because "that's probably how he sees himself, especially when he's paying Russian escorts for golden showers."
Furthermore, Phil also sprayed the 'Pee on Me' signs with a potty-training aid for dogs to "encourage them to relieve themselves on the statues."
Naturally, the pictures went viral on social media and everyone had a gala time taking a dig at the US president.
Tiny Donald Trump Statues Inviting Dogs To 'Pee On Me' Pop Up Across New York. pic.twitter.com/52fq5ALzeD

— Praveen Kumar (@ComradePraveenK) October 11, 2018
These "Tiny 'Pee On Me' Trump" statues - lining sidewalks of Brooklyn - are actually too flattering for the #OrangeDotard blob of human waste‼️#Impeach @POTUS @realDonaldTrump https://t.co/fggmfXwbrI

— UnPresidentNeroTrump (@AgtOrangeTrump) October 10, 2018
.I have a new hero. A man in Brooklyn who loves dogs has made dozens of small statues of Donald Trump with a sign on each one that says "PEE ON ME". Bring your dogs to Brooklyn.

— Wpg Jets Fan in NY (@rider505) October 10, 2018
Bring all your pets and deplorables and film it! #pee #peetape #trump #peeontrump #brooklyn #resist #goldenshower pic.twitter.com/E13E3YKY2R

— jon pauley (@doosekees) October 8, 2018
Hey @realDonaldTrump did you see this ? #PeeOnMe pic.twitter.com/uqTaN1S7N3

— Teri McClain (@terileemcclain) October 12, 2018
@realDonaldTrump at last you are helping the communities #peeonme https://t.co/256j1gyEGe

— Ian Amarsie (@IAmarsie) October 11, 2018
@realDonaldTrump where can we get one of your #MAGA #PeeOnMe statues? I'd like a half dozen for all the neighborhood doggies and the deplorables who don't use indoor plumbing. Thanks.

— Cakelady (@DinahFewell) October 10, 2018
Read full article
Countdown To
Elections Results
To Assembly Elections 2018 Results