To Keep The Gods Warm In Winter, Ayodhya Temple Installs Heaters
It happens only in India.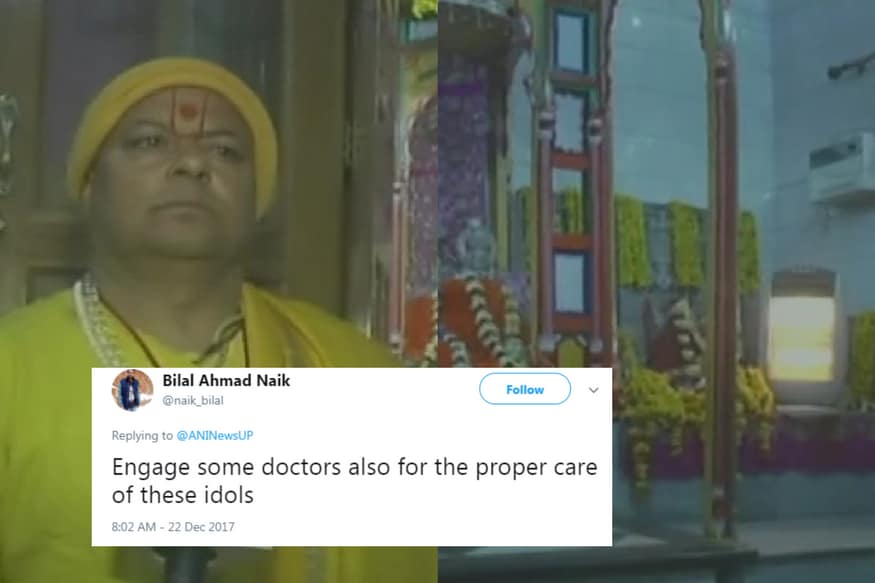 Photo credits: ANI / Twitter
If you think only humans need kambal and geysers to get through these biting winters, you're mistaken.
As the temperature drops in Northern India, gods from Ayodhya based temple are feeling the cold waves too, if reports are to be believed.
Janki Ghat Bada Sthan temple situated in the ancient city - Ayodhya - has apparently set up heaters "keeping in view intense cold weather," ANI quoted Mahant Janmey Sharan as saying.
"Heater installed for god at Janki Ghat Bada Sthan temple in #Ayodhya, Jalabhishek with hot water keeping in view intense cold weather" says Mahant Janmejay Sharan #UttarPradesh pic.twitter.com/DuessgMorV

— ANI UP (@ANINewsUP) December 21, 2017
Besides the heater, "Jalabhishek" will be done with hot water to help gods beat the cold, confirmed temple's priest Mahant to ANI.
The tweet left Twitterati amused who responded to the bizarre news. "Engage some doctors also for the proper care of these idols," wrote a user.
This is crazy! God, who gives comforts to Human beings, can surely take care of himself in all environmental conditions. He only expects humans to remember & respect him.

— Raju (@nbrengaraju) December 21, 2017
All Shiva temples and sources Gangotri start in frozen regions (temp goes 20-30C below),would some heaters needed there too. Gods do not need heaters , weak man does. Must be priest feeling cold incapable of doing rituals,takes help of gods name is like degrading Supreme being.

— vijay banga (@lekh27) December 21, 2017
Engage some doctors also for the proper care of these idols

— Bilal Ahmad Naik (@naik_bilal) December 22, 2017
A Twitter user @gsforever222 posted a screenshot of Indian Express report from last week that states the shortage of night shelters in the capital city due to which homeless are seeking shelter under a flyover near AIIMS hospital.
India 😍😍😍😍 pic.twitter.com/fLHhK8W7MO

— La Vie En Rose (@gsforever222) December 21, 2017
Get the best of News18 delivered to your inbox - subscribe to News18 Daybreak. Follow News18.com on Twitter, Instagram, Facebook, TikTok and on YouTube, and stay in the know with what's happening in the world around you – in real time.
Read full article