Municipal Corporations

9/10

TRS

8

INC

0

BJP

1

AIMIM

0

OTH

0
MUNICIPALITIES

114/120

TRS

96

INC

9

BJP

3

AIMIM

2

OTH

4
Refresh Data
'Too Young and Too Soon': Twitter Mourns the Untimely Demise of Swedish DJ Avicii
Tim Bergling, the Swedish DJ and electronic dance music producer who rose to fame under the stage name Avicii, was found dead on Friday in Muscat. He was 28.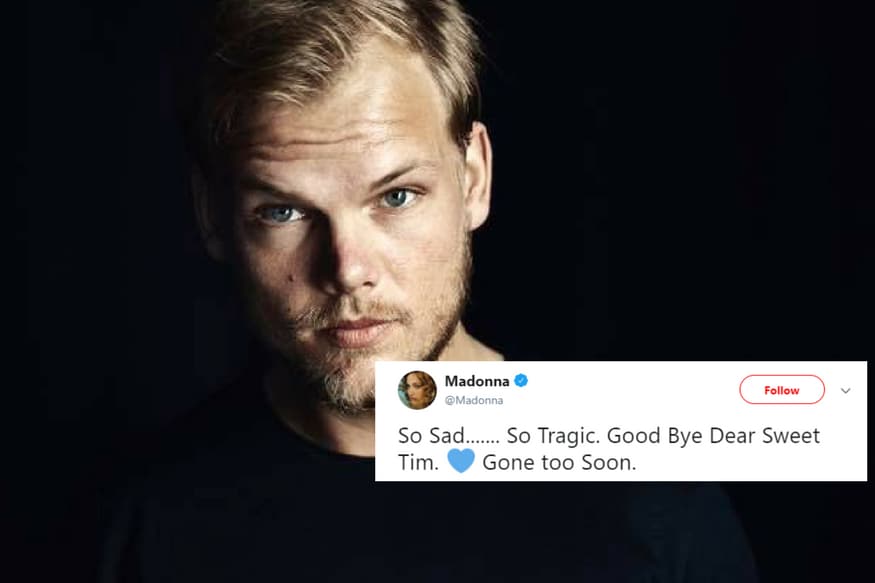 Image credits: Avicii / Facebook
The Swedish-born producer and DJ known as Avicii has been found dead in Oman.
Publicist Diana Baron said in a statement that the 28-year-old DJ, born Tim Bergling, was in Muscat, Oman.
"The family is devastated and we ask everyone to please respect their need for privacy in this difficult time," the statement said.
Avicii was a pioneer of the contemporary Electronic Dance Movement and a rare DJ capable of worldwide arena tours. He won two MTV Music Awards, one Billboard Music Award and earned two Grammy nominations. His biggest hit was "Le7els."
His death comes just days after he was nominated for a Billboard Music Award for top dance/electronic album for his EP "Avicii (01)." He was nominated alongside his peers, who have taken EDM mainstream of late — The Chainsmokers, Calvin Harris and Kygo.
A host of stars from the music world came forward to pay tribute to the star.
my sincerest and most heartfelt condolences to the friends, fans and families of @Avicii :( Banter aside, nobody can deny what he has accomplished and done for modern dance music and im very proud of him.

— Goat lord (@deadmau5) April 20, 2018
I would have enjoyed nothing more than ripping into Avicii well into and beyond our 60's. taken away from us far too young. I know he's at peace somewhere up there getting the last laugh that i spelled his name right this time. https://t.co/uAmdPsouSz

— Goat lord (@deadmau5) April 20, 2018
No words can describe the sadness I'm feeling right now, hearing about Avicii passing away....💔Thoughts go out to his family and friends...

— Zedd (@Zedd) April 20, 2018
Words can not describe how I feel right now..I am gonna miss you brother ❤️ pic.twitter.com/AjBgXi5gVR

— Tiësto (@tiesto) April 20, 2018
Something really horrible happened. We lost a friend with such a beautiful heart and the world lost an incredibly talented musician. Thank you for your beautiful melodies, the time we shared in the studio, playing together as djs or just enjoying life as friends.RIP @Avicii pic.twitter.com/IGiTYetJcq

— David Guetta (@davidguetta) April 20, 2018
Rest in peace, Avicii. We lost a legend.

— DJ SNAKE (@djsnake) April 20, 2018
Broken hearted. Such a huge musical inspiration to me and many others. will miss you so much. Rest In Peace Avicii pic.twitter.com/AdU5UzoY90

— Noah Cyrus (@noahcyrus) April 20, 2018
Rest easy Avicii, you inspired so many of us. Wish I could have said that to you in person x

— Ellie Goulding (@elliegoulding) April 20, 2018
Oh my god truly devastated for Avicii very very sad news way to young ... what a talent he was. rest in peace x

— Liam (@LiamPayne) April 20, 2018
Wow, I would like to take a moment to pay tribute to the man who really opened my eyes as to what my productions could one day sound like. @Avicii was a genius and a music innovator, and I can not believe he is no longer with us. RIP to the very best.

— Charlie Puth (@charlieputh) April 20, 2018
Such sad news to hear about Avicii passing. Too young and way too soon. My condolences go out to his family, friends and fans x

— DUA LIPA (@DUALIPA) April 20, 2018
Devastating news about Avicii, a beautiful soul, passionate and extremely talented with so much more to do. My heart goes out to his family. God bless you Tim x

— Calvin Harris (@CalvinHarris) April 20, 2018
At a loss for words...Rest easy brother 😪 @Avicii

— marshmello (@marshmellomusic) April 20, 2018
April 20, 2018
April 20, 2018
Avicii had in the past suffered acute pancreatitis, in part due to excessive drinking. After having his gallbladder and appendix removed in 2014, he canceled a series of shows in attempt to recover. He quit touring in 2016 but continued making music in the studio.
Last year, he posted this message on his website, promising to keep creating: "The next stage will be all about my love of making music to you guys. It is the beginning of something new."
(With AP inputs)
Get the best of News18 delivered to your inbox - subscribe to News18 Daybreak. Follow News18.com on Twitter, Instagram, Facebook, Telegram, TikTok and on YouTube, and stay in the know with what's happening in the world around you – in real time.
Read full article