Trevor Noah's Comment About 'African-ness' of the French World Cup Shouldn't Be an Identity Debate
'There is no hyphenated identity in France.'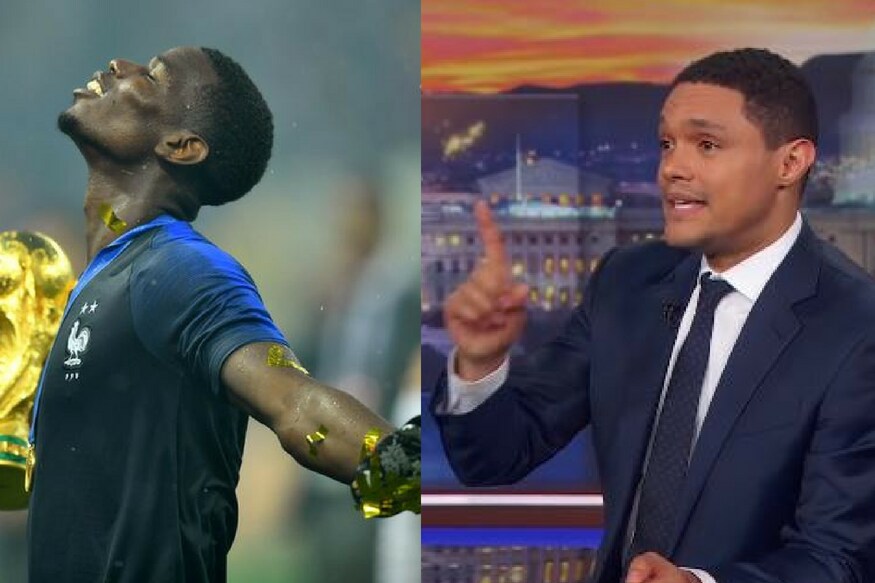 'There is no hyphenated identity in France.'
While people all over the world may be celebrating France's victory in the World Cup - not everyone sees the victory as it just is - a victory that took place because of the people on the team - which included several non-white, non-native, French players.
A comment made by Trevor Noah, who is a South-African comedian and talk show host for The Daily Show, has received a lot of backlash, especially from the French people.
"I get it, they have to say it's the French team," said Noah, in a 'Monday monologue' section. "But look at those guys. You don't get that tan by hanging out in the South of France, my friends."
This received a lot of backlash from people, with people stating how he was erasing the team's 'French identity.'
End of the argument with @Trevornoah He didn't refer to a double identity. He said »they are African. They couldn't get this suntan in the south of France ». i.e They can't be French because they are black. The argument of the white supremacist.

— Gérard Araud (@GerardAraud) July 19, 2018
While some were quick to point out that this wasn't the case, and actually understood the point Noah was trying to make.
No, @Trevornoah was saying that a story where they are only identified as French is an incomplete one.In the US, we have tried being "colorblind" and saying we're all just American. It creates bigotry by ignoring people's experiences. You have to acknowledge the whole person. https://t.co/evJ7gcEKzy

— Aditi Juneja (@AditiJuneja3) July 19, 2018
But people seem to have felt offended to the extent where the French ambassador, wrote a letter to Trevor Noah, to chide him for this joke.
On @TheDailyShow , @Trevornoah called the @FrenchTeam 's World Cup win an "African victory." Read Ambassador @GerardAraud 's response: pic.twitter.com/KR0kFOxDOw — French Embassy U.S. (@franceintheus) July 18, 2018
Trevor Noah, however, addresses this in his show to bring out a few valuable points, on why this entire debate on the 'identity' of the French team doesn't have to be the way it is - and why it shouldn't be a debate in the first place.
He reads the letter out, and then states how in the letter, the French ambassador mentioned that 'to call them African, is to deny their French identity.'
He also pointed out a line which stated that "The rich and various backgrounds of these players is a reflection of the diversity of France," isn't a result of inclusiveness - it is a result of colonialism.
Most of the players who were born and raised in France, had parents who came from former French-colonies, which is how they went to the 'mainland' after these colonies became French-speaking majorities as a result of that colonialism.
The letter also mentions that there is "no-hyphenated identity."
Noah points out how, 'Why can't they be both?'
In America, where you can be Irish and American, Puerto Rican and American, and African and American, why does embracing your own cultural identity automatically mean you are denying the identity of the country you are a citizen of?
He also mentions how every time there is a person of African descent in an iffy situation, where there are "in an unsavory situation" - they are only seen as 'Black' and 'African,' but the second they win the world cup, they are seen as French and not as African-French.
He mentions the instance of how a man rescuing child was given French citizenship after he rescued the baby - and Noah ponders that he'd probably still be called 'African' if he dropped the baby.
I think @Trevornoah is right. This started (to me) as a lighthearted acknowledgement of a tie to these players, from pride, but has turned into a virulent debate about racism because of France's own hangups. I can't imagine any African is denying they are actually French.

— Fran Blandy (@franblandy) July 19, 2018
He ends this dialogue by pointing out that if French cannot accept people's cultural identities as it is - then it is France's problem, not one with his joke. The problem if French refuse to see its citizens irrespective of anything but the sole, single cover identity of just 'French' then not only is it problematic, but also reflects what France actually thinks of its citizens.
This raises the question - why was this debatable, anyway?
If people cannot accept cultural identity along with its national one, then it is a regressive step backward and shows that the problem wasn't with the comedian's joke, but with the problem of inclusivity in France.
I really don't understand how this reality could upset the French ambassador so much to compel him to write a formal letter to an American satire tv show

— Ishaan Tharoor (@ishaantharoor) July 19, 2018
Read full article
Countdown To
Elections Results
To Assembly Elections 2018 Results