Trump Accused of 'Misogyny' After Calling Former White House Staffer 'Dog' On Twitter
Ouch!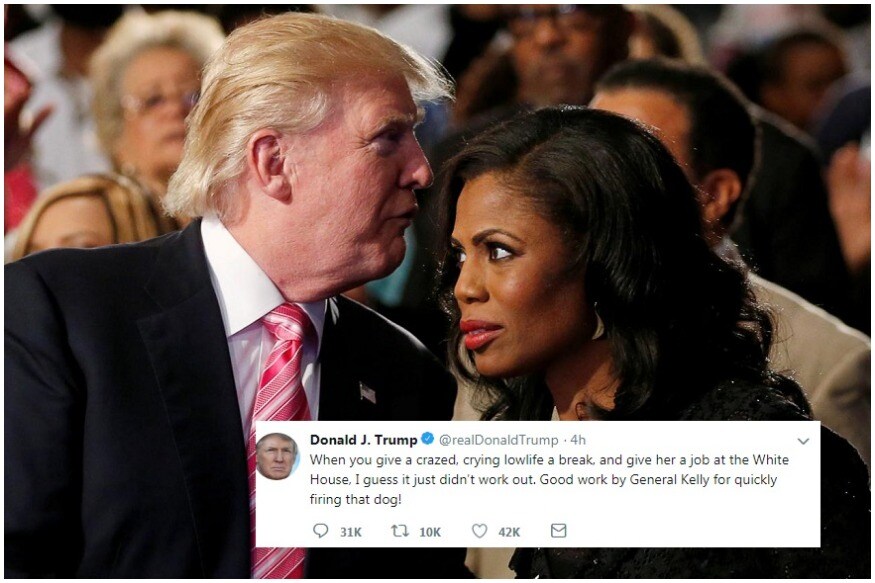 Ouch!
The Donald is under fire again and this time it is for calling his former liaison office communications director Omarosa Manigault Newman a "dog."
On Tuesday, Trump tweeted that his the former White House staffer was a crazed, crying low-life and added that Chief of staff John Kelly fired her.
When you give a crazed, crying lowlife a break, and give her a job at the White House, I guess it just didn't work out. Good work by General Kelly for quickly firing that dog!

— Donald J. Trump (@realDonaldTrump) August 14, 2018
The tweet was the latest in a series of tweets where the US President called Newman 'nasty' and said that Kelly called her whacky and a 'loser'.  He dredged up her past as a reality tv show coontestant for his show 'The Apprentice'. 
Wacky Omarosa already has a fully signed Non-Disclosure Agreement! — Donald J. Trump (@realDonaldTrump) August 13, 2018
Wacky Omarosa, who got fired 3 times on the Apprentice, now got fired for the last time. She never made it, never will. She begged me for a job, tears in her eyes, I said Ok. People in the White House hated her. She was vicious, but not smart. I would rarely see her but heard....

— Donald J. Trump (@realDonaldTrump) August 13, 2018
...really bad things. Nasty to people & would constantly miss meetings & work. When Gen. Kelly came on board he told me she was a loser & nothing but problems. I told him to try working it out, if possible, because she only said GREAT things about me - until she got fired! — Donald J. Trump (@realDonaldTrump) August 13, 2018
While I know it's "not presidential" to take on a lowlife like Omarosa, and while I would rather not be doing so, this is a modern day form of communication and I know the Fake News Media will be working overtime to make even Wacky Omarosa look legitimate as possible. Sorry!

— Donald J. Trump (@realDonaldTrump) August 13, 2018
The attacks followed the release of Newman's book "Unhinged: An Insider's Account of the Trump White House," in which she slammed the president as racist.
The book allegedly also paints the picture of a senile Trump, apparently on the brink of mental decline and instability. Not surprisingly, the US President could not bear such allegations and launched a tirade on social media against Newman.
However, not many appreciated the offensive tweet. Feminist author Mona Eltahawy pointed out how the tweet was parochial and specially targeted black women. She called the tweet not just sexist but also racist and said that it was an example of the kindof sexism-racism that black women specifically had to face.
This is misogynoir: misogyny directed towards Black women where race and gender are both at play. The term was coined by Black feminist Moya Bailey. It is a reminder that every time Trump mentions a Black woman's name, he is misogynist and racist. pic.twitter.com/aJ5DB6jnhG — Mona Eltahawy (@monaeltahawy) August 14, 2018
Elthahawy went on to clarify her position by stating that she was no fan of Newman but that it was important to point out the unfairness.
And I am no fan of Omarosa. I am pointing out that you must connect the misogyny and racism that Black women are subjected to.

— Mona Eltahawy (@monaeltahawy) August 14, 2018
Get the best of News18 delivered to your inbox - subscribe to News18 Daybreak. Follow News18.com on Twitter, Instagram, Facebook, Telegram, TikTok and on YouTube, and stay in the know with what's happening in the world around you – in real time.
Read full article