Tumblr's Decision to Ban All Adult Content Has Left NSFW Lovers Fuming
'The good old days are gone.'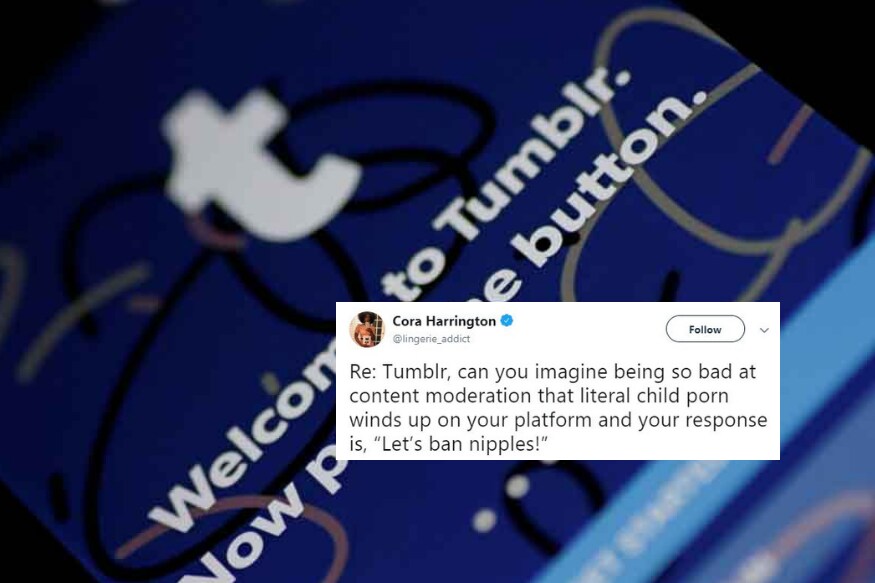 Illustration photo of the Tumblr app. (Reuters)
Microblogging and social networking website Tumblr's decision to ban all the adult content from its platform has been met with online mockery and memes.
Last month, the platform came under fire after child sexual abuse material was found on the platform and Tumblr saw its iOS application temporarily removed from Apple devices and the App Store.
The new policy will be enforced on December 17, giving users who host unwanted explicit content an opportunity to take their imagery elsewhere, according to chief executive Jeff D'Onofrio.
"There are no shortage of sites on the internet that feature adult content," D'Onofrio said in a blog post.
"We will leave it to them and focus our efforts on creating the most welcoming environment possible for our community."
"Posts that contain adult content will no longer be allowed on Tumblr, and we've updated our Community Guidelines to reflect this policy change," D'Onofrio said.
While Tumblr's heart was in right place, many NSFW content lovers felt that the blanket ban of adult content would take away the "fun" and "shock value" from Tumblr's timeline.
(Friendly Warning: The content below may not be suitable for work.)
tumblr can take away porn but it can never take away the memories i'll have of scrolling through my dashboard at work, praying unsuccessfully to avoid the appearance of a rogue gaping asshole

— Matt Bellassai (@MattBellassai) December 3, 2018
People on Tumblr when adult content was allowed vs December 17th when Adult content is banned pic.twitter.com/MtFJzO1OTB

— Mesut (@Tvvittergod1) December 3, 2018
Can't have enough #Tumblr memes lol. pic.twitter.com/EvNwCVU0h5

— Ehrenbändiger Raphi (@RaphiTheDon) December 3, 2018
Re: Tumblr, can you imagine being so bad at content moderation that literal child porn winds up on your platform and your response is, "Let's ban nipples!"

— Cora Harrington (@lingerie_addict) December 3, 2018
Good algorithm, tumblr pic.twitter.com/yGqcHsuN97

— Karina, a Garfield Woman (@BigTofuu) December 4, 2018
if u dont want to get flagged u must mark ur doorposts with the blood of a slaughtered lamb and the tumblr algorithms will pass over u

— genice (@genicecream) December 4, 2018
Me: "breathing"

Tumblr: pic.twitter.com/dcLFoRP3Ij

— Beyza (@Kpln_Byz) December 4, 2018
tumblr: porn is cancelled we're done with you horny nerds fuck u

tumblr: ...

tumblr: ...

tumblr: ...

tumblr: ...

tumblr: ...

tumblr: pls use our site

— hazel marie (@qthzl) December 3, 2018
tumblr please don't erase the tiddy pic.twitter.com/uBwuaGYov8

— Animated Text (@animatedtext) December 4, 2018
.@tumblr please reconsider

— billy eichner (@billyeichner) December 3, 2018
i have a present 4 u tumblr pic.twitter.com/PRMwiQEEoM

— adam koebel (@skinnyghost) December 3, 2018
Tumblr banning porn, leaving approximately three accounts still active.

— Jared Holt (@jaredlholt) December 3, 2018
Tumblr before and after banning all adult content. pic.twitter.com/VlR6mscSw5

— ernesto veles (@erveza) December 3, 2018
Why doesn't Tumblr just create a companion-site for NSFW content?

Call it "Cumblr".

— Robbie Daymond (@robbiedaymond) December 3, 2018
So @tumblr just officially banned "adult content" including something called, "female-presenting nipples." I can only assume my nipples will now sadly be banned there. But hopefully @twitter and @instagram will let them stand. pic.twitter.com/Qh13ebr73z

— Misha Collins (@mishacollins) December 4, 2018
Tumblr's crackdown on porn is already hitting the seemingly innocent content on its site.
tumblr why pic.twitter.com/ZUl13hmPAt

— Kinuko (@kinucakes) December 3, 2018
Tumblr's puritan bot is off as hell lmao pic.twitter.com/XKeIcixkgK

— JesteniaS🍋 (@CitrusFoam) December 3, 2018
Guess we're posting our flagged tumblr stuff now lol pic.twitter.com/RvPMo9Sw8u

— Ru Xu 🍛 (@ruemxu) December 3, 2018
(With inputs from AFP)
Get the best of News18 delivered to your inbox - subscribe to News18 Daybreak. Follow News18.com on Twitter, Instagram, Facebook, Telegram, TikTok and on YouTube, and stay in the know with what's happening in the world around you – in real time.
Read full article