Twinception: Identical Twin Sisters Get Married to Identical Twin Brothers by Twin Ministers
Twins marrying twins is an unlikely occurrence - especially one that is ministered by twins too!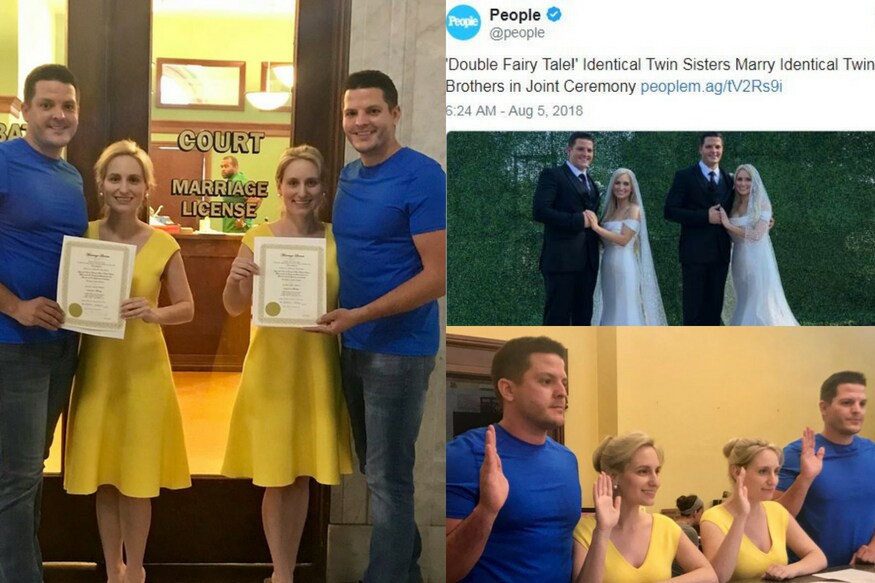 Twins marrying twins is an unlikely occurrence - especially one that is ministered by twins too!
What are the odds that identitical twins end up marrying other identical twins by twin ministers? The chances are pretty slim.
According to a
People
article, a pair of identical twin sisters married two identical twin brothers in a joint ceremony officiated by two identical twin ministers on Saturday.
In an almost fairy-tale like story of modern times - Brittany and Briana wed Josh and Jeremy at the 2018 Twins Days Festival in Twinsburg, Ohio - the same place where they had met a year ago.
In the
People
article, she mentions how "marrying twins was something that was very important to us."
"I can remember being in kindergarten, knowing that this is what we saw for ourselves," Briana told
People
magazine. "We knew that the chances were incredibly scarce. I get to marry the man of my dreams and at the same time, I get to look over next to me and see my twin sister marrying the man of her dreams."
Dressed in identical clothes as well, they were married off by a set of ministers who were identical twins, as well, with their ceremony called, "Twice Upon a Time," which was a very fitting name for the ideal.
TLC
, in a tweet posted that the twin duos were getting their own show - and here's where this all too perfect fairy-tale started looking just that bit
too
perfect.



❤️❤️Identical twins Brittany and Briana married twin brothers Josh and Jeremy in a joint ceremony yesterday! ❤️❤️ Meet these twin-tastic duos in a special coming soon to TLC! https://t.co/qTXmJrntbD


— TLC Network (@TLC) August 5, 2018
Several users on Twitter have called it out stating that perhaps this fairytale may be a staged one - that some of the things happening are a bit
too
perfect to seem real.

I knew TV had to be involved. Reality show anyone? — Jacquelyn 🐾🐾🐬 (@JackiePeters55) August 5, 2018




There's a point where this isn't cute but more creepy.


— kelly🌻kate (@kellyparker_79) August 5, 2018

Because it doesn't seem genuine? What are the chances, honestly, that people act like copies of one another to this extent..and TLC is now involved? It's more weird and a little fishy than "cute"

— °•~LILY~•°#WhereAreTheChildren (@BTSonyeo) August 6, 2018

Whether this twin-ception is genuine or a bit too much of a staged fairy-tale, we'll probably have to wait to find out.
Read full article
Countdown To
Elections Results
To Assembly Elections 2018 Results