Twitter CEO Jack Dorsey Wants to Use Artificial Intelligence to Curb Fake News, But isn't Sure How
A complete solution to trolling, according to Twitter's CEO, is yet to come.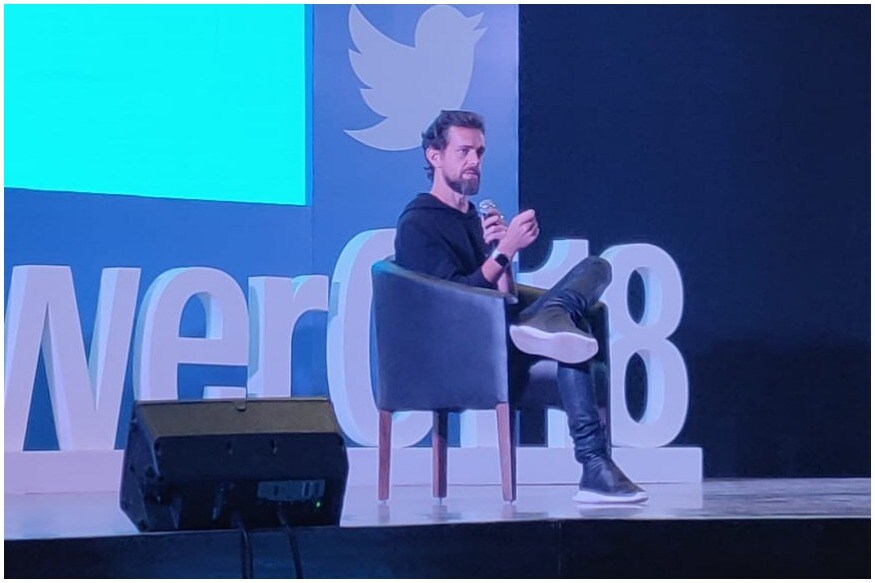 File photo of Twitter CEO Jack Dorsey.
Twitter founder and CEO, Jack Dorsey was in the capital on Monday afternoon to interact with students of IIT Delhi as part of his maiden visit to India. The Town Hall session that lasted just under an hour was packed with students, journalists and tech enthusiasts, all craning their necks to get a good look at the man who gave the world the microblogging site that has become such a crucial part of communication today.
Many in India had been looking forward to the interaction. With Twitter becoming an important part of socio-political and cultural discourse in the country, the microblogging site has emerged as a platform for sharing misinformation, polarised messages and often, fake news. Many questions have previously been raised about the responsibility of tech companies like Twitter and Facebook to take the onus of sanitizing their platforms and curbing the spread of fake news. An early morning meeting with Congress President Rahul Gandhi in which the two purportedly discussed fake news seemed to indicate the tone of the town hall.
Jack Dorsey, the Co Founder & CEO of Twitter dropped in to chat this morning. Twitter has grown into the most dominant "conversations" platform globally. Jack explained some of the steps being taken to keep those conversations healthy & to tackle the menace of fake news. @jack pic.twitter.com/TCkj6st4rl

— Rahul Gandhi (@RahulGandhi) November 12, 2018
However, the much awaited session was largely a one-sided deflation with Dorsey only answering pre-selected questions that had been asked by students on Twitter the night before. While the CEO may have told Rahul Gandhi how to deal with fake news, the rest of his fans and Twitter users in India had to contend with vague references to misinformation and ethics. Nothing concrete on fake news or what the social media giant may be doing to counter it, nothing on improving safety of users especially women and other social minorities on Twitter, nothing on the notoriously increasing network of fake accounts and organised trolls. Instead, the entrepreneur decided to focus the talk on 'self-awareness', 'meditation' and the ability 'to question'.
AI to the rescue?
"Twitter is powerful today because it provides people access to the conversation... Every morning, I wake up and check the trending topics. Sometimes, it's Twitter at it's best with great conversations, sometimes, it's really disappointing and toxic. We need to address these issues so that we can make the hashtags and the conversations on Twitter be of more value to people," Dorsey told the young crowd gathered at IIT.
However, he gave no examples of how Twitter would be doing the same. When asked what steps social media companies may take to curb the spread of fake news in the run-up to the 2019 General Elections in India, Dorsey said, "Fake news or misinformation, as a category, is way too big. We need to scope it out entirely". He added that it was important to understand the context of misinformation to truly counter it.
"Our job is to identify misinformation in any form. they can even be in the form of jokes. We need to identify the reason behind spreading that misinformation and whether it is intended to mislead. Once we do that, our job is to make sure it doesn't spread," Dorsey said. He added that the tweets that call out erroneous messages of fake news often get more engagement than the fake news itself.
Dorsey suggested the use of artificial intelligence to curb fake news but then laid out the problems associated with it including the inability of algorithms to fully understand and weed out misinformation. It was also not fully reliable to pick up on hate speech. "The critical problem with fake news is when it leads people to take a particular action. We need to work on ways to prevent that from happening," the 41-year-old added.
But we already knew that. But the question that was never asked or answered is,'HOW?'
Vague reassurance
Though the event was somewhat publicized as the first time the co-founder of Twitter would be interacting with Indian journalists, no students or journalists were allowed to ask any questions whatsoever at the event.
Toward the end of the talk, Dorsey spoke about the collective responsibility of people and how problems like climate change, job loss due to growing AI technology etc, can only be solved via a global approach. He said that it was important to 'ask questions' from governments and those in authority and constantly try to hold them accountable, adding that Twitter provided a platform for such an interaction to take place.
"No lock is unbreakable. One can create the most secure lock and yet someone will create a key to break it. So, it is important for us to try and keep working on the lock or the code that keeps Twitter secure," Dorsey added. Recently, Twitter has come down heavily on trolls and those spreading fake news. It has removed over 10 million tweets from various accounts deemed problematic in terms of hate speech and fake news. It has also purged several accounts that were active participators in spreading fake news. However, a complete solution to trolling, according to Twitter's CEO, is yet to come.
'Edit' Option on Twitter
In other news, the CEO mentioned that the company is mulling over adding the much debated 'edit option,'. Dorsey said that there had been a high 'demand' for 'edit' option on Twitter. But the entrepreneur said that before implementing new changes, it was important to understand why people were so interested in editing a supposedly erroneous tweet instead of just deleting it.
"Most people just want to make a quick correction, and that's not a bad thing," Dorsey said. But if the original tweet were edited after someone else retweeted it, the other person could end up retweeting something they did not truly endorse or believe in as it has been changed, he added.
Dorsey also said that the company will try to focus attention away from amassing followers to the quality of conversations a user is contributing to in the network. While the focus on increasing followers worked as a great incentive for users to take to Twitter in the early days, the focus now needs to be on enhancing the number of quality conversations, meaningful retweets and responses, rather than just the number of followers.
Read full article