Twitter Cheers For Lieutenant Colonel Dhoni After He Receives Padma Bhushan
'Dhoni finishes off in style. A magnificent strike into the crowd. India lift the world cup after 28 years. The party starts in the dressing room and it's the Indian Captain who has been absolutely magnificent in the night of the final.'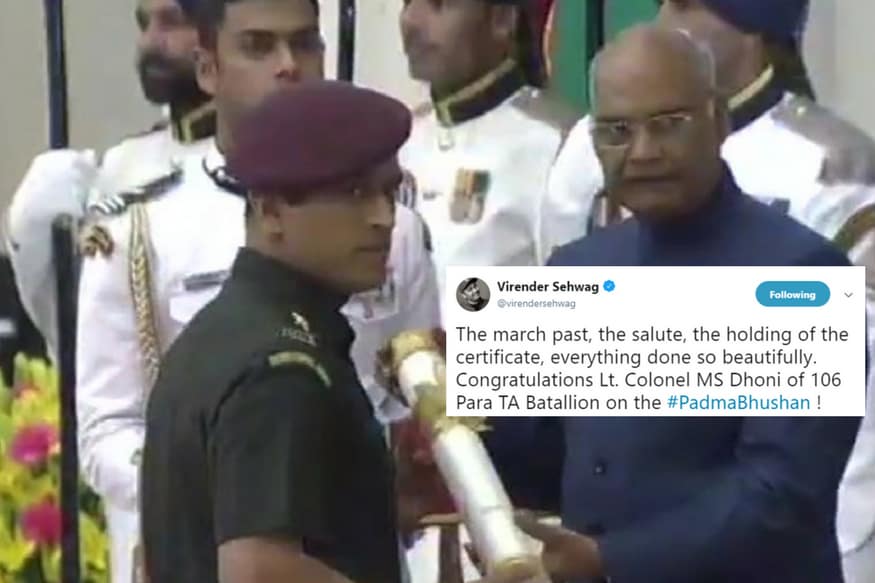 Image credits: ANI
On Monday, Indian cricketing legend Mahendra Singh Dhoni received the country's third highest civilian award, Padma Bhushan, from President Ram Nath Kovind at investiture ceremony at the Rashtrapati Bhavan.
Dhoni, who attended the ceremony in his Lieutenant Colonel uniform, marched like an army personnel and collected his Padma Bhushan award from the Indian President.
As luck would have it, Dhoni received the prestigious award on the same day when he launched pacer Nuwan Kulasekara for a whacking six over the long-on to end India's 28-year-old wait and helped his team lift the coveted World Cup trophy in front of a jam-packed Wankhede Stadium in Mumbai in 2011.
36-year-old Dhoni is the second Indian cricketer after Kapil Dev to receive this honour.
7 years ago on this day, one of the most memorable moments in the history of Indian cricket happened. MS Dhoni hit Nuwan Kulasekara for a six as India beat Sri Lanka and won the 2011 World Cup finals. pic.twitter.com/9QbsCD3h3F

— Cricket Talkies (@CricketTalkies) April 1, 2018
As for Twitter, they collectively cheered for one of the most celebrated cricketers of India-- Mahi.
Presenting You "PADMA BHUSHAN" Mahendra Singh Dhoni 🇮🇳

Proud Moment #PadmaBhushan #Dhoni pic.twitter.com/bO7wKMZ4Ll

— Dhoni Raina Team (@dhoniraina_team) April 2, 2018
Dhoni as never seen before. Fantastic! https://t.co/VUhUGMBMhz

— Cricketwallah (@cricketwallah) April 2, 2018
I N D I A 's Proud S O N

Padmabhushan Mahendra Singh Dhoni 😎😎

Goops gooops m/ pic.twitter.com/MjKDieNVPn

— Prabhas Fan (@pavan1230) April 2, 2018
2nd April 2011:Won The World Cup

2nd April 2018:Got Padma Bhushan

MS Dhoni Receives #PadmaBhushan Exactly 7 Years After Hitting The SIX And Bringing The World Cup To India. 💪👏🙏🇮🇳 #MSDhoni #Dhoni pic.twitter.com/2zY8PMC8Fu

— Sir Ravindra Jadeja (@SirJadeja) April 2, 2018
M.S.Dhoni = Forever Our Captain!🔥#Dhoni #PadmaBhushan #WorldCup2011 pic.twitter.com/TEZi82N2ng

— MS Dhoni Fans #Dhoni (@msdfansofficial) April 2, 2018
The march past, the salute, the holding of the certificate, everything done so beautifully. Congratulations Lt. Colonel MS Dhoni of 106 Para TA Batallion on the #PadmaBhushan ! pic.twitter.com/sIXRt2GUqj

— Virender Sehwag (@virendersehwag) April 3, 2018
VIDEO: Lt. Colonel @msdhoni receives Padma Bhushan from the President of India, Shri Ram Nath Kovindhttps://t.co/5C2reOKAxD

— BCCI (@BCCI) April 2, 2018
Haters will say Dhoni has become old bute here's the proof that he's a Jawan pic.twitter.com/eK5wTZbpaL

— Bollywood Gandu (@BollywoodGandu) April 3, 2018
Lieutenant Colonel #MSDhoni Received PADMA BHUSHAN Today from President of India 🇮🇳

#PadmaBhushan #Dhoni #PadmaBhushanMSD #MSD pic.twitter.com/0bYQHeTy1e

— CSK UNIVERSE (@CSKUniverse) April 2, 2018
Congratulations Lieutenant Colonel MS Dhoni on receiving the Padma Bhushan, 7 years to the date since we won the World Cup ! pic.twitter.com/xjgjrHr4Ng

— Mohammad Kaif (@MohammadKaif) April 2, 2018
#PresidentKovind presents Padma Bhushan to Shri Mahendra Singh Dhoni in Sports. One of India's most successful cricket captains, @msdhoni is only Indian captain to win all three ICC limited-overs trophies pic.twitter.com/PKTM6LZs38

— President of India (@rashtrapatibhvn) April 2, 2018
MS Dhoni

2nd April 2011 - World Cup Win

2nd April 2018 - Padma Bhushan

Pic via ANI pic.twitter.com/bdryxP1Tn6

— Cricketopia (@CricketopiaCom) April 2, 2018
Candid Picture of Thala M.S.Dhoni & Sakshi!💛😍#PadmaBhushan #Msdhoni pic.twitter.com/R2vIU5EPUR

— Whistle Podu Army - CSK Fan Club (@CSKFansOfficial) April 2, 2018
The Awaited Picture of the Day!

M.S.Dhoni with Sakshi 😍😇#PadmaBhushan pic.twitter.com/lBI43eoMHZ

— MS Dhoni Fans #Dhoni (@msdfansofficial) April 2, 2018
Here's the video:
#WATCH Billiards player Pankaj Advani and Cricketer MS Dhoni conferred with Padma Bhushan by President Ram Nath Kovind at Rashtrapati Bhawan in Delhi pic.twitter.com/XgPTHWsxBl

— ANI (@ANI) April 2, 2018
Thala Dhoni getting #PadmaBhushan award 😍😍

Pokkiri BGM added 😎

Goosebumps 🔥🔥🔥 pic.twitter.com/AFgG9fbsnI

— Thalalathy Karthik 😎 (@Karthik_VMI) April 2, 2018
Along with Dhoni, billiards and snooker star Pankaj Advani was also conferred with the Padma Bhushan.
Read full article