nda:
Needmore seats to Win

Needmore seats to Win
upa:
Twitter Flays Congress After Yuva Desh Mocks PM Modi
Yuva Desh, Indian Youth Congress's online magazine, took a crass jibe at Prime Minister Narendra Modi's English speaking skills. leading to widespread outrage and condemnation.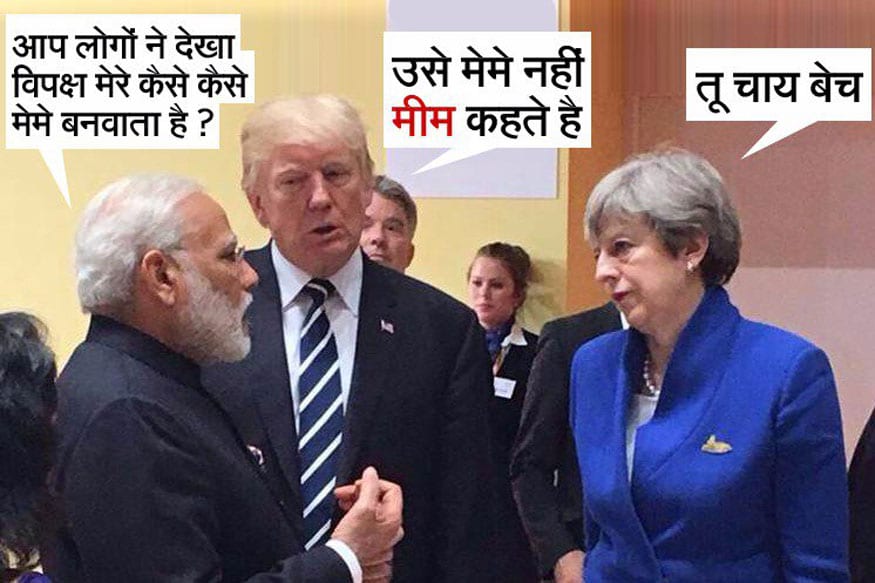 The meme mocking Prime Minister Narendra Modi as put out by Yuva Desh.
Yuva Desh, Indian Youth Congress's online magazine, took a crass jibe at Prime Minister Narendra Modi's English speaking skills. The Twitter handle of the magazine shared a meme of Prime Minister Narendra Modi in conversation with the President of the United States, Donald Trump and the Prime Minister of the United Kingdom, Theresa May.
In the picture, the PM can be seen asking them if they are aware of the various 'memes' that have been put out by the opposition against him. The PM is then corrected and informed about the correct pronunciation of 'memes', and also advised that he is better off 'selling tea'.
#BREAKING Chaiwala debate back again: Youth Congress tweet calls PM 'Chaiwala' pic.twitter.com/C7QWj841op

— News18 (@CNNnews18) November 21, 2017
The Tweet drew instant outrage from BJP politicians and citizens alike. It must be remembered here that leading up to the high-octane 2014 Lok Sabha Elections, Congress leader Mani Shankar Aiyar had (in)famously quipped "I promise you in 21st Century Narendra Modi will never become the Prime Minister of the country. ...But if he wants to distribute tea here, we will find a place for him".
Aiyar, however, was not the only politician to mock Narendra Modi about his claim of selling tea at a Gujarat Railway station during his formative years. Naresh Agarwal of the Samajwadi party has once said, "Narendra Modi wants to become a PM. Someone rising from a tea shop can never have a national perspective. Like, if you make a 'sipahi' (constable) as 'kaptan' (Superintendent of Police), he can never have SP's approach but will have that of a constable."
The Bharatiya Janata Party then used the 'chaiwalla' comments as a massive fulcrum to woo the particular section of the society. The party even held meetings called 'Chai Pe Charcha' (Discussions over Tea), leading up to their massively successful 2014 General Elections.
Congress, it seems, is yet to learn from this as it rakes up this particular aspect of the Prime Minister's background. And like the last time, this has also resulted in widespread condemnation.
The first volley was fired by the party's own leadership:
Madam Sonia Gandhi & Mr Rahul Gandhi do u still believe that only u have a divine right to rule India? Country expects ur response on the tweet of the youth Congress, which is shameful & insulting to poor. U can delete the Tweet but ur thinking towards the poor stands exposed. pic.twitter.com/TKQho0lAiB

— Ravi Shankar Prasad (@rsprasad) November 21, 2017
This blatantly classist and anti-poor Tweet by the Youth Congress shows their mindset towards India's poor. Does Crown Prince @OfficeOfRG support this? https://t.co/gOqRqWIfL4

— Vijay Rupani (@vijayrupanibjp) November 21, 2017
Such disdain for a man who rose from grassroots.. https://t.co/xVwxTP4uFo

— Amit Malviya (@malviyamit) November 21, 2017
Now this is what @INCIndia has reduced itself to ..shameful!! https://t.co/nVnpiKfuFp

— Sambit Patra (@sambitswaraj) November 21, 2017
Then there were those who pointed out how the Grand Old Party has been a bad student of what is relatively recent history:
Apparently @INCIndia learnt absolutely nothing from the 2014 chaiwala comment fiasco... https://t.co/Vkxy0fVMa4

— Tanvi Madan (@tanvi_madan) November 21, 2017
Has Congress learnt no lesson from the 'chaiwala' jibe and what happened after that? Astonishing. https://t.co/VJIplhUFj3

— Abhijit Majumder (@abhijitmajumder) November 21, 2017
Hey @yuvadesh remember this? The rest was histroy, and history will repeat. pic.twitter.com/a95SdzM9wQ

— Mask (@Mr_LoLwa) November 21, 2017
Unsurprisingly a number of observers went with the 'self goal' analogy. To be fair, that metaphor has rarely fitted a situation better:

So congress does it again! They r really best in "self-goals." https://t.co/QtKFS3kymb

— Qamar Waheed Naqvi (@qwnaqvi) November 21, 2017
Spectacular self goal by @INCIndia and what bad taste https://t.co/8IVEaHpC3Z

— Swati Chaturvedi (@bainjal) November 21, 2017
A BJP supporter even claimed that this would end the Congress presence in Gujarat
Amen !! pic.twitter.com/2fz8C7KibK

— AMIT (@AMIT_GUJJU) November 21, 2017
Others expressed their opinion with humour
This is what @yuvadesh did by mocking Modi With Chaiwala Meme. pic.twitter.com/8NUvcaUdp7

— PhD in Bakchodi (@Atheist_Krishna) November 21, 2017
As the controversy raged on, Congress leaders soon tweeted out condemning the tweet and distancing themselves and the part from the meme in question.
INC strongly disapproves & rejects such humour through memes. Differences on policy and opinion aside, Congress culture imbibes respect for PM and all political opponents. https://t.co/RqLOugCHwh

— Randeep S Surjewala (@rssurjewala) November 21, 2017
The Congress party does not agree with the crass language of this tweet. Its a magazine handle run by volunteers. Someone made a mistake and we accept it. Apologise.For Information:Youth Congress official handle is @iyc.But @yuvadesh was meant to be a +ve handle,not like this.:( https://t.co/hmhvJY93M0

— Rachit Seth (@rachitseth) November 21, 2017
The Twitter handle of Yuva Desh has since taken down the original tweet, but as is with the microblogging platform - screenshots remain.
(Get detailed and live results of each and every seat in the Lok Sabha elections and state Assembly elections in Andhra Pradesh, Odisha, Arunachal Pradesh and Sikkim to know which candidate/party is leading or trailing and to know who has won and who has lost and by what margin. Our one-of-its-kind Election Analytics Centre lets you don a psephologist's hat and turn into an election expert. Know interesting facts and trivia about the elections and see our informative graphics. Elections = News18)
Read full article
Countdown To
Elections Results
To Assembly Elections 2018 Results