Municipal Corporations

9/10

TRS

8

INC

0

BJP

1

AIMIM

0

OTH

0
MUNICIPALITIES

114/120

TRS

96

INC

9

BJP

3

AIMIM

2

OTH

4
Refresh Data
Twitter is Convinced That Facebook CEO Mark Zuckerberg is a 'Robot'
Mark Zuckerberg looked more robotic than ever during his congressional hearing.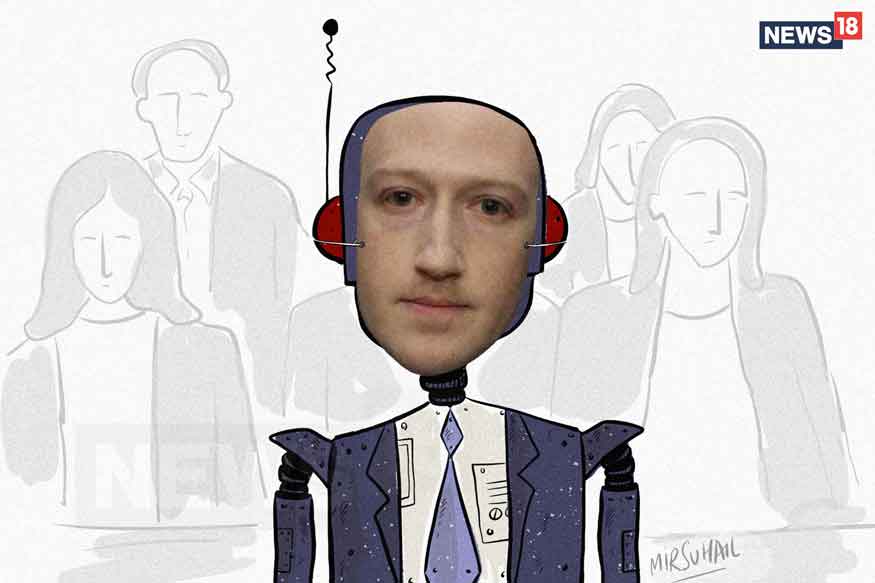 (Image Credit: Mir Suhal)
On Wednesday, Facebook founder Mark Zuckerberg testified before the senators and a House panel amid a firestorm over the alleged hijacking of data of millions of Facebook users by British firm Cambridge Analytica.
During nearly five hours of questioning by 44 US senators, Zuckerberg repeatedly apologised for a range of problems that have beset Facebook.
Wearing a dark suit and tie instead of his typical T-shirt and jeans, Zuckerberg remained largely unruffled and serious as senators questioned him.
The serious Zucc and his strange mannerisms didn't go unnoticed and social media called the Facebook founder a robot.
humans drink water, it`s normal pic.twitter.com/OGu9NiDabA

— ZUCKERBERG 2020 (@davidoreilly) April 10, 2018
Awkward twelve-year-old boy on the news. Not sure who he is. #Zuckerberg pic.twitter.com/nKhiLcUgci — Elizabeth Windsor (@Queen_UK) April 10, 2018
There is a 100% chance Mark #Zuckerberg is a robot pic.twitter.com/KkXiInctXh

— Mike Tokes (@MikeTokes) April 11, 2018
when u drink 2 glasses of red wine while watching Amelie and decide to cut your own bangs pic.twitter.com/EPYHtZn3QI — Dana Schwartz (@DanaSchwartzzz) April 10, 2018
Mark looks and acts like a robot.

No wonder he had no issue invading the privacy and selling the data of everyone on Facebook.#Zuckerberg pic.twitter.com/GPTvFnhueS

— Mel (@ImJustAMel) April 10, 2018
That face when you just wanted a faster way to rank girls by looks and ended up installing a fascist government in the most powerful country on earth pic.twitter.com/VEaQjz9Z6s — Zack Bornstein (@ZackBornstein) April 10, 2018
— Bottlerocket (@bottlerocket) April 10, 2018
Somebody spill something on Mark #Zuckerberg already - I want to see him short circuit on national TV. pic.twitter.com/N6ZEGUgo5K — Rich Goeckel (@RichGoeckel) April 10, 2018
This is what internal screaming looks like.

#Facebook #Zuckerberg pic.twitter.com/02uuiCF65M

— James (@JamesFl) April 10, 2018
And the grilling continued. Whistleblower Edward Snowden had something to say.
And they call me a criminal. https://t.co/cmpIxY3Cc3

— Edward Snowden (@Snowden) April 10, 2018
#Zuckerberg: "You're not allowed to have fake profiles on Facebook."

Me:

— Nev Schulman (@NevSchulman) April 10, 2018
#Zuckerberg zucc gets baited pic.twitter.com/iZdOlJ1JJ8

— Adil (@AdilElkhier) April 11, 2018
Almost feel bad for Zuckerberg. There's no way he left that room full of old people without having to set up their wifi.

— Stephen Colbert (@StephenAtHome) April 11, 2018
Mark Zuckerburg getting roasted on Twitch with robot emojis is peak 2018 pic.twitter.com/oxHuG5Ipnr

— Tristan Cooper (@TristanACooper) April 10, 2018
Me after linking my Aadhar everywhere. pic.twitter.com/YnztiprZ1z

— (@pranavsapra) April 11, 2018
"Mr. Zuckerberg, a magazine i recently opened came with a floppy disk offering me 30 free hours of something called America On-Line. Is that the same as Facebook?" pic.twitter.com/U7pqpUhEhQ

— Dave Itzkoff (@ditzkoff) April 10, 2018
#Zuckerberg robot or alien? pic.twitter.com/Bmwn3IHAdQ

— CRYPTO OWEN WIŁSON (@CryptOwenWilson) April 11, 2018
And the curious case of booster seat.
It's not a "booster seat," it's his lithium-ion battery. #Zuckerberg

— Paul Joseph Watson (@PrisonPlanet) April 10, 2018
#Zuckerberg needs a booster seat pic.twitter.com/kJRdDP8KVD

— Chet Cannon (@Chet_Cannon) April 10, 2018
He's using a booster seat. HE PAID TO BOOST HIS POSTERIA pic.twitter.com/1K9xRepDds

— James Felton (@JimMFelton) April 10, 2018
I know Zuckerberg is likely not human, but goddammit this booster seat hurt me to see. I know that feeling Z-fighter pic.twitter.com/g5xwm3ZnSN

— Published Author (@MoistCr1TiKaL) April 10, 2018
RT if u dont need a booster seat like Zucc pic.twitter.com/11ZQbOdvBm

— ALGORITHM CONSULTANT 2.0 (@EthicalAncap) April 10, 2018
How you gonna testify to Congress sitting on a booster seat? pic.twitter.com/zkfb1uQCps

— Jericho - Tucker (@IIJERiiCHOII) April 10, 2018
If you're doing okay, Zucc, we request you to Mark yourself safe on Facebook.
Get the best of News18 delivered to your inbox - subscribe to News18 Daybreak. Follow News18.com on Twitter, Instagram, Facebook, Telegram, TikTok and on YouTube, and stay in the know with what's happening in the world around you – in real time.
Read full article