Twitter is Shocked That No One Knew About Yakult Before 'To All The Boys I've Loved Before'
The internet is freaking out because people had no idea about Yakult before To All The Boys I've Loved Before released on Netflix.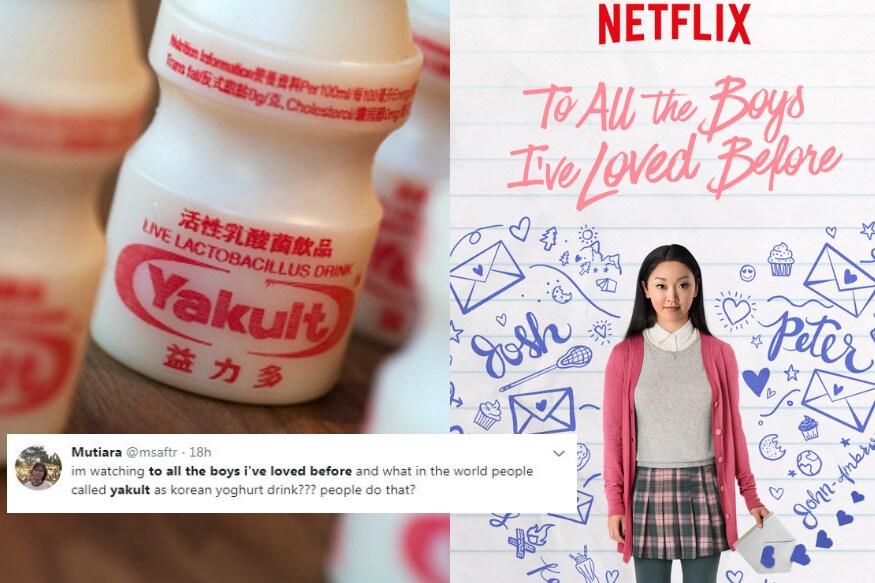 (Image: Twitter)
Netflix movie 'To All The boys I've Loved Before' is winning hearts everywhere, with everyone obsessing over the fresh treatment of a done-to-death story line, Peter Kavinsky (played by Noah Centineo), and Yakult. Yup, the pro-biotic drink has been flying off the shelves after the release of the movie on Netflix.
While the pro-biotic is referred to as the 'Korean yogurt smoothie' in the movie, people were quick to point out that it was Yakult. After multiple media reports on the brand's stocks rising up after the release of 'To All The Boys I've Loved Before' people are curious how no one knew about Yakult until now?



Let's get one thing straight: the drinks in the photo are NOT called "Korean yogurt smoothie," they are simply called YAKULT.


Plus, it's Japanese, right?

The Asian in me is aghast by this faux pas (or was it intentional??) in To All The Boys I've Loved Before. pic.twitter.com/laUXBz7xU0

— Jane Bracher (@janebracher) August 25, 2018
All these basic peeps going out to buy Yakult after seeing To All the Boys I've Loved Before... and I'm sitting here sipping on this shit since grade school. — Wayne Gretzky (@dennyd00) September 4, 2018



all of y'all starting to drink yakult cuz of to all the boys i've loved before but my asian ass have been having them since i was a kid


— Anjalie (@anjalie_saler) August 25, 2018
Let's talk about the real hero of @alltheboysfilm (To All The Boys I've Loved Before) YAKULT pic.twitter.com/CQcV4mot0Z — Miriam (@MyDearestPotato) August 28, 2018



people buying yakult now bc of to all the boys i've loved before makes me anskdkskdkw where were all of y'all when i brought that shit to school and people thought it was another "weird asian thing"


— em / YOUNG|RELIFT (@emj_yi) September 4, 2018
Im dead, Peter Kavinsky isn't the only snack people are going for because of "To all the Boys I've Loved before" @noahcent Yakult sales are booming because of a Netflix film https://t.co/rEUGBBJjJZ — Jen (@impossiblyjen) September 4, 2018



wait...did people really not drink yakult until to all the boys i've loved before came out lmao


— gillian (@yerenesthetic) September 4, 2018
Also I'm sure when @jennyhan wrote To All the Boys I've Loved Before she was planning on affecting the stock market price of yakult. #bookgoals — Shelley Zhang (@shelzhang) September 4, 2018



Only white people didn't know about Yakult before To All The Boys I've Loved Before


— Stephanie (@noirwest) September 4, 2018
Watching all the boys I've loved before on a whim and how the fuck has this guy never had yakult before?? — Ngoc PAX WEST send ☕ to #6006 (@ngoctmvu) September 4, 2018



Yakult is selling out because of To All The Boys I've Loved Before but Mexicans have BEEN on that wave


— eliel (@eliellopez14) September 4, 2018
so i'm watching to all the boys i've loved before rn and i just drank a bottle of yakult right before the "korean yogurt smoothie" scene coincidence? i think not — camille / arsd pinnedt™ (@rippedjoons) August 27, 2018



my 10 year old yakult drinking ass cried a lil during That Scene in to all the boys i've loved before


— alana (@gryphll) September 3, 2018
I was so into drinking Delight, then Yakult made a come back to my life because of Meteor Garden 2018 and To All The Boys I've Loved Before. Haha — Maria Patricia (@itsmepatricia23) August 25, 2018



[email]


TO: Yakult pty ltd

SUBJECT: probiotic consumption in "To All The Boys I've Loved Before"

— brad esposito (@braddybb) September 3, 2018
I'm glad white people were able to discover yakult from to all the boys I've loved before and add some culture to their lives — swetha™️ (@sclub87) September 3, 2018



'to all the boys I've loved before' is great and all that, but why does peter kavinsky not know what a yakult is?


— rebecca (@stebeccarone) August 27, 2018
Watched To All The Boys I've Loved Before and... I gotta ask... Yakult wasn't a staple of American kids childhoods????? Yakult was in every kid's lunchbox in Monterrey — Cris Sasegov (@csasegov) September 3, 2018



probably one of my favourite things about 'to all the boys I've loved before' was being reunited with yakult


— SAM•IMANI (@Mary_Imani) September 3, 2018
Just watched To All the Boys I've Loved Before and realized one thing. YAKULT IS A KOREAN YOGURT SMOOTHIE?! — Sheila Balmaceda (@sheilashyy) August 28, 2018



im watching to all the boys i've loved before and he went across town to buy yakult
is that like
not a thing you can easily just buy in america?? pic.twitter.com/VUl2HuDto3


— Lauren ‍♀️ (@LaurenFelicia) August 25, 2018
im watching to all the boys i've loved before and what in the world people called yakult as korean yoghurt drink??? people do that? — Mutiara (@msaftr) September 3, 2018



If To All The Boys I've Loved Before was set in the Philippines, Peter's Yakult gesture wouldn't be so grand because Yakult is fucking everywhere. Yakult is in every convenience store, Yakult is in your local sari-sari store, Yakult would even come to you via the Yakult ladies.


— ً (@raphaelmiguel) August 31, 2018
my younger filipino ass never knew yakult was korean until i watched to all the boys i've loved before — babygail ♡ (@abbygailnery) August 28, 2018



so like


is yakult a To All the Boys I've Loved Before merchandise now or..???

— i am a smooth mashed potato (@nerdy_aubrey) August 25, 2018
my fav part of To All The Boys I've Loved Before is definitely the yakult shoutout — Heather Chen (@heatherGrey_) August 25, 2018



I just finished watching To All The Boys I've Loved Before and I loved it ♥ My only concern was why did they call Yakult a Korean yogurt smoothie? Hahaha


— Vivien (@vivbernardino) August 29, 2018
honestly like the only bad thing about "to all the boys i've loved before" is the fact that she calls them "korean yoghurt smoothies" WHO DOES THAT it's a fucking yakult lara jean — aliya (@cannibaliya) August 29, 2018
Read full article
Countdown To
Elections Results
To Assembly Elections 2018 Results