Twitter Launches Memes After Elon Musk Sends His Tesla Into Space
We all are in 2018, while Elon Musk is in 3018.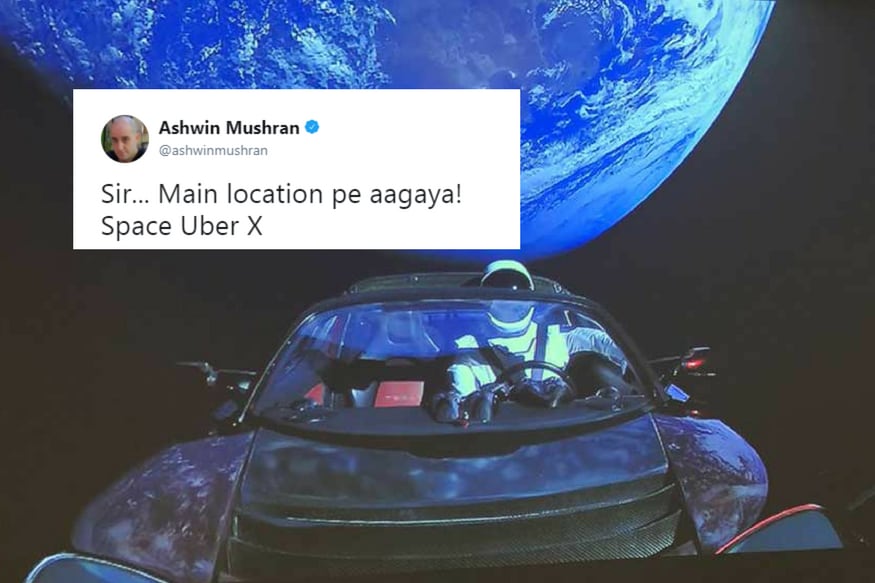 This image from video shows the company's spacesuit in Elon Musk's red Tesla sports car which was launched into space during the first test flight of the Falcon Heavy rocket (Photo: Twitter/@elonmusk)
On Tuesday, tech pioneer Elon Musk successfully put an end to "1970: I bet we'll have flying cars in future, 2018:" meme by launching his very own Tesla into space.
On Tuesday, SpaceX launched Falcon Heavy, the most powerful rocket in the world, into space.
Tucked into the nose of the mammoth SpaceX unmanned rocket that blasted off Tuesday was Elon Musk's own cherry red convertible Tesla roadster, a vehicle that was in fact manned -- by a spacesuited dummy nicknamed Starman.
View from SpaceX Launch Control. Apparently, there is a car in orbit around Earth. pic.twitter.com/QljN2VnL1O

— Elon Musk (@elonmusk) February 6, 2018
The successful launch was followed by Musk sharing a message written inside of Tesla's circuit board that is currently cruising in space.
"Printed on the circuit board of a car in deep space," Musk wrote on his Instagram post.
Tesla will float in deep space on its lonely orbit around the sun, ping-ponging between Earth and Mars, for millions of years, thereby leaving a message for the future civilisations.
The SpaceX CEO later tweeted out a map of the Roadster's final orbit after the burn, showing how far out the car will travel.
Third burn successful. Exceeded Mars orbit and kept going to the Asteroid Belt. pic.twitter.com/bKhRN73WHF

— Elon Musk (@elonmusk) February 7, 2018
The glorious sight of Tesla taking a smooth ride in space resulted in Twitterati launching a hundred memes on the microblogging site.
You: "It's 2018 where are our flying cars"@elonmusk: pic.twitter.com/1pUXJyHZtC

— Pablo S. Torre (@PabloTorre) February 6, 2018
"Sir map mai to yahi location dikha raha tha" https://t.co/iek5gshXbR

— Ivan Mehta (@IndianIdle) February 7, 2018
What if Elon Musk's just committed the perfect murder? pic.twitter.com/91dQAHxn2s

— Jim McCauley (@JimMcCauley) February 7, 2018
Bae: 'We really need to talk about this'Me: pic.twitter.com/Oa3eS1RTRv

— Bratticus (@bharatunnithan) February 7, 2018
I'll just leave this here... pic.twitter.com/PxHDyeTYug

— Jeff Blankenburg (@jeffblankenburg) February 7, 2018
Ordis wonders...what's a Tesla? pic.twitter.com/Q20c3mGBf6

— WARFRAME (@PlayWarframe) February 7, 2018
Wonder if Mr Musk slightly misunderstood the 'how do we launch the new Tesla Roadster' email?

— chris harris (@harrismonkey) February 6, 2018
Tesla customers: is our pre-ordered car ready yet Elon Musk: pic.twitter.com/q7OG2riBTy

— tc (@chillmage) February 6, 2018
oh so when elon musk launches a car into space it's "history-making" but when i launch my car backwards into a parking cone i'm "a bad driver" and "need to get my eyes checked"

— Dami Lee (@dami_lee) February 6, 2018
Perfect album cover pic.twitter.com/cgEaRhqqnD

— DANNYonPC (@DANNYonPC) February 6, 2018
Launch my car up in SpaceX This is my last resort

— Super Deluxe (@superdeluxe) February 6, 2018
So here's my question... How fast can a Tesla go NOW?!

— Duncan Jones (@ManMadeMoon) February 7, 2018
Born too early to explore the galaxy… but just in time to see this madness.Congrats to @SpaceX @elonmusk and the crews. pic.twitter.com/CTbu7hCDKJ

— Marques Brownlee (@MKBHD) February 6, 2018
Tracking flying cars smh. The future is definitely here now.

— Sandhya Ramesh (@sandygrains) February 7, 2018
Bae: 'We really need to talk about this'Me: pic.twitter.com/Oa3eS1RTRv

— Bratticus (@bharatunnithan) February 7, 2018
Sir... Main location pe aagaya! Space Uber X pic.twitter.com/nYMhhMONGP

— Ashwin Mushran (@ashwinmushran) February 7, 2018
love the "Don't Panic" sticker so much! Douglas Adams would be so happy! should have put a towel in the glove box!

— DreadPirateRogers- leader of a secret society (@DockRogers1953) February 6, 2018
The car is already up for sale.
For Sale or Trade:Lightly used Tesla Roadster. Original owner. Loaded. 92 million miles. $50k OBO(you are responsible for pickup) pic.twitter.com/Z9iDiW57ZC

— Rev. Robert R. Ballecer, SJ (@padresj) February 7, 2018
While others asked important questions.
why is there a tesla in space

— 「Wyatt Oleff」 (@FelloWyatt) February 7, 2018
Hashtag legend.
When you go to bed tonight, remember that somewhere out there, Elon Musk's #Tesla is hauling ass through space at 18,000 MPH blasting David Bowie's Space Oddity into infinity. 🚀

— Charles Robinson (@CharlesRobinson) February 7, 2018
Get the best of News18 delivered to your inbox - subscribe to News18 Daybreak. Follow News18.com on Twitter, Instagram, Facebook, Telegram, TikTok and on YouTube, and stay in the know with what's happening in the world around you – in real time.
Read full article