Twitter Loses Its Collective Calm As Dhinchak Pooja Enters Bigg Boss House
On her stint in Bigg Boss, Dhinchak Pooja, said in a statement issued by Colors channel, 'The show is a great platform for me. I don't have any strategy in mind about how I am going to be once I am in. I just want to be myself and deal with situations and issues as they arise.'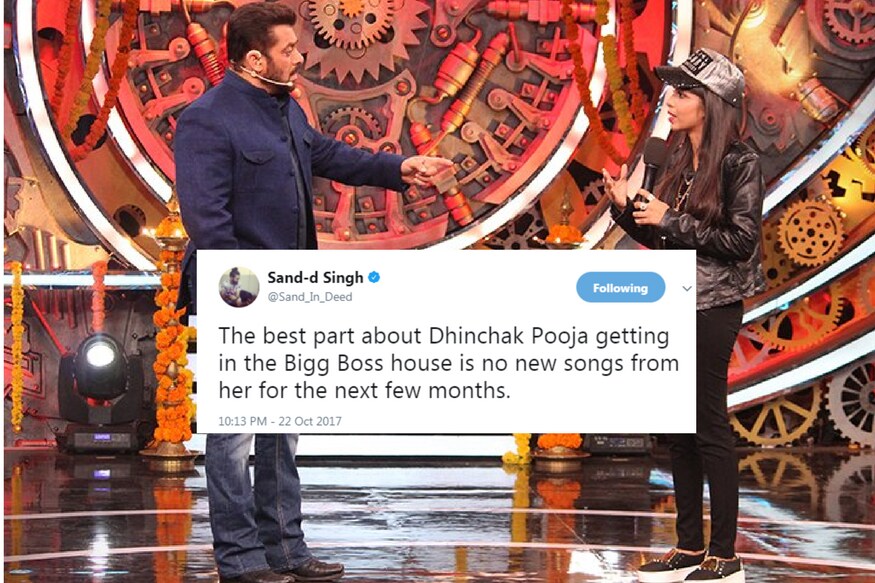 Photo credits: @ColorsTV / Twitter
As if the ongoing drama in the Bigg Boss house was not enough, the controversial reality show Bigg Boss has brought the newest contestant to the house. Pooja Jain aka Dhinchak Pooja who catapulted to fame after the Internet janta cringe-binge watched her songs such as Selfie Maine Le Le Aaj, Dilon Ka Shooter Hai Mera Scooter, Swag Wali Topi, and Bapu Dede Thoda Cash became the first wild card entry of this season.
Her selfie song helped her become a household name as it garnered over 25 million views on the Internet.
On her stint in Bigg Boss, Pooja, said in a statement issued by Colors channel, "The show is a great platform for me. I don't have any strategy in mind about how I am going to be once I am in. I just want to be myself and deal with situations and issues as they arise."
Now, seeing her on the national television, the Internet that made her popular, isn't much amused. While there were some who came out in her support, others stuck to cracking jokes.
Salman khan's reaction after watching introduction of dhinchak pooja was PRICELESS

"ye mera bigg boss ka last season hai"

😂😂😂😂😂😂😂

— Ashish Chanchlani (@ashchanchlani) October 22, 2017
The best part about Dhinchak Pooja getting in the Bigg Boss house is no new songs from her for the next few months.

— Sand-d Singh (@Sand_In_Deed) October 22, 2017
Dhinchak Pooja is the answer to all those who says "Log Kya Kahenge" or "Society bolegi" and many ..but still she does what she wants !!

— hatim (@hats_tweets) October 22, 2017
#BiggBoss11 atleast give some respects to dhinchak pooja because jitne bhi commoners hai unse to jyaada hi famous hai ye

— Anup (@aryan7874394181) October 22, 2017
Dhinchak Pooja in Big Boss goes on to prove that if you do enough stupid shit, you will reach on top of shit eventually.

— ✪ Veer ✪ (@ClawedHumor) October 22, 2017
So Dhinchak Pooja is coming to big boss. Good thing I stopped watching TV a long time ago!

— Ajey Nagar (@CarryMinati) October 21, 2017
I don't get it why people hate Dhinchak pooja!

She's totally harmless and a sweet person.

Her songs aren't vulgar either.#BB11 #BiggBoss11

— Kruti (@RealKruti101) October 18, 2017
#DhinchakPooja is the reason Aliens don't come on earth 🙏

— Boss Updates (@Boss_updates) October 22, 2017
DHINCHAK POOJA has been specifically brought 4r DHINCHAK DADLANI😷

Now we wil hear "Selfie Maine Li Yo Yo, Yo Bro 🙀"#DumbAndDumber #BB11

— Vindu Dara Singh (@RealVinduSingh) October 22, 2017
All those dumbass commoners are making fun of Dhinchak Pooja. For whatever reason she is way more popular than them #BB11 #BiggBoss11

— Suchita (@Suchita_14) October 22, 2017
People like Dhinchak Pooja getting paid in Big Boss while intelligent & graduated are unemployed. That is why talent fly to other countries.

— prayag sonar (@prayag_sonar) October 22, 2017
Earlier, Dhinchak Pooja had sent her fans into a frenzy after she confirmed that she was going to be a part of this season's Bigg Boss. In her audition video for the reality show, Pooja introduces herself in full swag and even warns the show's host Salman Khan, saying "beware". She then says the latest season of the controversial reality show is going to be the most popular one as she is entering the house.
Get the best of News18 delivered to your inbox - subscribe to News18 Daybreak. Follow News18.com on Twitter, Instagram, Facebook, Telegram, TikTok and on YouTube, and stay in the know with what's happening in the world around you – in real time.
Read full article