Twitter 'Search Party' Brought Estranged Besties Together After 16 Years
The duo had met on a family vacation in Hawaii in 2006 and had become very close friends, but had since lost touch.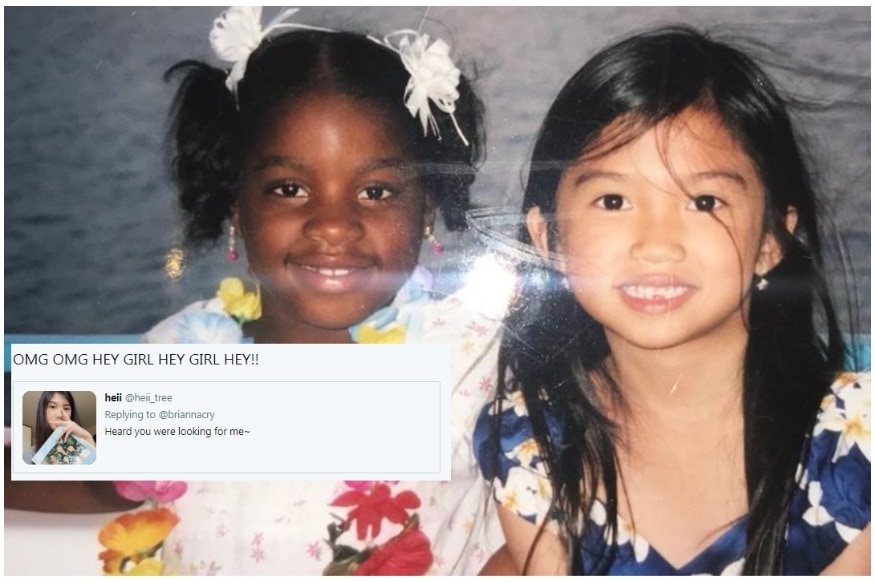 (Credit: Twitter/@briannacry)
Twitter can be a wonderful place sometimes. Recently, the micro-blogging site helped bring together two best friends who had been estranged for almost 12 years.
On Novemeber 24, a Twitter user named @briannacry posted a photo on the site of herself along with another little girl. She said that the photo was taken in 2006 in Hawaii on a dinner cruise. @briannacry had met and befriended the girl in the photo that very night and according to her tweet, the two became fast friends for the night. However, the two somehow lost touch and over the years, all that remained was the photo.
Hey twitter, I met this girl on a dinner cruise in Hawaii in 2006. We were basically bestfriends for that night so I need y'all to help me find my bestfriend cause I miss her and I need to see how she's doing now. Please retweet this so we can be reunited. pic.twitter.com/LRtk6ClvV3

— Bri (@briannacry) November 24, 2018
The endearing post led to a Twitter 'search party' and Tweeples from all over the world tried to help @briannacry find her estranged bestie. And yes, the search bore perfect results. Dedicated Tweeples managed to find the estranged friend, who goes by the name of @heii_tree on Twitter. Soon, the girl posted a photo of her and her family at the Hawaii cruise to prove it indeed was her.
Heard you were looking for me~ pic.twitter.com/Dz4z1wapRv

— heii (@heii_tree) November 24, 2018
@briannacry, who had initially put up the search request, was overjoyed at the success of her quest.
OMG OMG HEY GIRL HEY GIRL HEY!! https://t.co/elWi5t1bPq

— Bri (@briannacry) November 24, 2018
❤️❤️❤️❤️❤️omg my heart is so happy

— Bri (@briannacry) November 24, 2018
Bruhhh it's been literal years since I was last on Twitter and the first thing I see is a search party for my ass

— heii (@heii_tree) November 24, 2018
The endearing moment received a lot of cheers from Twitterati who were closely following the exciting quest. Many were interested to know if the two would now meet in person and continue with their friendship from where they left it off. some also wanted to know how @hei_tree was alerted so quickly about the search, to which she responded that her friends on Twitter found came across the search party for her and informed her about it.
@heii_tree how tf did someone alert you to check twitter in such a short amount of time?! Like how did they recognise the child version of you?!

— Oz (@Usman_A_) November 25, 2018
Most of the friends that alerted me I've known since middle school!! I don't think I changed much in the time span between elementary and middle school, so that's why

— heii (@heii_tree) November 25, 2018
are u talking on private? this friendship needs to come true

— lucas (@stylesndetails) November 25, 2018
Yup!! I'm trying to finish my essay rn so I'm only sparsely on, but yes we are

— heii (@heii_tree) November 25, 2018
ARE YALL FRIENDS AGAIN

— Choche Jones (@SauveGuapo) November 24, 2018
To everyone who's saying @briannacry and I should meet up: I'm going to community college on financial aid I'm not going anywhere anytime soon pic.twitter.com/PJaqZqHZvP

— heii (@heii_tree) November 25, 2018
Idk what's cuter this friendship or the fact that your family all went for it with matching outfits pic.twitter.com/5NMOTeKZ6a

— Moonchild♋️ (@DoobieSnacks182) November 25, 2018
You've Inspired me to find my long lost vacation bestie from when I was a toddler too

— leslie (@lilles21) November 24, 2018
November 24, 2018
So great was the interest in making the two friends meet again that some persons allegedly also stared a GoFundME page for them but @heii_tree immediately dispelled the confusions, telling Tweeples to not donate anything as they had not set up the account.
To my knowledge, neither @briannacry or I have set up/been contacted about a gofundme. Please be careful about links everyone, and keep your muns close to your huns uwu pic.twitter.com/bRXItgPJDU

— heii (@heii_tree) November 25, 2018
Get the best of News18 delivered to your inbox - subscribe to News18 Daybreak. Follow News18.com on Twitter, Instagram, Facebook, TikTok and on YouTube, and stay in the know with what's happening in the world around you – in real time.
Read full article