Twitter's Happiness Doubles As Ram Rahim Gets 20 Years In Jail, Not 10
Double trouble. Yaay!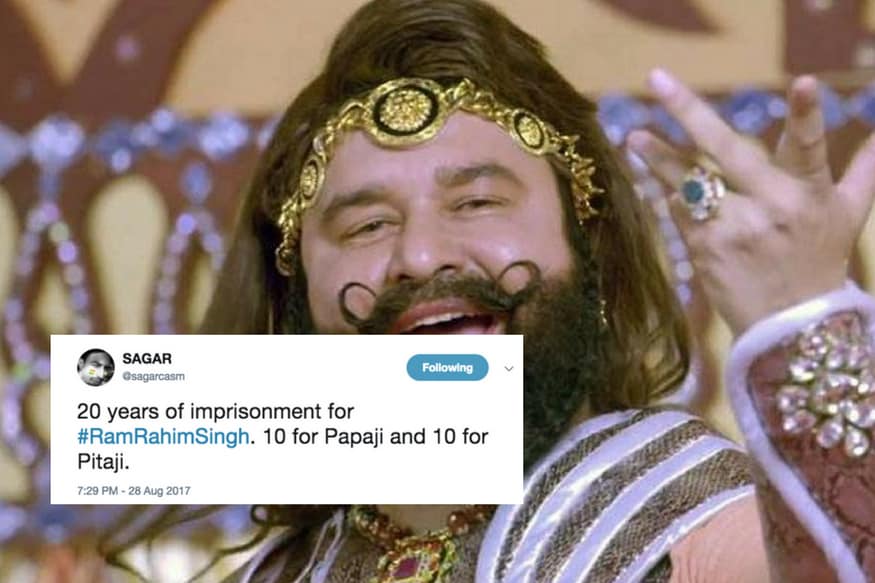 Double trouble. Yaay!
On Friday, Gurmeet Ram Rahim Singh Insan, head of the Haryana-based Dera Sacha Sauda, was convicted of rape charges by the CBI court in Panchkula.
Dera Sacha was fighting a case of rape and sexual exploitation of two women who were then, back in 2002, members of his sect in the town of Sirsa in Haryana, about 260 kilometers from Chandigarh.
Dera Sacha Sauda chief Gurmeet Ram Rahim Singh was on Monday sentenced to 20 years -- 10 years each for two rapes that will run consecutively, and not concurrently as was understood initially -- in prison for raping two of his women followers over a period of time.
#20YearsForMSG #RamRahimSingh sentenced to 20 years in jail, 10 years each for raping 2 women over a period of timehttps://t.co/BFtBlsBUWi

— News18 (@CNNnews18) August 28, 2017
The Dera chief has also been slapped a fine of Rs 30 lakh.
CBI judge Jagdeep Singh, who was flown to Rohtak Jail, gave 10 minutes to each side to present their arguments. The CBI had sought life imprisonment, while the defence cited his age, health, and social work as mitigating factors.
Twitterati had earlier rejoiced the news of 10-year sentence.
Baba Gurmeet Ram Rahim Singh Before and After he was convicted #RamRahimSentencing pic.twitter.com/3r9KGzMCwn

— Godman Chikna (@Madan_Chikna) August 28, 2017
Gurmeet - 2 YearsRam - 2 YearsRahim - 2 YearsSingh - 2 YearsInsaan - 2 Years#RamRahimSentencing

— Kaushik (@i_k_b) August 28, 2017
The love charger has been unplugged for the next 10 years. #RamRahimSingh

— SAGAR (@sagarcasm) August 28, 2017
Not all superheroes were capes, some do wear black robes too. #jagdeepsingh #Judge #MSGConvicted pic.twitter.com/EHxLpYK6P2

— Rofl Gandhi Premi 🚩 (@RoflGandhi_) August 28, 2017
While some believed the 10-year term wasn't just sufficient. Rightly so.
Don't forget: the case against Gurmeet Singh was filed in 2002. He's been a free-roaming rapist for longer than he'll be one behind bars.

— Rega Jha (@RegaJha) August 28, 2017
The irony is that two brave girls fought for 15 yrs to get a rapist behind bars for only 10 yrs#RamRahimSingh #RamRahimVerdict

— SwatKat (@swatic12) August 28, 2017
Gurmeet Singh gets 10 years for the rape of two women.Should have been separate sentencing for each & consecutive terms #RamRahimSentencing

— Advaita Kala (@AdvaitaKala) August 28, 2017
And when the news of Ram Rahim's consecutive sentences broke out, Twitterati's celebrations multiplied by 2.
#BREAKING -- #RamRahimSingh sentenced for 20 years in rape case with ₹30 lakhs fine, 14 lakhs to be given to each of the victims pic.twitter.com/FoBLCqPvpR

— News18 (@CNNnews18) August 28, 2017
20 years for the Rapist! Boom!

— Abhisar Sharma (@abhisar_sharma) August 28, 2017
Breaking : Ram Rahim will be sentenced to 20 years of prison. Rs 30 lakh fine. 14 lakhs each to the two victims @CNNnews18

— Subhajit Sengupta (@SubhajitSG) August 28, 2017
'Ram Rahim' to 'Daughter': "Beti, Bachao!"

— Shehla Rashid (@Shehla_Rashid) August 28, 2017
MSG: Surprise me. Judge: You will now serve jail for 10+10 consecutive years.#RamRahimSentencing

— Angoor Stark 🍇 (@ladywithflaws) August 28, 2017
20 years of imprisonment for #RamRahimSingh. 10 for Papaji and 10 for Pitaji.

— SAGAR (@sagarcasm) August 28, 2017
It's 20 years for #RamRahim not 10. 10 years each for conviction in 2 rapes , sentences to be consecutive not concurrent

— sonia singh (@soniandtv) August 28, 2017
UPDATE: TWENTY YEARS FOR RAM RAHIM. 2 SENTENCES OF 10 YEARS EACH. https://t.co/c7F7M9MnT1

— Shiv Aroor (@ShivAroor) August 28, 2017
So two consecutive 10yr sentences for #RamRahim. That's 20 years in jail. Feeling a lot jollier.

— Mitali Saran (@mitalisaran) August 28, 2017
If 20 years seem too much, imagine going against an armed and dangerous private army, family, murders & intimidation to report your rape.

— Rituparna Chatterjee (@MasalaBai) August 28, 2017
Oh! #RamRahimSentence was 20 years, is it?With the first 6 years being PowerPlay, I suppose.

— Ramesh Srivats (@rameshsrivats) August 28, 2017
The case first came to light in 2002 when two female followers of Dera Sacha Sauda wrote an anonymous letter addressed to the then Prime Minister Atal Bihari Vajpayee, accusing the Dera chief of sexual abuse. Following this, the Punjab and Haryana High Court took up the matter and ordered a CBI probe into the incident on September 24, 2002.
Read full article
Countdown To
Elections Results
To Assembly Elections 2018 Results