UK Woman Almost Lost her Lips After Receiving Botched Filler Injections at a 'Botox Party'
Dermal fillers are available without prescriptions in the UK and the woman is now petitioning for a change in these laws after her accident.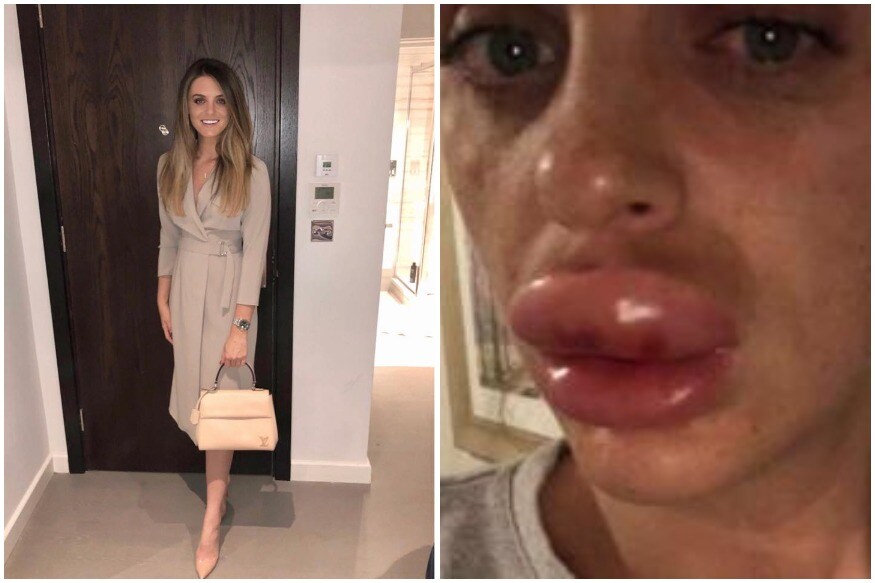 29-year-old Rachel Knappier found out the dangers of getting informal lip injections the hard way.
A 29-year-old woman recently took to social media to highlight the dangers of getting informally administered facial injections at a 'Botox party'. She allowed a friend to inject Botox into her lips but the procedure went horribly wrong when her lips ended up swelling several sizes.
Rachael Knappier was attending a Botox party in Leicester and had only agreed to a filler injection on her forehead. But when her a friend, who was a beautician, offered to fix a childhood problem area for Knappier's - a lump on her lip which she got due to a childhood accident.
However, once the woman reached home after the injection, she started to experience pain. In time, her condition got worse and she soon had to go to the hospital. Her lips had swelled to an unnatural size by this time.
Rachael Knappier's lips tripled in size after she got fillers from a beautician at a botox party.She's now warning others about the dangers of getting cosmetic treatments from non-medical professionals.Read about Rachael's story in full: https://t.co/9JrKEKnTBi pic.twitter.com/QLzIXarLVq

— ITV News Central (@ITVCentral) December 6, 2018
According to a report in the BBC, the woman contacted the beautiful after getting the reaction and the latter advised her to put an ice pack on it.
After the incident, the woman took to social media to outline the dangers of getting lip injections. She has started a petition against dermal filers being injected by those other than doctor, something which is currently allowed in the UK. According to an report in Fox News, informal Botox parties are quite a rage in the country with over a million Botox treatments being conducted annually. While a lip job would have cost Knappier over $300 in at a hospital or through a registered anesthetisian, the filler she received at the party was cheap and cost just over $200.
However, the once injected twice shy Knappier called for regulation on the botox trade after surviving the incident and is now petitioning for dermal injections to be a prescription-only medication. According to current laws, botox injections do not come under medical treatment. According to a recent poll conducted among the members of British Association of Aesthetic Plastic Surgeons (BAAPS), 40 percent of the respondents had noted a rise in the use of unregulated dermal fillers or facial injectables.
After Knappier's incident, BAAPS has also responded calling for stricter regulation on the matter. The incident has been going viral on social media since then.
This is an industry in dire need of proper regulation. Peoples lives are being put at risk. BBC News - Woman's Botox party warning after lip filler swelling https://t.co/GoWS2By8DC

— Dr Rosemary Leonard (@DrRosemaryL) December 5, 2018
I'd never heard of a Botox party before. https://t.co/pc2o9wWAxo

— deray (@deray) December 6, 2018
If I need a sink plunger, I will find my nearest Botox party and borrow one of the girls for 10 mins after the injections should unblock anything with lips like that 😄

— Liam Gormley (@lgormley1961) December 7, 2018
Morning people of TwitterThis is essentially a warning NOT to go to a party and have an untrained person inject you with a toxinYup I know you needed that warning #botox #Botched #fuckingidiot https://t.co/u4kdBS1V0X

— Bakerisbackagain1966 (@Bakerisbackaga1) December 7, 2018
Seriously,You went to a botox party and not a doctor.I'm trying hard not to judge.

— Kruthika K (@Port_8000) December 7, 2018
There's a reason I don't host botox parties anymore. https://t.co/PhZaWm4eLq

— Jason Hirschhorn (@JasonHirschhorn) December 5, 2018
Read full article