Stranded at the Altar: Couple Denied Wedding Licence Due to Trump's Ongoing Govt Shutdown
The Trump-invoked government closure has left hundreds of thousands of federal employees without pay over the holiday season and the President refuses to resume federal funding until he receives money to build the southern border wall.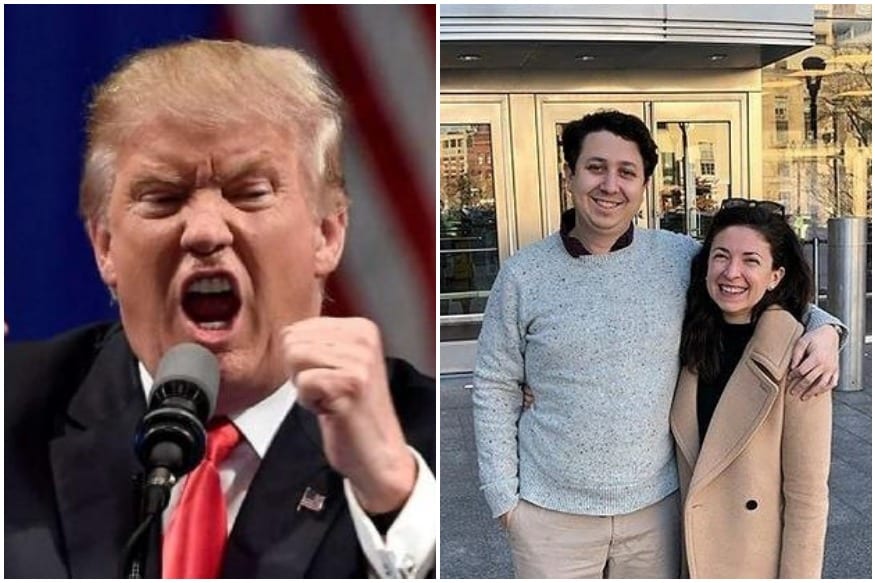 The government shutdown initiated by Donald Trump has affected funding of several government services including the marriage license bureau in DC (Credit: Reuters/Twitter/@DanPollock)
The government shutdown in the US has been taking a toll on people's love lives and this Washington couple are proof.
When Dan Pollock and his bride arrived at the marriage bureau in the US capital to pick up their marriage certificate. However, they were surprised to find it closed because of the government shutdown.
"It never occurred to us that the DC marriage bureau was federally funded," said Pollock, who, like his wife, is a former Senate staffer and had worked through previous government shutdowns.
The couple were told that no marriage licenses could be provided until the government reopens.
With just two days until their wedding, however, it was too late to change their plans and the couple chose to go through with the proceedings nonetheless.
The couple, posted their story on Twitter to show the real impact that the shutdown -- sparked by President Donald Trump's demand for funding for a wall on the Mexico border -- was having on ordinary people.
Former congressional staffers unable to get marriage license in DC due to government shutdown https://t.co/V6cop6FYN7 pic.twitter.com/qP9oBRwXW7

— Seema Yasmin (@DoctorYasmin) January 3, 2019
The post went viral and the couple's wedding photos were also widely shared.
The government has been closed since before Christmas, and the leadership of the newly installed Democrat majority in the House of Representatives are refusing to yield to the president's demand for USD 5.6 billion for a wall, a key campaign pledge that he had originally said Mexico would pay for.
Trump has refused to sign off on a slew of government funding bills until he receives money for his "beautiful" southern border wall, leading to a government closure that has left hundreds of thousands of federal employees without pay over the holiday season. Among other things affected is the DC Marriage Bureau which comes under the federal District of Columbia.
Something I didn't realize until now ... the shutdown is prohibiting people from being able to get married / marriage licenses in DC ... have a friend whose couple was flying in from Louisiana to get married in DC ... but the marriage bureau is closed ... #ShutdownStories

— Bree Ryback (@CapitolRomance) December 28, 2018
No one can get a marriage license in DC during the government shutdown — one couple learned this the hard way when they showed up at the courthouse *two days* before their wedding https://t.co/gUoiyTwoS0 pic.twitter.com/ZJocnblhUf

— Zoe Tillman (@ZoeTillman) January 2, 2019
If you live in DC you cannot get a marriage license right now due to the government shutdown. Maybe, like, the government shouldn't be in charge of this in the first place? Just a thought.

— ACE 🌷 (@reformedACE) January 3, 2019
To the lovebirds in DC: if you had doubts or can't remember when you said 'yes', use this as your way out. "Marriage licenses unavailable in DC amid government shutdown" https://t.co/xsVUuNWMSW

— Bri Ribalta (@BriRibalta) January 3, 2019
In response to the outrage, Washington Mayor Muriel Bowser announced that she will be making special marriage licence provisions for couples until the shutdown is lifted.
"Just like the Grinch can't steal Christmas, the shutdown can't stop love," the mayor's spokesperson said.
DC @MayorBowser's office statement about marriage licenses during govt. shutdown:"Mayor Bowser will put forth emergency legislation to establish the authority to issue marriage licenses during a shutdown. Just like the Grinch can't steal Christmas, the shutdown can't stop love."

— Shomari Stone (@shomaristone) January 3, 2019
(Inputs from AFP)
Get the best of News18 delivered to your inbox - subscribe to News18 Daybreak. Follow News18.com on Twitter, Instagram, Facebook, Telegram, TikTok and on YouTube, and stay in the know with what's happening in the world around you – in real time.
Read full article