A couple of weeks ago when Tesla CEO Elon Musk revealed that he had named his baby 'X Æ A-12', the internet lost it. For one, people simply couldn't figure out how to pronounce it. And secondly, netizens felt sorry for the poor kid who might just have a hard time explaining why his dad decided to give him this bizarre name.
A few days ago, however, Elon Musk and girlfriend Grimes also revealed how to pronounce their kid's name. It is "X Ash A 12", where X is just "X" and the A-12 is just "A 12."
Now, website creator and the co-founder of a startup, 'Most Recommended Books', Richard Reis has launched a site named, 'Name me, Elon' where anyone could type their names and find out what Musk would have named them if he had been their dad.
Reis says that he took a cue from Musk's baby's name to break down names into three parts - letters, ligatures and letters combined with numericals.
Take a look, I tried mine, you can try yours too: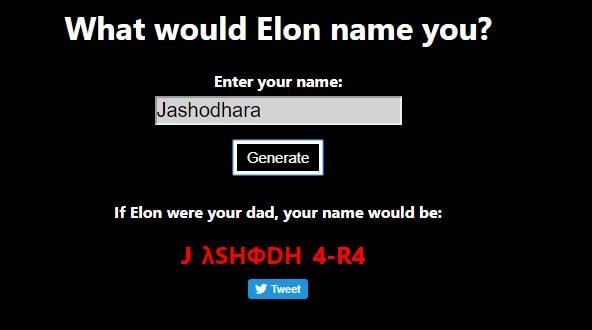 On that note, did you know that Elon Musk cannot actually name his child X Æ A-12? Turns out, names cannot contain numerical or special characters, as per California laws. So even if Musk wants to call his son this, he will have to use a different (and a more conventional?) name in the infant's birth certificate.