Was Donna Strickland Not Famous Enough for Wikipedia Before Her Nobel Prize Announcement?
Sexism much?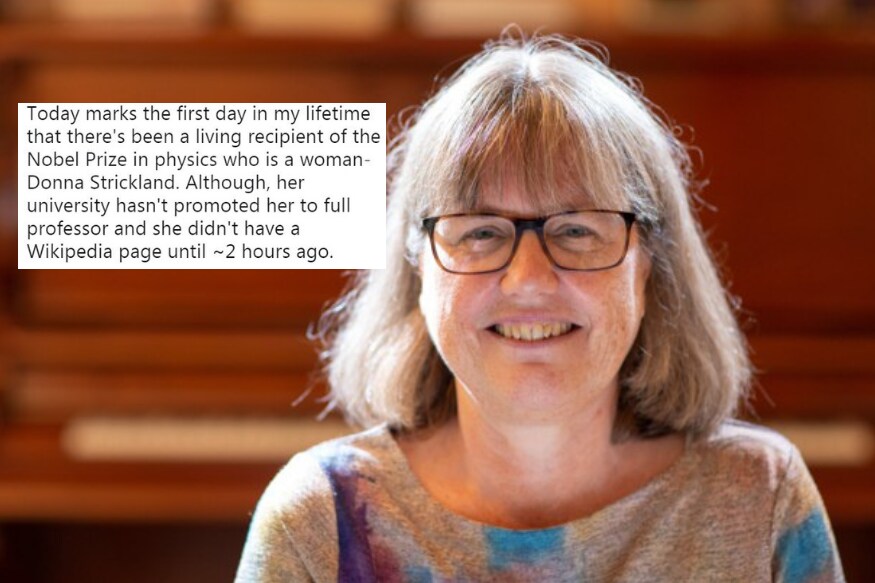 (Image: Reuters)
On Tuesday, optical physicist Donna Strickland became the third woman ever to receive the Nobel Prize in Physics for her work on ultra-short lasers. The prize honours and acknowledges Donna's work that appeared, coincidentally, in her very first scientific research paper. Donna is the first female Physics prize winner in 55 years and also the first female Nobel laureate in any field in three years.
However, did you know that before Tuesday, Donna did not even have a Wikipedia page?
And, naturally, everyone was shocked at the revelation.
Today marks the first day in my lifetime that there's been a living recipient of the Nobel Prize in physics who is a woman-Donna Strickland. Although, her university hasn't promoted her to full professor and she didn't have a Wikipedia page until ~2 hours ago.

— Dr. Jamie R Lomax (@jrlomax) October 2, 2018
Oops, guess which of the three didn't have a #Wikipedia article until today?I gave up writing Wikipedia articles on women scientists many years ago. https://t.co/6nfRVX2OMx

— K P 🔬🎞 (@resolvingdust) October 2, 2018
Ah, gee, someone tried to write an article about her, but #Wikipedia said she wasn't notable.(Yeah, I know the verbiage blames the attempted editor, but I've also submitted a notable female professor and one of her less notable male students. Guess which was declined!) pic.twitter.com/iKYKGYeGmP

— K P 🔬🎞 (@resolvingdust) October 2, 2018
#Wikipedia couldn't even bother to move the declined draft into article space, just ignored it. pic.twitter.com/71IEnzw08p

— K P 🔬🎞 (@resolvingdust) October 2, 2018
This is probably the most amazing fact about new Nobelist Donna Strickland -- not even a full professor in her own institution. Trying to decide if "not having a Wikipedia page" is an equally appalling travesty. https://t.co/r7nOymUnvV

— Michael Gilman (@michael_gilman) October 3, 2018
New Nobel Laureate Donna Strickland didn't even have a Wikipedia page until an hour ago. She suddenly got a page, but it just redirected to that of Gérard Mourou. Now it says: pic.twitter.com/2bg8T1SBkE

— Bryan Gaensler (@SciBry) October 2, 2018
Let that sink in... she won the Nobel prize and yet... "A Wikipedia user tried to set up a page in May, but it was denied by a moderator with the message: "This submission's references do not show that the subject qualifies for a Wikipedia article." https://t.co/cAw6w9NeYI

— Bohyun Kim (@bohyunkim) October 2, 2018
It gets worse. Mourou had a Wikipedia page since 2005. The very first version https://t.co/do96RR5sxS said *he* invented chirped pulse amplification. The main paper on the Wikipedia CPA entry, 1985, has Donna Strickland as the *first* author.

— Eerke Boiten (@EerkeBoiten) October 2, 2018
Every single @Wikipedia editor who voted against an entry for Dr. Donna Strickland needs to have their editing and voting privileges suspended for 6 months.

— AbuCarmel/GangstaYid (@AbuKedem) October 3, 2018
Wikipedia still has a huge gender problem. Most editors are men and only 17% of bios are about women.Donna Strickland, who just won the Nobel Prize in physics, had her entry rejected as recently as this past May for allegedly not being notable enough.https://t.co/NbbmyriZQf

— Nick Kapur (@nick_kapur) October 3, 2018
Gérard Mourou, who shared half of the prize with Donna, has a Wikipedia page since 2005.
Before winning the Nobel prize, Donna was previously mentioned in the Wikipedia article about Mourou.
Several people pointed out on Twitter that a Wikipedia editor had rejected a draft of an article about Donna as it failed to "show significant coverage about the subject."
While Donna got her due recognition, Wikipedia has been often slammed for being more partial to men and not acknowledging the works of women, especially in the field of science.
Get the best of News18 delivered to your inbox - subscribe to News18 Daybreak. Follow News18.com on Twitter, Instagram, Facebook, Telegram, TikTok and on YouTube, and stay in the know with what's happening in the world around you – in real time.
Read full article