News18
»
News
»
Buzz
»
'Was Part of Anti-Mandal Protests in 90s': Anurag Kashyap Apologises for 'Casteist' Comment
6-MIN READ
'Was Part of Anti-Mandal Protests in 90s': Anurag Kashyap Apologises for 'Casteist' Comment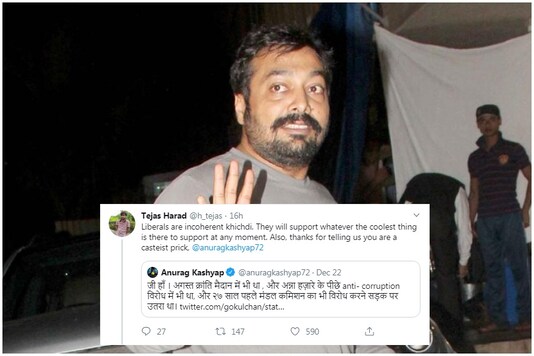 Stoking controversy? Amid anti-CAA protests on Twitter, Anurag Kashyap apologised for tone-deaf "casteist" comment | Image credit: News18
Kashyap was responding to tweets accusing him of never joining actual protests and only raising voice on social media amid fierce debate regarding CAA and NRC.
Last Updated: December 23, 2019, 18:22 IST
FOLLOW US ON:
Amid rife debate regarding the Citizenship Amendment Act and National Registrar of Citizens on social media and off it, filmmaker Anurag Kashyap has stoked controversy on Twitter after announcing he supported anti-Mandal Commission protests in the 1990s. Kashyap has since apologised for the comment after anti-caste activist Tejas Harad called out his casteist comment on the microblogging site.
Even as the several parts of the country witnesses burning protests against CAA and NRC, Kashyap has been vocal on social media in his protests against the Narendra Modi government's decision to implement the same. While Kashyap was not the only one to protest the Act, his tweets went extremely viral and fetched thousands of responses from supporters as well as detractors.
It all started with a tweet by a Twitter user by the name of Lt Cdr Gokul, who took to the micro blogging site to call out the alleged armchair activism of Kashyap and others protesting CAA on social media. "Did Anurag Kashyap or Shivam Vij ever join any protest? They are afraid of being killed?" the user wrote.
In response, Kashyap tweeted that he had actively been part of protests in Mumbai's August Kranti Marg (a probable allusion to the anti-CAA protests that took place on the venue last week) and also took to the streets as Anna Hazar's anti-corruption movement in 2011. However, Kashyap also mentioned that in the 90s, he also participated in anti-Mandal Commission protests.
Set up in 1979, the Mandal Commission, or the Socially and Educationally Backward Classes Commission, came into effect to study and analyse the socially and educationally backward classes of India. In its final report, the Commission recommended a 27 percent reservation quota for Other Backward Classes in India, resulting in a total of 49.5% quota in government jobs and public universities in the country. The Commission formed the basis of reservations for the upliftment of backward populations in the country and has since been hailed as giant and systemic step against casteism.
It wasn't surprising, therefor, that Kashyap's tone deaf comment about supporting anti-Mandal protests in the 90s irked a few. Responding to the Gangs of Wasseypur director's comment, Oxford University fellow and anti-caste commentator Tejas Harad wrote, "Liberals are incoherent khichdi. They will support whatever the coolest thing is there to support at any moment. Also, thanks for telling us you are a casteist prick, @anuragkashyap72". Not just Harad, others also called Kashyap out for his comment.
Meanwhile, Kashyap was quick to respond with an apology, claiming that he had only been responding to accusations made against him by Lt Cdr Gokul about never participating in protests. He also added that he was only 19-years-old at the time of the Mandal protests and that now he knew better. He further clarified in several tweets and responses that he was not casteist (anymore) and that there was no doubt about his support for the SC/ST/OBC reservation.
The responses were retweeted by popular anti-caste writer and diversity advocate Ravi Ratan who praised Kashyap for his admission.
In the end, Kashyap tweeted yet another "unconditional apology" for his misguided teenage stance against Mandal, adding he "totally (stood) for the rights and reservations for SC/ST/OBC". He also wrote, "To expand on that - then I was a lot of things I am not today, I have not been that man for the longest time,but today I know what I am fighting for and I want to focus on that.I am not always politically correct and I don't claim I understand everything. But this fight I do know".
After the profuse apologies, several people ended up praising Kashyap for his unabashed will to admit and apologise for problematic aspects of his past.
Ever since Kashyap started criticizing the Bharatiya Janata Party on Twitter regarding the implementation of CAA, his followers on Twitter have drastically reduced. He earlier took to the site to reveal that since his criticism, his 500k+ strong followers have reduced to just over 75,000.
Next Story