News18
»
News
»
Buzz
»
Watch: After 'Ghungroo', US Man Grooves to 'O Beta Ji' with Son in This Viral Video
2-MIN READ
Watch: After 'Ghungroo', US Man Grooves to 'O Beta Ji' with Son in This Viral Video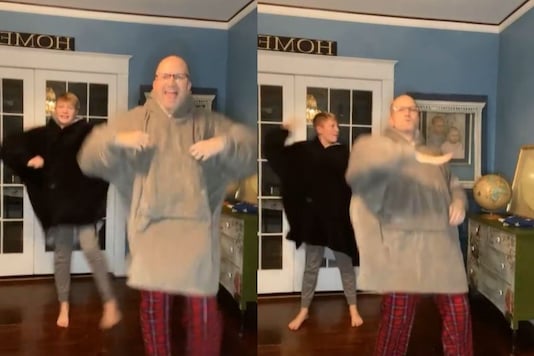 Video grab of US man and his son grooving to O Beta Ji. (Credit: IG/ @ricky.pond )
The latest video recently released by Ricky comprises a worth watch performance on the song 'O Beta Ji'.
Last Updated: January 05, 2021, 17:49 IST
FOLLOW US ON:
Popular content creator Ricky L Pond is back with a new dance video. The man from America rose to fame after his rendition of Hrithik Roshan's song Ghungroo made its way online. Ricky frequently shares videos of himself dancing on tracks in various Indian languages and is the new favourite on Instagram. The US man has caused a stir yet again by sharing a fresh video which shows him dancing to a  popular Hindi song with his son.
The latest video recently released by Ricky comprises a worth watch performance on the song 'O Beta Ji'. The brief video clip clip starts with Ricky and his son performing some smooth and coordinated dance steps.
The father-son duo is joyously grooving to the peppy track and the performance may leave you tapping your foot as well to the beats. As the video progresses, the father-son duo change steps going from waves to jumps. They performed easy yet energetic moves together at home. Both of them are enjoying themselves thoroughly as they catch up with the rhythm. With the right head turns, the duo simply nail the Bollywood dance genre. The dancing pair dressed in hoodies and pajamas, can be seen matching their steps exactly in sync of the song lyrics as the clip progresses.
While sharing the video, which needless to mention, has gone viral, Ricky urged his online family to tag the team of the film Ludo so that they take notice.
View this post on Instagram
Meanwhile, the netizens have gathered to shower the incredible dancing duo for their awesome performances. The video, since shared online on January 3 has collected over three lakh views.
People are applauding the two of them for their on-point Bollywood dance moves but their happy expressions steal the show. A user of the photo-sharing platform appeared in the comments to ask, "How do you learn Hindi steps according to the word?"
Another curious individual asked, "Heyy you dance so good ....  I was just wondering when you perform on such songs .. I mean specially Bollywood songs , do you know their meaning as well?" A person requested, "Mr Ricky, please visit India."
The song O Betaji (Qismat Ki Hawa Kabhi Naram) is sung by Chitalkar and the music is composed by C Ramchandra. The lyrics of the song are provided by Rajinder Krishan. This particular song was originally recorded for the 1951 film Albela. The song was used in the recently-released film Ludo directed by Anurag Basu.
Next Story