WATCH: An Emotional Video of Barack Obama Remembering the 2008 Election Night He Won
Happy tears incoming.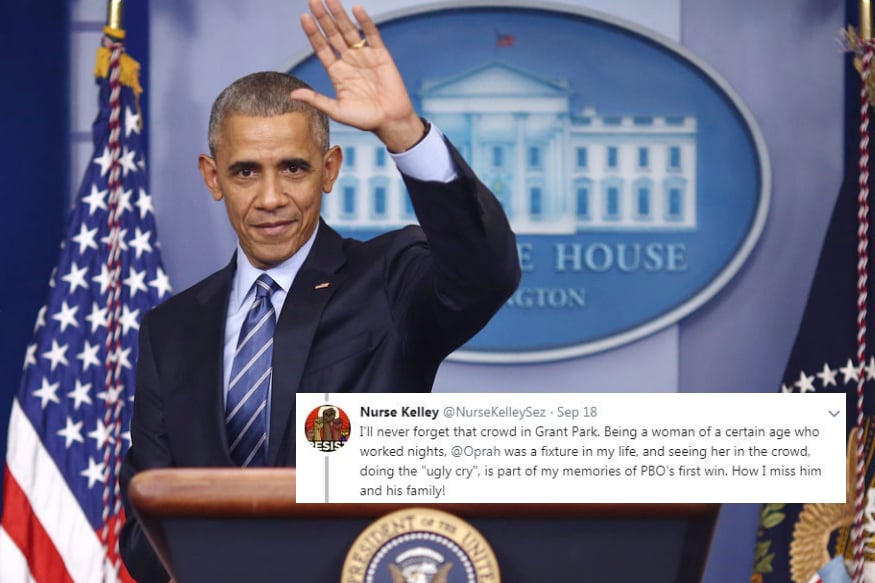 (Image: Reuters)
Former president of the US, Barack Obama, took a stroll down the memory lane on Monday as he recalled the historic day of 4 November 2008 when he became the 44th president of the United States.
A video shared from The Obama Foundation's social media handle shows Obama recalling the eventful day where he held his mother-in-law's hands as the news of his victory broke out.
"When the results were actually announced, by that time we had a pretty good sense that we were going to win," Obama said in the video. "My mother-in-law, who grew up on the south side of Chicago, worked as a secretary, working-class, had worked all her life to allow Michelle and her brother to go to some of the best schools in the country." Obama said that Marion Shields Robinson seemed stunned about the result of that year's presidential election.
Ten years ago, @BarackObama held his mother-in-law's hand as news broke that he'd won the election. As part of our oral history project, he shared his memories from that historic night with us.

Listen to his story—then add your own: https://t.co/XtrYcLCFaw pic.twitter.com/QEoAP3oNGO

— The Obama Foundation (@ObamaFoundation) September 17, 2018
When it was announced that Obama was projected to win the 2008 presidential elections, Obama held Marion's hands and said, "How are you feeling?" To which she responded with, "Well, it's just a little overwhelming, isn't it?"
Obama said that his victory for Marion, an African-American woman, "who grew up in a deeply segregated Chicago" and had seen it all, was profound. "For what was true for her was that something she might not have ever imagined possible had happened," he added, "and her daughter was going to be the next first lady of the United States."
Understanding the significance of his victory through Marion's eyes "made it a little more special" for Obama.
Obama, who's historic journey to becoming a president has been documented on his website, starting from 10 February 2007 to 4 November 2008, details all the landmark moments of his journey in becoming the 44th president of US. Obama's emotional video attracted much emotional response from the internet as well, many of whom shared their own memories of the eventful day.
I was on live tv (on a discussion panel repping @SwissDemocrats abroad, at an all night event in Zurich Switzerland waiting for the results to come in. I literally broke down in tears of joy! pic.twitter.com/FzKofGx7Rz

— Renee Rousseau (@raye8405) September 17, 2018
Me too. It was like a dream but I vaguely remember screaming with joy and jumping up and down on somebody's couch for at least five minutes. The couch was probably never the same.

— ALong4Yrs4Cheri (@coldwomaninmn) September 17, 2018
LOL!! IKR‼️⁉️ I had been awake for 24hrs by that point. (6hrs ahead of EST. 9hrs ahead PST). I finally got to bed at the 43rd hr, after giving over 50 interviews... IN GERMAN/Swiss German‍♀️

— Renee Rousseau (@raye8405) September 17, 2018
Thank you for sharing this! It truly was one of the happiest nights of my life as my son & I watched ❤

— MamaTree #Resist ❄ (@MamaTree79) September 17, 2018
I wept! Both with joy and grief. It's complicated.

— Richard Franklin (@D1Frankie) September 17, 2018
I am Nigerian. But I wept too. Wept for my country were we are all blacks but we still face discrimination. Where our elections are never issue based but money based. It is well.

— Nkem4eva (@nwaegbe_nkem) September 17, 2018
I'll never forget that crowd in Grant Park. Being a woman of a certain age who worked nights, @Oprah was a fixture in my life, and seeing her in the crowd, doing the "ugly cry", is part of my memories of PBO's first win. How I miss him and his family!

— Nurse Kelley (@NurseKelleySez) September 18, 2018
That made me cry. I remember how excited I was when Obama won both times, although I was jumping up and down crying the first time! I know he wasn't perfect but our greatest heroes never are.

— Stacey Snyder (@staceysez) September 17, 2018
I fell to the floor crying when Keith Olbermann announced Barack Obama will be the next president of the United States...................

— 3ChicsPolitico (@3ChicsPolitico) September 17, 2018
I cried so hard. It was just glorious.

— LiberalPhenom (Obama is my president forever) (@LiberalPhenom) September 17, 2018
With tears my sister and I were jumping up and down screaming full of excitement and shock. I purposely meet with my sister and friends so that we could enjoy the moment together.

— BrookseySmiles (@Br00ks3ySmil3) September 17, 2018
As I walked out of polling place where I worked for so many hours that day, it was announced on the radio that he had won! I will never forget the absolute joy I felt that night! That was the most memorable election of my lifetime! JFK election was second!

— IdahoIndependent (@IdahoIndependen) September 17, 2018
It was the first presidential election I voted in. My entire college campus was out celebrating in the streets. I will never forget.

— kebab (@dailydonerkebab) September 17, 2018
Get the best of News18 delivered to your inbox - subscribe to News18 Daybreak. Follow News18.com on Twitter, Instagram, Facebook, TikTok and on YouTube, and stay in the know with what's happening in the world around you – in real time.
Subscribe to Moneycontrol Pro and gain access to curated markets data, trading recommendations, equity analysis, investment ideas, insights from market gurus and much more. Get Moneycontrol PRO for 1 year at price of 3 months. Use code FREEDOM.
Read full article